Bee Simulator System Requirements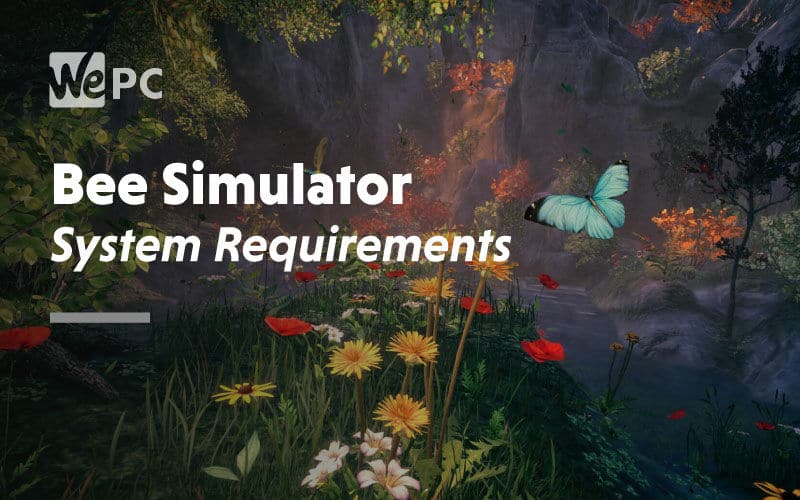 Can I Run Bee Simulator?
Determining whether you can run Bee Simulator depends entirely on the hardware components that make up the gaming rig you're hoping to use to play, notably the GPU, CPU, and RAM.
To begin, find out precisely what hardware you have. If you need a hand doing this, you can refer to our step-by-step guide right here. 
From there, cross-reference the results to the official minimum and recommended system requirements for Bee Simulator, which we've conveniently listed below for convenience. We suggest trying to hit the recommended settings if at all possible, to ensure the best performance possible.
We aren't the biggest fans of how tedious figuring out game compatibility can be, and with that in mind, we are working on a tool to make the process a whole lot more straightforward. Our bespoke utility will scan any given PC automatically and list the components in easy to digest form. It's still in the works at the moment, but we'll be sure to post an update once its up and ready for our readers to use.
Bee Simulator Game Details
Release Date:

November 14th, 2019

System Requirements:

Low

Genre:

Simulation game

Developer:

Varsav Game Studios

Publisher:

Bigben Interactive
Bee Simulator is a simulation title developed by Varsav Game Studios. As the name so precisely explains, players are asked to take on the role of a humble bee. As with any game worth its salt, conflict arises as the pesky humans aim to cut down the very tree that houses the hive.
Bee Simulator recreates a loosely inspired semi-open world version of New York's infamous Central Park to offer players a world brimming with color and microscopic detail usually the reserve of insects. The world is stacked with fully interactive elements ranging from plants and insects to larger humans and animals. 
The game features three distinct modes. These include a single-player story mode where you must contend with the threat of humans and collect pollen from the most exotic plants. An exploration mode where you can buzz across the vibrant world making your own fun, and a four-player split-screen mode to share mini-games and the joy of exploration with friends. 
There's also races through the park, skirmishes with wasps or PvP with friends, or even the possibility of a dance-off with other bees. Most of all, the game is about translating the experience of traversing a giant world as a small bee tasked with ensuring the future of the hive.
Bee Simulator Minimum System Requirements
CPU:

Intel Core i5-2300 / AMD FX-4350

RAM:

4 GB

HDD:

10 GB of storage space

GPU:

NVIDIA GeForce GTX 550 Ti / ATI Radeon HD 5770

OS: 64-bit Windows 7
DirectX:

Version 11

Screen Resolution:

720p

Network:

Broadband Internet Connection
Bee Simulator Recommended System Requirements
CPU:

Intel Core i5-3470 / AMD FX-6300

RAM:

4 GB

HDD:

10 GB of storage space

GPU:

NVIDIA GeForce GTX 660 / AMD Radeon HD 7870

OS: 64-bit Windows 10
DirectX:

Version 11

Screen Resolution:

1080p

Network:

Broadband Internet Connection
Optimal Hardware Suggestions
Despite being a game brimming with life, Bee Simulator remains relatively forgiving on the specification front. The requirements aren't excessive by modern standards, which opens up the share of machines capable of running the game. 
The 10 GB of storage space is also a welcome change from the 100 GB games we see more and more of in recent times. The same can be said for the 4GB of RAM even when it comes to the recommended system requirements.
With the minimum system requirements, you can hope to hit 30 to 40 fps at 720p with the settings on low to medium. It's possible to up the resolution to 1080p, but you'll need a graphics card with at least 2 GB of VRAM.
As for the recommended settings, these will net you 60 fps at 1080p with the settings pretty much pushed to their limit. As for 1440p and 4K, you'd be looking at upgrading the GPU to something more powerful than the GeForce GTX 660, possibly a GTX 1060 or 1070.
What Gaming PC Do We Recommend?
In order to hit 1080p, we recommend a build with a dedicated GPU. As such, an excellent foundation to play Bee Simulator is our $500 build. It's affordable, yet surprisingly powerful for the price thanks in part to the ever cost-effective range of products from AMD we've managed to join up here.
It features an AMD Ryzen 5 2600 CPU, Radeon RX 570 GPU, and 16 GB of 3400 MHz DDR4 RAM. With these, you can expect to hit a solid 60 fps at 1080p with the settings on ultra. In other words, you'll be pushing the game to the maximum of its capacities with quite a bit of room to spare.
It's by no means a high-end build but offers a great entry-level machine for those on a budget.