Cyberpunk 2077 System Requirements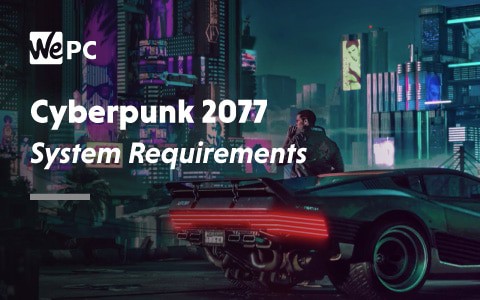 Cyberpunk 2077 is an oddity in that it has yet to be released nor has developer CD Projekt Red released definitive system requirements. As such, we can't in good consciousness say whether your PC has the necessary Cyberpunk 2077 system requirements or not.
However, once the minimum and recommended specifications are released, we'll be sure to update this article. From there, it will be a case of cross-referencing these to your system specifications to see if they are up to the task.
In the future, we hope to have a tool up and running that will scan your PC automatically and determine what components is has under the hood. This should simplify the process considerably. As of writing, the utility is still in development, but rest assured we'll make a song and dance of it once available.
Cyberpunk 2077 Game Details
Cyberpunk 2077 is an upcoming open-world RPG title from the developer behind the massively successful The Witcher series. 
Inspired by the tabletop role-playing game of the same name, Cyberpunk 2077 is set in the dystopian metropolis of Night City, California. This teeming megacity is broken down into six districts each with their own unique socio-economic and cultural flavor. Ruthless gangs, corporate behemoths, wealthy suburbanites, and hackers mingle in a melting point of technology, transhumanist ideals, violent crime, corruption, and blinding neon where pretty much anything goes.
The player takes on the role of a freelance mercenary of sorts named V, and through first-person gameplay, explores the horizontal and vertical limits of this towering city on the periphery of the American continent.
V can be customized based on a wealth of skills, attributes, and stats ranging from technologically-replicated body modifications, physical appearance, class (netrunner, techie, and solo) each with their own specialty, and weapon perks. 
CD Projekt Red has a reputation for creating the most immersive action-RPG world's we've seen this generation and Cyberpunk 2077 looks to follow in that established tradition.
Alongside, Cyberpunk 2077 promises brutal melee combat, heated firefights, breakneck speed vehicle chases, a full day-night cycle, dynamic weather, and a world that reacts to the player's actions and decisions – an RPG the likes of which we've never seen before, or at least, it appears that way.
Cyberpunk 2077: Minimum System Requirements
Predicted
CPU:

Intel Core i5-2500K 3.3GHz / AMD FX-8320

RAM: 8 GB RAM
HDD:

70 GB of space

GPU:

AMD Radeon R9 380 or NVIDIA GeForce GTX 960 2GB

OS:

Win 7 64

Direct X: Version 11
Screen Resolution: 720p
Network: Broadband Internet Connection
Cyberpunk 2077: Recommended System Requirements
Predicted
CPU: Intel Core i5-4670K 3.4GHz / AMD Ryzen R5 1600
RAM: 16 GB RAM
HDD:

70 GB of space

GPU:

AMD Radeon RX Vega 64 8GB or NVIDIA GeForce GTX 1070

OS:

Win 10 64

Direct X: Version 11
Screen Resolution: 1080p
Cyberpunk 2077 Minimum System Requirements – PC Build
If you're looking to build a PC, or even upgrade some components, to be able to play Cyberpunk 2077 – here's what you need to get your hands on. The minimum requirements should allow you to play the game at 1080p and 60FPS.
CPU
GPU
RAM
Cyberpunk 2077 Recommended System Requirements – PC Build
To really get the most out of the game and enjoy that sweet ray-tracing we've been promised, you'll need to beef up your build, and your budget, with these components.
CPU
GPU
RAM
Optimal Hardware Speculation
The specifications used to power the PC that showcased the Cyberpunk 2077 demo at E3 2018 are pretty powerful by anyone's standards but don't represent, by any stretch of the imagination, a top-end machine, especially over 18-months later. Intel, NVIDIA, and AMD have all released new products that outshine the hardware in CD Projekt Red's build.
The game runs incredibly smoothly, and the settings are presumably on either high or ultra to showcase the Polish developer's work. Frame rates are well above 60 FPS and are stable. Naturally, CD Projekt Red wanted Cyberpunk 2077 to look as good as possible for the occasion, so the specifications represent the optimal build for the game.
As such, we can expect the recommended specifications to gravitate somewhat below these, although we recommend a dose of skepticism for the simple fact that the game has had an extra 18 months to percolate and as we all know that time frame is significant in game development and much is likely to have changed. The REDEngine4 (a modified version of the one used for The Witcher 3: Wild Hunt) is hungry as it is and Cyberpunk 2077 is sure to up that demand for power skywards.
As an educated guess, we'd say to reach 1080p, ultra settings, and a stable frame rate above 60 FPS, we're looking at quite a beefy build. The minimum specifications are likely to be around an Intel Core i5-4670K, 8GB RAM, and something like a GTX 960 if the game is optimized well.
As above, this is pure speculation so don't take this as gospel.
What Gaming PC Do We Recommend?
With the above in mind, it's hard to recommend a particular build until CD Projekt Red publish the minimum and recommend Cyberpunk 2077 system requirements. Moreover, we can't do so with any semblance of accuracy until we actually get our hands on the game. 
However, for a bit of fun and the sake of example, and putting any budgetary limitations to one side, we'd recommend:
Minimum (budget) 1080p
CPU:

Intel Core i5-9400F/ AMD Ryzen 5 2600X

RAM:

8 GB

GPU:

NVIDIA GTX 1660
Recommended (mid-range) 1440p

CPU:

Intel Core i5-9600K/ AMD Ryzen 5 3600X

RAM:

16 GB

GPU:

AMD Radeon RX 5700 XT
Overkill (High-end) 4K
CPU:

Intel Core i9-9900K/ AMD Ryzen 9 3900X

RAM:

16 GB

GPU:

NVIDIA RTX 2080 Ti
If Cyberpunk 2077 doesn't run like a dream with these specifications, even at 4K, then we are in for a rude awakening on release date this April.