Dying Light 2 System Requirements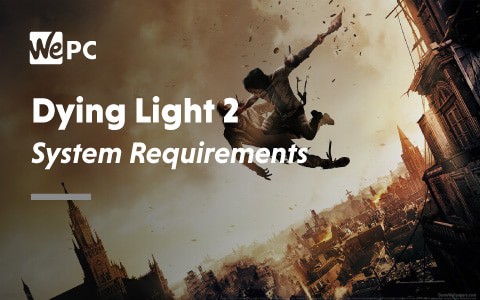 With Dying Light 2 soon to be released, we thought we would bring you some recommended system requirements to give you an idea of what to expect when it's finally released. 
The last thing you want is to discover the title has high system requirements that your PC can't handle when you sit down to play the game. It's always better to have a good idea of what to expect, so you can make any changes to your setup if needed.
Game Details
Following on from the previous game Dying Light, Dying Light 2 is another open-world survival horror game that promises plenty of action. 
As one of the most anticipated games of 2019, we can't wait to see whether the gameplay lives up to its reputation and the released trailers. 
Techland, the company responsible for the game, has come up with a new "C-Engine" which is designed to run open-world action-adventure and action RPG games like this. 
The story is set in the last great human settlement in an infected world – 15 years after humanity first encountered the virus. Resources and power are scarce and civilization has all but been eroded. 
You play as Aiden Caldwell, a survivor infected by the virus. You will use your combat skills, agility and experience to become a powerful ally in the quest for your city's survival.  
Battle through tough decisions, necessary sacrifices, and the responsibility of a society's survival weighing on your shoulders. You can move from humble beginnings to being in a position of great power and influence. 
You can play the entire game campaign in up to a four-player co-op. You'll be able to host your own games or join other players in theirs. See how each other players' choices differ from your own and shape the world around them 
Dying Light 2 Minimum System Requirements
Predicted 
Operating System: Windows 10 64 bit

Processor: Intel Core i3-4160 3.6GHz or AMD FX-6300

Graphics Card: AMD Radeon R9 390 or NVIDIA GeForce GTX 970 4GB

System Memory: 8 GB RAM

Storage: 70 GB
Dying Light 2 Recommended System Requirements
Predicted
Operating System: Windows 10 64 bit

Processor: Intel Core i7-4790K 4-Core 4.0GHz or AMD FX-9590

Graphics Card: AMD Radeon R9 FURY X 4GB or NVIDIA GeForce GTX 980 Ti 6GB

System Memory: 16 GB RAM

Storage: 70 GB 
Hardware Suggestions
Much like its predecessor Dying Light, we're expecting Dying Light 2 to need a good setup that will be able to handle the high FPS rate. 
As it's an open-world game, you'll typically need a decent processor that will be able to handle all the processing in the background. In order to get that 30 FPS rate, we recommend at least a fourth-generation Intel i3 processor to start off with. Anything older than that is likely going to result in annoying little hiccups in the gameplay. 
As always, even the recommended requirements are a base to work from. We would always recommend going above and beyond if you can do in order to take advantage of better tech to improve your overall gaming experience. 
When the final system requirements are officially released, we will update you on the details and we'll see how close our predictions got. With the predictions we've made, we would recommend a PC around the mid-range of around $700 upwards if you are looking to make an upgrade for this title.