Skull & Bones System Requirements
Updated: Jul 8, 2022 10:45 am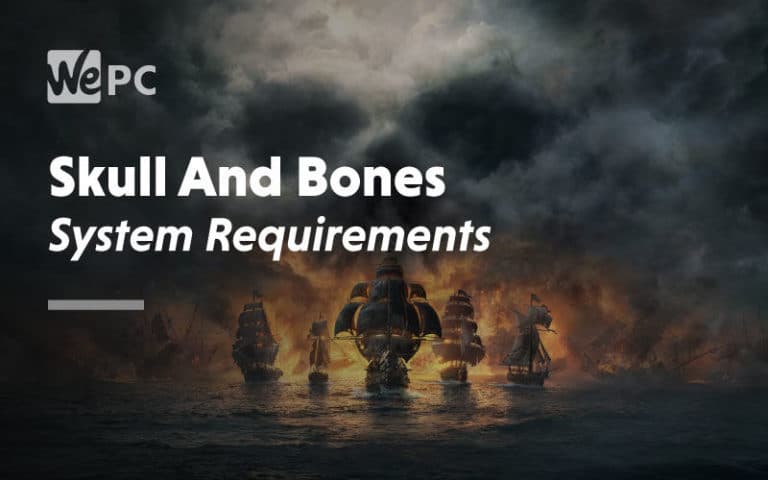 Skull & Bones finally has a release date – and will be setting sail towards the end of this year.
Ubisoft confirmed the long awaited pirate game will arrive on November 8 – for Amazon Luna, Google Stadia, PlayStation 5, Windows PC (Epic Games Store Exclusive), Xbox Series X and Xbox Series S,
Can I Run Skull & Bones?
To determine whether your current gaming rig is up to the demands of Skull & Bones, you first need to figure out what it's hiding under the hood, notably when it comes to the CPU, GPU, and RAM. If you're uncertain how to go about doing this, fret not as you can refer to our guide here, which will walk you through the precise steps.
NOW READ: Skull & Bones release date revealed and latest news
With your specifications in hand, you need only compare them to the minimum and recommended specifications for Skull & Bones, which we've listed below for convenience. We would suggest aiming for the recommended specifications for the best possible gameplay experience.
Checking system requirements isn't exactly an enjoyable experience, so with that in mind, we are currently finetuning a bespoke utility to make the process a lot less of a drag. It will scan your PC and list the specifications, side-stepping that part entirely. It's still under wraps, but expect an update on our progress soon.
Skull & Bones System Requirements Game Details
Release Date:

TBA (PC, PlayStation 4, Xbox One)

System Requirements:

Medium-High

Genre:

Metroidvania-style Adventure platformer

Developer:

Ubisoft Singapore

Publisher:

Ubisoft
Channeling the recent explosion in open-sea pirate-themed games propagated by titles like Sea of Thieves, Assassin's Creed IV Black Flag, and Atlas, Skull & Bones is the latest take on bringing to life the pillaging and treachery of the high seas during the golden age of piracy. From what we've seen of the game so far, Skull & Bones looks on course to be the definitive pirate game on this generation by a considerable margin.
Developed by Ubisoft, Skull & Bones offers players an open world set in the Indian Ocean to explore as the captain of a pirate vessel or one of the many merchant nations eager to establish themselves in the region.
Through tactical naval warfare, exploration, plundering lucrative shipping lanes, and even five-player co-op, the player is tasked with skirmishing for disputed waters. As you'd expect, Skull & Bones is set to feature a vibrant multiplayer component.
Banking on a heavy dose of realism, navigation includes taking into account numerous variables such as the wind, the best way to inflict damage in ship-on-ship combat, and ordering crews to board enemy ships.
NOW READ: Skull & Bones release date revealed and latest news
Keeping with the piracy inspiration, loot plays a huge role in Skull & Bones. From downing enemy vessels or plundering passing ships, progress is measured by the treasures the player can amass. Loot leads to a larger fleet capable of stamping its authority on a broader stretch of the seas.
Skull & Bones Requirements Predicted Minimum System Requirements
Ubisoft has not yet produced any official system requirements yet.
Skull & Bones was initially slated for release at the end of 2018, before being pushed back to 2019, and now it's coming this year. This is interesting when it comes to system requirements – as there's every possibility it won't require a huge amount of firepower.
As such, take the system requirements below as an educated prediction rather than the final say on the matter. We fully expect the final system requirements to not fall very far from our predictions, but we recommend exercising a bit of caution just in case. We'll make sure to update this article when Ubisoft produces the goods.
The CPU and GPU demands, notably when it comes to the recommended requirements aren't what you'd call top tier, but are nothing to scoff at by any means. The RAM count remains relatively typical for this brand of AAA title, as do the storage requirements.
Given the scale of Skull & Bones, and Ubisoft's desire to allow as many players as possible to jump in, we anticipate a stacked array of graphical settings, which should open up the game to quite a few systems ranging from mid-range to top of the line builds.
CPU:

Intel Core i5-4460 3.2GHz / AMD Ryzen 3 1200

RAM:

8 GB (dual-channel)

HDD:

50 GB of storage space

GPU: AMD Radeon R9 380 or NVIDIA GeForce GTX 960 4GB
OS: Windows 10 or 11
DirectX:

Version 12

Screen Resolution:

720p

Network:

Broadband Internet connection
Skull & Bones Requirements Predicted Recommended System Requirements
CPU:

Intel Core i7-6700K 4-Core 4.0GHz / AMD Ryzen 7 1700 @3.0 GHz

RAM:

16 GB (dual-channel)

HDD:

50 GB of storage space (SSD)

GPU:

AMD Radeon Vega 64 8GB or NVIDIA GeForce GTX 1080

OS:

Windows 10 or 11

DirectX:

Version 12

Screen Resolution:

1080p

Network:

Broadband Internet connection
What Gaming PC Do We Recommend?
Without firm confirmation from Ubisoft as to Skull & Bones power requirements, we prefer to err on the side of caution and recommend a build that exceeds the recommended system requirements. Our $1000 build offers a firm foundation to play the game on ultra settings with a frame rate that exceeds 60 FPS quite considerably.
We've allied an AMD Ryzen 5 3600 CPU, an XFX RX 5700 GPU with 8GB of VRAM, and a generous 16 GB of 3600 MHz RAM. We've also managed to squeeze in a 1 TB SSD and a sleek open-sided NZXT H510 case.
For the price, it's a pretty robust build that lends itself to most other demanding games on the market, as well as offering a degree of runway for the foreseeable future.
If you want to up the scales a little, we also recommend our $1500 build with an AMD Ryzen 5 360, GeForce RTX 2080 Super with 8 GB of VRAM, and 16 GB of 3600 MHz RAM.
---