What CPU is equivalent to 12900KS?
Something equivalent to the former most powerful CPU
Updated: Feb 6, 2023 4:43 pm
Intel's 12th generation flagship, the Intel Core i9-12900KS, is the most powerful Alderlake processor. Today, we're discussing what CPU is equivalent to the 12900KS.
Because it's a strong processor, it's also very costly. It launched at an MSRP of some $800, which makes it the most expensive consumer-grade processor ever released by the company. You can find it for closer to $600 today – much lower than its MSRP, but still pretty expensive.
If you're looking for similar performance but at a fraction of the price point, all you have to do is explore Intel's latest 13th-generation lineup.
Intel Core i9-12900KS specifications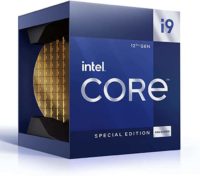 P-core clock speed
3.4 / 5.5 (GHz)
E-core clock speed
2.5 / 4.0 (GHz)
Here are the Core i9-12900KS's specs, so you know what we're working with:
P.cores: 8 (Hyperthreading enabled)
E.cores: 8
Threads: 24
P.core clock speed: 3.4 base / 5.5 boost (GHz)
E.core clock speed: 2.5 base / 4.0 boost (GHz)
L2 cache: 14MB
L3 cache: 30MB
Base CPU power: 150W
Max CPU power: 241W
Socket: LGA1700
iGPU: UHD770
Very impressive specs overall, and you would expect nothing less from the processor that once held the title of the world's fastest desktop CPU. That title has since been claimed by its successor, the newer Intel i9-13900KS.
READ NOW: You can learn more about the 12900KS here in our review 
What CPU is equivalent to the Core i9-12900KS?
The CPU equivalent to the i9-12900KS is the Intel Core i7-13700K. Intel gave the i7 series a strong upgrade with the 13th gen. 
The new i7-13700K processor is a powerhouse of a processor capable of offering flagship-level performance only at a much lower price point.
Intel Core i7-13700K
Base speed
P-cores 3.4 GHz / E-cores 2.5 GHz
Boost speed
P-cores 5.4 GHz / E-cores 4.2 GHz
The 13700K features a very similar setup to the 12900KS. It has 8 hyperthreaded high-performance cores that have a max clock speed of 5.4GHz. The 8 heavy-duty performance cores are complemented nicely by the 8-efficiency cores that run at a comparatively lower 4.2GHz boost clock.
With 16 cores, 24 threads, and a 5.4GHz max clock speed, the 13700K is a competent processor capable of delivering on both single-core and multicore fronts. Its max clock speed is 100MHz lower than the 12900KS, but it manages to offer identical single-threaded performance to the 12900KS.
In applications that are able to utilize the entire processor (all 24 threads), the 13700K comes out ahead. While the two processors have a similar thread count and the 12900KS has a 0.1GHz higher max clock, the 13700K has a 0.2GHz higher max clock speed on its efficiency cores.
The thing is, the 12900KS' 0.1GHz max boost clock lead is entirely reliant on Intel's Thermal Velocity boost kicking in, and it really only does that in short momentary bursts. The boost also fails to kick in entirely if temperatures are too high, which is usually the case since both the 12900KS and 13700K consume a ton of power.
We've already discussed the 12900K's power usage. As for the 13700K, it has a 125-watt base TDP and a 253-watt max TDP. It's more power-efficient while idle but can soak up slightly more power to deliver extra performance as well. You'll need to pair it up with a strong AIO cooler to get the best use out of it. 
---