Last Updated:
As we grow closer to November 26th, Black Friday 4K monitor deals start to become more apparent by the day. Better yet, with competition amongst retailers being at an all-time high, we'll likely see some of the best savings ever for Black Friday 2021.
While 4K gaming has become much more achievable for the everyday gamer, actually purchasing a 4K monitor in today's climate is still considered one of the most expensive upgrades you can purchase. Luckily, that's where Black Friday comes to the rescue.
Like always, this year's Black Friday will be playing host to a plethora of 4K monitor deals this November, with brands making huge reductions on their best-selling 4K displays in a quest to try and secure your business. In the following article, we'll be looking at only the best Black Friday 4K monitor deals, choosing the best based on performance, price, and overall savings.
Black Friday Deals: find huge savings on monitors at Amazon, Best Buy, Samsung, and HP.
Best Black Friday 4K monitor deals in 2021
*Prices are subject to change
Samsung AM702 Series 43″ Smart Tizen 4K UHD Monitor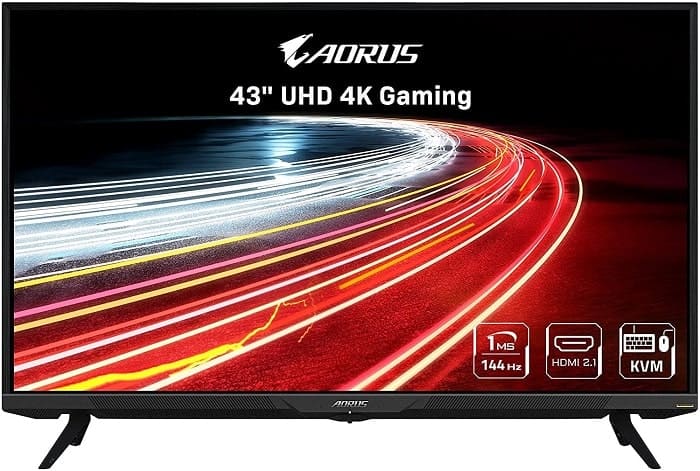 GIGABYTE FV43U LCD 4K QLED FreeSync Premium Pro Monitor
HP V28 4K 28″ 4K Monitor, FreeSync, TN Panel
LG – 27" IPS UHD 4K Monitor with USB Type-C – Black
ASUS ProArt 27″ IPS 4K Professional USB-C Monitor
Samsung 31.5″ LCD Curved 4K UHD Monitor (HDMI)
Samsung UR55 Series 28″ IPS 4K UHD Monitor
Apple 21.5-inch iMac (Early 2019) Retina 4K i5 3.0GHz 1TB Fusion 8GB (Renewed)
SAMSUNG 32 Inch 4K UHD Monitor
Lenovo L28u-30 28-inch IPS Monitor, UHD 4K Display, Ultra-Thin Bezels, AMD FreeSync
Where To Find The Best Black Friday 4K Monitor Deals
Like previous Black Fridays, almost every retailer will be reducing their prices in order to try and secure your business. Whilst this is great for deals, it also makes the entire purchasing process that little bit more difficult.
Below we have listed some of the main retailers that we'll be using to find the best Black Friday 4K monitor deals:
Amazon: The biggest name in the game when it comes to Black Friday deals. We'll be making sure no deal is missed by constantly scouring the Amazon 4K monitor deals.
Newegg: A great resource for finding monitor deals, especially 4K monitors this November. We expect to see decent savings across the board from Newegg.
Walmart: Walmart isn't as popular as Amazon or Newegg (from an online purchasing standpoint) but they do offer a hell of a lot of good deals come Black Friday. We'll be ensuring all are found for your ease.
Best Buy: You can always rely on Best Buy for a decent deal come the end of November. We'll ensure all deals are up to date so that you don't have to continuously scour their website.
Black Friday 4K monitor deals: Retailer shorlist
When will 4K monitor deals start in 2021?
Black Friday falls on the 26th of November this year, with many of the best deals going live around one week before the event itself. 4K monitor deals look set to go live much earlier than usual this time around, however, big retailers such as Amazon, Best Buy, Walmart, and more are all pushing early Black Friday deals as early as the first week in November.
While it's unclear whether or not these deals will be reduced further come Black Friday, big brands are offering Black Friday price guarantees to install confidence in each buyer. This means no matter how cheap the price of the 4K monitor goes, they'll refund the difference. In my book, that's a win-win.
What to look for in the Black Friday 4K Gaming Monitor Deals
Whilst finding the best discount might be your number one priority right now, we still recommend educating yourself on what actually makes a 4K gaming monitor a great one.
Below is a list of factors that could potentially affect the price, performance, and overall user experience of a 4K gaming monitor:
Bezels: A monitor bezel is, for all intents and purposes, the border that sits around the edge of your display. Bezels come in different sizes, with thinner being more advantageous when it comes to immersion. Depending on your styling preference, would recommend finding a monitor that has thin bezels, providing a great overall viewing experience.
Stand: The stand is an extremely important factor when it comes to a monitor purchase. It brings your monitor functionality and versatility, especially when it comes to viewing angles and ease of access for ports. Whilst a great stand may be desirable, they can add a decent amount to the final price point.
Screen size: Screen size is probably the most important thing to consider when buying a 4K monitor, mainly because it adds a huge premium to the cost of your panel. For 4K gaming monitors, you want to be looking at 27-32inch panels. These will, ultimately, provide you with the best viewing experience.
Curved: The last thing to take into consideration is the curvature (or lack of) of a 4K gaming monitor. A curved panel can add a tonne of immersion to your gaming experience but will rack up the price exponentially.
How We Choose The Best Black Friday 4K Monitor Deals
Choosing the best Black Friday 4K monitor deal can be a tricky little process, especially if you're aren't fully up to speed with market pricing and the latest arrivals. Luckily, here at WePC, we have a tonne of market knowledge when it comes to 4K gaming monitors, allowing us to make more informed decisions on Black Friday deals.
We've had the pleasure of recommending some of the best monitor deals through several Black Fridays, allowing us to not only speculate what will be on offer, but also giving us the knowledge to know what is (and isn't) a good deal.
All the deals we choose are based on a number of different factors, prioritizing price, performance, and overall saving.
Why 4K Monitors Are Great For Gaming
One of the big questions we get asked around here when it comes to 4K monitors is, why should I buy one over a 1440p 144hz display? Well, that's a good question and one that would have had a very different answer just 6 months ago.
Gaming in 4K is extremely taxing on your console/PC, especially if you're playing a newer AAA title that utilizes graphical features such as ray tracing and the likes. For that reason, it was never really advisable to get a 4K monitor if you didn't have a top of the line gaming PC to match.
However, since the arrival of two brand new consoles and a tonne of 4K-tailored GPUs from both Nvidia and AMD, there's no better time to dive into the realms of 4K gaming.
Recommended Hardware For Black Friday 4K Monitors
With 4K having such a dramatic effect on performance, users should always think twice before diving into a Black Friday 4K monitor purchase. If you decide to purchase a 4K monitor without the correct hardware, you will experience a huge reduction in performance.
For PC gamers, the following is advised if you're looking into a Black Friday 4K monitor deal:
CPU – As far as CPUs are concerned, if you want to run high-end 4K games, we recommend only the best processors the market has to offer. An Intel i7 (or above) or an AMD Ryzen 9. Whilst the CPU isn't the lead component when it comes to 4K gaming performance, it's still very important factor in driving high frames.
GPU – The GPU is probably the most important factor when it comes to purchasing a 4K gaming monitor this Black Friday. Luckily, both AMD and Intel have just released new cards that are geared towards 4K gaming. If you're looking for the best experience possible, we would recommend an RTX 3080 (or above) or an RX 6800XT (or above).
Best Black Friday 4K Monitor Deals: Related Pages
For more deals like this, why not check out some of our other Black Friday Monitor related pages: