Black Friday ASUS ROG Monitor deals 2022
Join the Republic of Gamers with the Black Friday ASUS ROG monitor deals
Updated: Nov 18, 2022 4:34 pm
Black Friday Asus ROG monitor deals are starting to roll in, and there are some serious savings to be had this year.
Asus ROG Black Friday deals are looking good for everything from keyboards to gaming mice, but for the biggest savings, you'll want to head toward their monitors…
If you've got a great PC gaming setup, then you should probably also have a great gaming monitor, which is where the Black Friday ASUS ROG monitor deals come in.
Regular monitors will do the job, but if you really want to be able to feel the difference in your gaming experience, then you need to get a purpose-built product. ASUS ROG is a brand known for making some truly great gaming gear, and one of the things they make is great gaming monitors. If you're hunting high and low for a deal on a gaming monitor, then check out this list of some of the best deals heading your way this Black Friday. 
Best ASUS ROG monitor deals right now
You can keep an eye on such bargains since the best merchants provide them all year long. If you want to purchase an ASUS ROG monitor before Black Friday, here are some of the top offers we discovered online. We'll also be listing monitors from the ASUS TUF lineup too.
Where to find the best Black Friday ASUS ROG Monitors deals?
ASUS ROG Monitors deals will be available from many retailers this Black Friday, including Best Buy, Amazon, and more, and we'll be listing all the best of them right here on one page. Any time a deal lands for ASUS ROG Monitors, they typically sell out quickly, so you'll need to move fast. So don't wait around – we've rounded up the best ASUS ROG Monitors deals so far and will update you with more as we get them.
Black Friday ASUS ROG monitor deals shortlist
Last year's Black Friday ASUS ROG monitor deals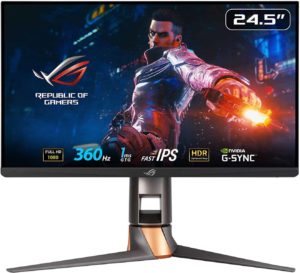 11% off
ASUS ROG Swift 360Hz PG259QN
ASUS ROG Strix 27" 1440P HDR Gaming Monitor (XG27AQ)
ASUS ROG Strix 27" 1440P HDR Gaming Monitor (XG279Q-G) GUNDAM EDITION
*Prices are subject to change. WePC is reader-supported. When you buy through links on our site, we may earn an affiliate commission.
Learn more
When will ASUS ROG Monitors Black Friday sales start in 2022?
You may expect some great savings on ASUS ROG Monitors because Black Friday deals will start on November 25th. We'll be looking over the internet for some amazing deals to share here. Make sure to bookmark and frequent our page to take advantage of the best deals and discounts on this product.
How to get the best Black Friday ASUS ROG Monitors deals in 2022?
The best deals we uncover online will be included on this page, so keep an eye out for bargains from the best retailers.
Features to consider when looking for a Black Friday ASUS ROG Monitors deal
If you're looking for the best ASUS monitor, you'll discover a few outstanding gaming alternatives from ASUS' ROG and TUF lines with high refresh rates, including the ASUS ROG Swift PG279QM. ASUS primarily concentrates on gaming monitors. As long as your graphics card can handle it, it's an amazing gaming monitor with a 1440p resolution and 240Hz refresh rate that gives you sharp visuals and a fast refresh rate.
Black Friday ASUS ROG Monitors FAQs
Are Asus Monitors reliable?
Yes, it is a trustworthy and reputable brand for monitors. ASUS has been in operation for more than 30 years and makes some of the highest quality products. Gaming fanatics should use Asus gaming monitors since they are among the best available on the market.
What is the difference between TUF and ROG monitors?
While the ROG supports G-SYNC VRR, the TUF supports FreeSync variable refresh rate (VRR) technology. The key reasons for their disparate overall performances are the TUF's HDR capability and quicker refresh rate, which make motion appear smoother.
Other Black Friday deals pages
If you're looking for somethign other than ASUS ROG Black Friday monitor deals, here is a selection of other deal;s pages.
---