Logitech G502 Lightspeed Black Friday deals 2022
Be a hero and grab a G502 this Black Friday
Updated: Oct 3, 2022 12:02 pm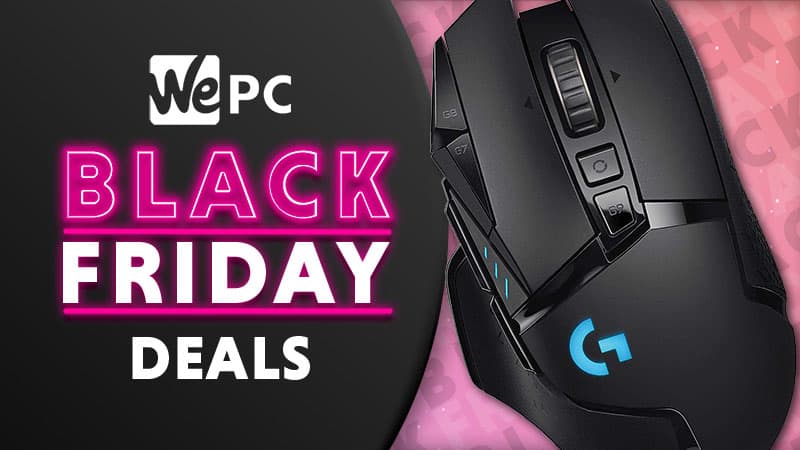 Are you after the best Logitech G502 Lightspeed Black Friday deals? We've got everything that you need to know. Ready to make the jump to a high-performance wireless gaming mouse? We've rounded up the very best and cheapest Logitech G502 Lightspeed mouse deals you'll find this Black Friday. For those in the know, the Logitech G502 Lightspeed needs no introduction; for the rest, it's a mouse loved and prized by countless gamers for delivering the precision and accuracy required to excel in competitive games, and is often one of the most preferred and beloved mice, especially in comparison to other brands.
Best Logitech G502 Lightspeed deals 2022
Logitech has always been a top contender for all sorts of tech and their range of mice has always been highly sought-after. Especially for gamers, a comfortable and well-built gaming mouse with all the high-quality specs they expect should be high on their priority list this coming Black Friday. We know that getting that mouse which suits you perfectly can up your game and we're here to bring you the best deals for the Logitech G502 Lightspeed!
Beyond wireless performance, the Logitech G512 Lightspeed features a next-gen Hero 25K sensor with fantastic IPS tracking speed, a DPI of 25,600, and efficient power usage for a battery life of 60 hours on a single charge. It also features PowerPlay wireless charging for endless battery life when used with Logitech's compatible mouse pad. The features don't stop there, though: RGB lighting, rubberized side grips, 11 programmable buttons, a tuneable weight system, and mechanical button tensioning for that perfect, crisp click.
Where to find the best Logitech G502 Lightspeed deals
You should be able to find the Logitech G502 Lightspeed at all good gaming retailers and other electronics stores on Black Friday 2022. By leveraging Logitech's well-tuned Lightspeed technology, the G512 Lightspeed shines for offering a wireless mousing experience akin to that of a wired device. And, this isn't just marketing fluff; the proof is in the pudding, as they say, with unflinching high-performance in the most flick-shot-heavy games.
We're here to bring you the latest deals as soon as possible, as we count down to Black Friday this November 25th. Keep coming back to this article to make sure you're not missing out as we do some deep searching and update when deals come through.
Logitech G502 Lightspeed sales shortlist
We hope for plenty of deals coming this Black Friday for this fantastic model, keep checking back for further updates:
Last year's Black Friday deals for Logitech G502 Lightspeed
Take a look at the best deals from last year! We expect to see even better offers this year, so it's always worth looking back to just last year and getting a sense of what's to come:
When will Logitech G502 Lightspeed Black Friday sales start in 2022?
Black Friday comes around every year, this year landing on November 25th – with Cyber Monday closely following it as always. Don't limit yourself to just these two days of the year though, as Black Friday deals (just like every year) start coming through at least a couple of weeks prior to the big day. We always recommend that you are nice and early, aware of what's to come by scouting out your top picks and biggest savings in advance!
Looking for a fantastic wireless gaming mouse? Black Friday is the perfect time to get your hands on the Logitech G502 Lightspeed.
How to get the best Logitech G502 Lightspeed deals in 2022
Black Friday deals for this model are expected to be fantastic this year, so we're here as usual to take advantage of the amazing offers that will be coming through for the Logitech G502 Lightspeed in 2022. Even though it was released back in 2019, this mouse is as relevant as ever – keep this article under your watchful eye for the best Lightspeed sales.
If you're not all that fussed about wireless connectivity and want to save some cash in the process, the Logitech G502 Hero is a winner, too. As the name implies, it's functionally the same mouse as the G512 Lightspeed minus wireless connectivity and a few differences such as a thinner wall design and endoskeleton found on the Lightspeed variant. The Hero is often priced as much as $100 lower than the G512 Lightspeed, making it a no-brainer for those wanting to save money but still land themselves one of Logitech's best gaming mice.
You can get more Black Friday deals right here on WePC.
What top features to look out for in the Logitech G502 Lightspeed
The Logitech G502 Lightspeed is a very received product – we've been hearing great things about it.
Consumers looking for this mouse will likely be using it for the purpose of gaming. That means you expect the mouse to be well-built, with plenty of programmable buttons at your disposal – and the Logitech G502 Lightspeed doesn't disappoint here. This device also allows for a large DPI range, which is consistent and smooth throughout.
This is fantastic top-of-the-range wireless mouse, so you can expect fantastic wireless performance with instant and excellent responsiveness, with up to 60 hours of battery life (with no lighting on the mouse) and 48 hours with default lighting.
One more thing to note is that this device is fully compatible with Windows and macOS for any type of user out there.
Black Friday Logitech G502 Lightspeed FAQs
When do Black Friday sales start in 2022?
The Black Friday Sales for 2022 start a week before November 25th, which is the day of the event itself.
Will the Logitech G502 Lightspeed be on sale this upcoming Black Friday?
It's always worth to keep a check on a particular product you have your eye on. If you've been wanting to get a Logitech G502 Lightspeed for a while now, Black Friday is the time of year it's almost guaranteed to have some great offers on.
More Black Friday deals
Interested in other technology deals this Black Friday? Fear not, we've got a tonne of pages dedicated to finding the best Black Friday deals on the web:
Check out all our Black Friday deals here.
---