MacBook Air Cyber Monday Deals 2021
Get yourself a Macbook Air this Cyber Monday.
Updated: Nov 29, 2021 11:03 am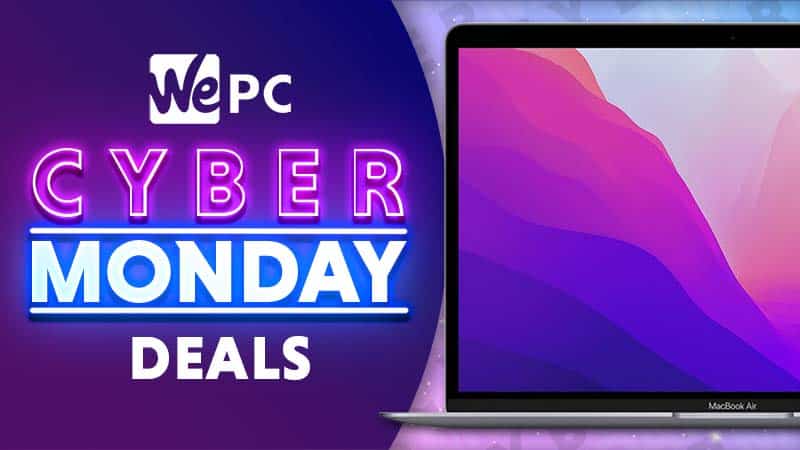 The MacBook Air range of laptops from Apple is all set to reach some of their lowest-ever prices this Cyber Monday, as retailers look to clear stock of the popular notebook. All the more reason for you to be on the hunt for the best deal as we head towards Cyber Monday: Apple products like the MacBook, Mac Mini, AirPods, and iPhones are always at the top of most shoppers' wishlists during this time of year, and we're expecting to see offers aplenty on the MacBook Air in particular.
Why buy a MacBook Air this Cyber Monday?
$100 off
Apple 13.3-inch MacBook Air, M1 7-Core, with Retina Display 2560 x 1600 (Late 2020)
$170 off
Apple 13.3-inch MacBook Air, Intel Core i3 with Retina Display 2560 x 1600 (Early 2020)
*Prices are subject to change. WePC is reader-supported. When you buy through links on our site, we may earn an affiliate commission.
Learn more
The MacBook Air is a perfect fit for anyone looking to get their hands on a MacOS laptop but maybe doesn't need the insane power (and higher price tag) of something like the 16 inch MacBook Pro. The latest models of the MacBook Air are still plenty powerful in their own right, featuring Apple's own M1 processors, which amp up the performance significantly.
That being said, if you're on a budget, the previous generations of Intel-based MacBook Airs are still a great choice: beautifully designed, lightweight and with more than enough juice to handle most lifestyle tasks as well as gaming. If that's your goal, then Cyber Monday is the right time to pull the trigger: with quite a wide selection of models in the MacBook Air range, we're anticipating seeing some fantastic deals on some of the earlier-gen laptops in the coming days and weeks. All you need to do is find the right deal for you.
What are the best MacBook Air deals this Cyber Monday?
With several different models on the market, some of which have entirely different components compared to other generations of MacBook Airs, it can be tricky to guarantee that you're getting a top deal this Cyber Monday. That's why we've pulled all our favorite listings of MacBook Air laptops together for you, right here.
---