Razer Monitor Cyber Monday Deals 2021
If you're needing a new monitor, why not treat yourself to a Razer one this Cyber Monday?
Updated: Nov 29, 2021 11:04 am
A decent gaming monitor is the best compliment to a high-powered gaming rig. There's no good having all that gaming hardware pushing your FPS limit if you can't actually see it after all. Razer makes the perfect monitors that can help you get the most out of your gaming hardware. If you're looking for a great deal on a Razer Monitor this Cyber Monday then you've come to the right place. We've compiled all of the biggest discounts that you'll find on these devices anywhere online during Cyber Monday 2021.
Where to buy a Razer Monitor on Cyber Monday 2021
For the biggest discounts on Razer monitors, Amazon wins hands down. The site is just so huge that it can afford to offer some of the biggest discounts on the market. Failing that, big box stores like Best Buy can also offer some pretty decent discounts on electronics items like these Razer monitors. You should also keep an eye out on more obscure sites, as they often feature surprisingly large discounts on Cyber Monday in an attempt to draw customers away from bigger retailers. Finally, there's always the Razer site itself as a last resort as they often have the most stock available.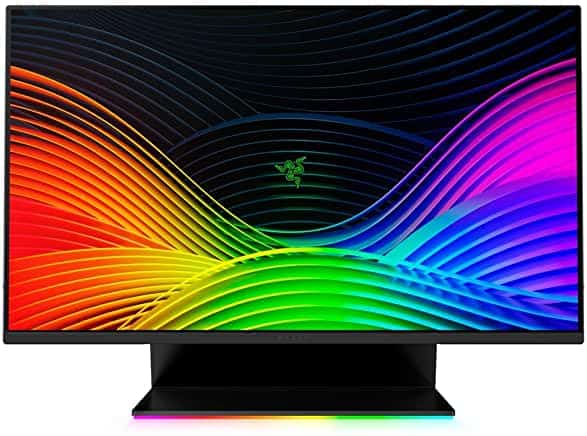 Razer Raptor 27″ 144Hz Gaming Monitor – Non-Glare WQHD IPS Display – 90° Tilt
*Prices are subject to change. WePC is reader-supported. When you buy through links on our site, we may earn an affiliate commission.
Learn more
How much will a Razer Monitor cost on Cyber Monday 2021?
Razer makes two different monitor variants for you to get your hands on, both called the Razer Raptor 27. These 27″ monitors come in two flavors, 144hz, and 165hz, with the higher refresh rate increasing the price by around $100. The cheaper of the two starts at around $700 before discounts, but you can expect retailers to reduce the price to around $500 or so based on previous years. Of course, if you want the higher refresh rate that price will probably be closer to $600, but both of them will be subject to potential flash sales.
---