Best Gaming Monitor for Xbox One X
Featuring 4K, 144hz, and HDMI 2.1 supporting panels
Updated: Jun 30, 2023 11:50 am
01

Best Monitor for Xbox One X

02

A stunning 4K gaming monitor from LG

03

A fantastic gaming monitor that won't break the bank
As we always say, gaming monitors are one of the most important components of a high-class gaming environment. Whether you are a competitive gamer or a casual hobbyist of games, a console gamer or you prefer to play on PC, getting the monitor right can take your gaming experience up more than just one level. The Xbox One X is a seriously impressive piece of gaming machinery that warrants, nay, deserves the best quality monitor possible.
Whether you play intense first-person shooters, you're a professional esports competitor, or even if you like to spend your time on Minecraft, a good quality monitor can make all the difference. Luckily for you, there is so much choice out there.
Best Gaming Monitor for Xbox One X: Our Top Picks
Alienware 25 Gaming Monitor – AW2518Hf
We've scoured the web and have found the best monitors for Xbox One X, saving you time, stress, and probably a whole lot of cash in the process.
So, with plenty to get through, let's dive straight into it!
Check out our complete guide on the best console gaming monitors here!
Best Monitor for Xbox One X: our top picks
01

Best Monitor for Xbox One X

02

A stunning 4K gaming monitor from LG

03

A fantastic gaming monitor that won't break the bank
Best Monitor for Xbox One X: Reviews
Best Monitor for Xbox One X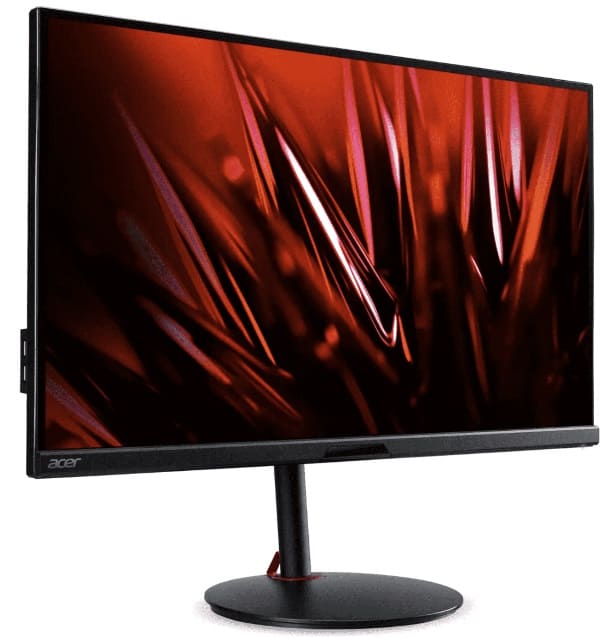 Pros
4K monitor for the highest quality resolution
A good response time of 1ms (GTG)
HDMI 2.1 support
Cons
Poor peak brightness
Doesn't support HDR content
First on our list is the hugely impressive Acer Nitro XV282K. This monitor is ideal for the Xbox Series X because of the excellent size, quality, and other specifications it features. This monitor is UltraHD 4K so it will be compatible with the Xbox X, allowing you to use the console to its full potential. The aspect ratio is 16:9 which is more than adequate for your gaming needs.
It is great for anyone looking for the highest quality color from their graphics because of the large color gamut it offers. It also features AMD FreeSync which stops screen tearing and stuttering when you're gaming, useful if you are going to use this with a PC as well with an AMD GPU. The size of the screen is 27 inches. The monitor has two HDMI 2.1 ports, meaning it can support your Xbox X, as well as another device such as your PC should you want to connect that as well. The panel type of this monitor is In-Panel Switching (IPS) making it the perfect choice for gamers who favor high-quality graphics.
The refresh rate is a modest 144Hz, making it an excellent choice for both competitive and casual gamers. This also has an excellent response rate of 1ms, helping to reduce annoying screen artifacts such as ghosting and smearing. Overall, this is the ideal monitor for those gamers who are looking to get the most out of their Xbox X to really take advantage of its 4K abilities.
A Stunning 4K Gaming Monitor From LG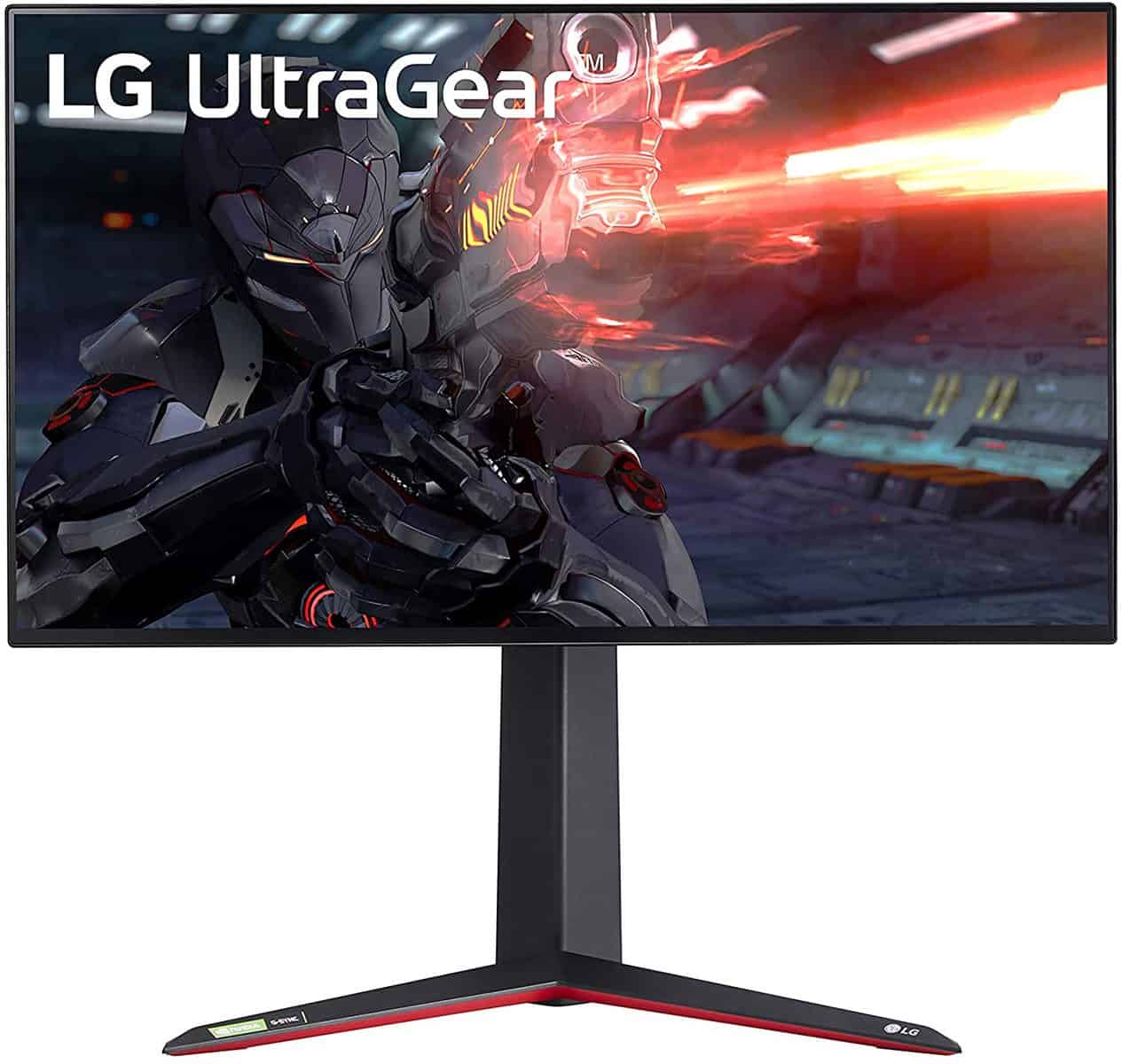 Pros
It promises excellent levels of eye comfort thanks to the blue light filter
27 inch screen which is a great size for all types of gaming
Professional and competitive gamers will rejoice at the impressive 1ms response time
Likewise, everyone will be impressed by the refresh rate of 144Hz
FullHD resolution and IPS panel makes it a great choice for good quality game graphics
Cons
Peak brightness isn't ideal
The next Xbox One X monitor we wanted to tell you about is the impressive LG 27GN950-B. This model is another 27-inch screen, meaning you get some immersive playing experience in UHD quality. Like our top pick, this monitor also offers you fantastic picture quality alongside silky smooth gameplay – thanks to a low response time and quick refresh rate.
These features mean that this model is the perfect choice for more competitive and social gamers. The IPS panel really makes the color pop, too, giving you high-quality graphics, whatever game you decide to load up. All graphics will be displayed smoothly, even on the fastest paced games. Professional gamers (or even those gamers that play long sessions) will love the blue light filter feature that makes it easier on your eyes. It has two HDMI ports, and four USB 3.0 ports, meaning you can get the most out of this monitor in terms of the devices you can plug in.
A Fantastic Gaming Monitor That Won't Break The Bank
Alienware 25 Gaming Monitor – AW2518Hf
Pros
An excellent brand that has partnered with League of Legends for gaming tournaments, meaning you are in safe and capable hands when buying from them
Two HDMI ports, as well as an array of other ports for USB, headphones, and more
A high-quality refresh rate of 240Hz
Fast response times of 1ms
IPS technology for high performance and graphics
Cons
It is smaller than some other screens on the list at 24.5 inches, this won't be a big deal for most people, but those looking for a bigger monitor or those who have previously had a bigger screen may find it lacking
This monitor is a piece of tournament approved, professional hardware, and the brand has partnered with League of Legends for their gaming tournaments. This already sets the monitor in good stead, reassuring buyers that it will be a high-quality choice. The screen is 24.5 inches, giving you a more than ample size screen to play on.
The resolution is FullHD 1080, again, not the highest resolution in the world but more than enough for some excellent quality graphics, especially when you consider the fact that the monitor also has refresh rates of 240Hz and response times of 1ms. It has IPS technology and a 99% sRGB color. This means that your gameplay will be as sharp as possible, ensuring each second is smooth and that you can play with ease.
There are cooling and venting capabilities on all sides of the monitor too, so you need not worry about overheating, even during the most intense battle. The monitor features ports aplenty for HDMI, USB, and even a headphone jack.
Best Value Xbox One X Monitor
Pros
Shadow Boost helps to brighten scenes that are darker without overexposing the lighter parts of the scene
There is a 144Hz refresh rate to ensure gameplay is as smooth as can be
The 1ms response time make sure there is no lag, which is especially important for high intensity games such as FPS
27 inch screen with IPS technology for immersive graphics
Cons
We noticed that there were some customers who began to report dead pixels after a few months of use with this monitor. Of course, this is not something that happens to everyone but it is something to keep in mind
Next up for review we have an impressive monitor from Asus. Their VG279Q is a worthy contender in our list due to its 27 inch size and fast input technology. GameFast Input ensures that you get a fully responsive gaming experience, whatever game you play. The monitor has an IPS panel, ensuring graphics are high quality. The impressive 144Hz refresh rate and 1ms response time ensure that gameplay is smooth, no matter how intense a battle you are playing.
The monitor is FullHD resolution which is an ample amount for most gaming, and also has Shadow Boost to help brighten dark areas on the screen without overexposing the brighter areas in game scenes. It comes with a stand but can also be easily wall mounted. It also has an HDMI port, as well as ports to connect your PC and headphones.
A Cheap Xbox One X Gaming Monitor
Pros
The biggest screen on the list at 32 inches
It is 4K in terms of screen resolution meaning you can get the most out of your Xbox X's 4K capabilities
Brightness Intelligence Technology Sensor that adjusts to the ambient lighting surrounding the monitor to adjust the brightness of it, protecting your eyes
1ms response time and 60 Hz refresh rate for smooth gameplay
Cons
It is a VA panel monitor which may put off some players as typically the quality is not as good for gaming compared with TN and IPS panels
This monitor is the largest on the list at a whopping 32 inches wide. It also boasts 4K screen resolution making it a great choice for those wanting to get the most out of Xbox X's 4K capabilities. It has USB-C, HDMI, and headphone jack ports so that you connect all the devices you need at once. It has a 1 millisecond response time and 60Hz refresh rate, making it a great choice for gamers who want smooth gameplay.
It also features BenQ's patented Brightness Intelligence Technology Sensor which lets the monitor adjust its screen brightness depending on the ambient lighting of the room you are playing in. This, in turn, protects your eyes from strain, especially in longer playing sessions. It is also the only VA panel on the list. VA is not typically recommended for gaming monitors as TN and of course, IPS are often the better choices.
However, because of the array of other redeeming features this monitor has, it is still an excellent choice for your Xbox X monitor and you should not let the VA panel put you off unless you are a professional, competitive player looking for the highest quality you can get.
How we choose
Getting your Xbox Series X is the easy part. Getting the peripherals right is the difficult part if it isn't something you've done before. You will be eager to choose the right monitor to get the absolute most out of your gaming experience, and we know it can feel quite overwhelming.
To help you choose your monitor for your Xbox X we have compiled a list of five of the very best models out there, as seen above. Further on in the article, we will also be reviewing each of them in-depth with a pros and cons list.
It can take us hours upon hours of in-depth research to find the perfect products for you, and we look through so many product specifications as well as reviews from other customers to help us choose the perfect products. With each article we write, we tend to find that there are several things to consider for each product. To help you even further, we have also compiled a handy guide to tell you exactly what these considerations are.
What To Expect When Buying A Monitor For Xbox One X
Screen Size
The size you choose will depend on your specific needs and preferences. Of the top picks we have found for you, the sizes range from 24.5 inches to 32 inches. Anything between these numbers is considered a good option, especially for something as powerful as the Xbox X. Again though, it is a personal choice, and not everyone likes a screen as big as 32 inches, or as small as 24 inches. Choose the screen size that suits you best. After all, it's you that will be using it, and you need to be comfortable.
Resolution
Xbox X's are 4K compatible, therefore, ideally, you would want a monitor that can support this so you get the full experience. If 4K is not possible there are some excellent models out there with slightly lower resolutions that would still work well for you. Typically the choices you have in today's markets are Full HD (1080p), 2K which is also known as QuadHD (1440p), or 4K which is what is known as UltraHD (2160p). The higher the resolution, the sharper the pictures you will be able to see. This means your gaming visuals will be of a much higher quality. The minimum you should choose is FullHD (1080p).
See our best 4K Gaming Monitor Guide Here!
Response Time
For the casual gamer, this factor may not be so big a deal. The reason for this is because, to the untrained eye, the difference between the two typical response times is largely unnoticeable. For competitive gamers, this becomes a more important consideration. Response time is the time it takes for the monitor to change color. It is measured in milliseconds (ms) and is usually either 1ms or 5ms for monitor screens. Professional players may well want to stick with 1ms screens, whereas casual gamers will likely be more than happy with a screen with 5ms response time.
Performance Or Visuals – What To Prioritize For Your Screen
Your monitor screen, or panel as it is also known, can come in three different types. There is the Twisted Nematic (TN), In-Panel Switching (IPS), and Vertical Alignment (VA). Each of these panels (or monitor screens) is different, and so is suited for different uses. Whether you prioritize your gaming performance, or the graphics of your game is the main thing that needs to be taken into account when it comes to buying a monitor for your Xbox Series X. VA panels are probably the least appropriate choice for your Xbox X monitor, so the choice is between IPS or TN. A TN panel would be better for someone who plays professionally, needing faster response times, for example. Whereas casual gamers or those who prefer high-quality graphics may be better off getting an IPS panel monitor.
Refresh rate
The refresh rate is a unit of measurement in Hertz (Hz) that tells you how many times the images refresh when they are being displayed on your monitor panel. It can seriously impact your gaming experience and should be considered as one of the more important factors of your monitor choice. A higher refresh rate makes it smoother, and more importantly, a more enjoyable gaming experience. The biggest factor it depends on is what games you play. Casual gamers will be more than happy with 60Hz, whereas those playing professionally will want at least 120Hz, perhaps even up to 240Hz. FPS games will certainly look better on a screen of 120Hz or more.
Final Word
As you can see, when it comes to choosing the best monitor for Xbox One X, the choices are plenty. Of the five we have handpicked for you, we feel confident that among them you will find your ideal Xbox X monitor that fits your needs and desires perfectly. You can take our word for it that these monitors will be impressive. If you still can't find the perfect monitor from our choices above, don't forget to use our in-depth and handy Buyers' Guide where we break down all the factors that you should take into consideration when choosing your own monitor.
Happy gaming, everyone!
---