Portable Gaming Monitor
We give you a rundown of all things you need to consider.
Updated: Aug 19, 2022 3:34 pm
Portable gaming monitors aren't new by any standard but it does appear more and more manufacturers are getting on board with this technology, posing the question – Why buy a portable gaming monitor?
Adding a second screen is nothing new and a portable gaming monitor is a much more versatile way of adding more desktop real estate. Your gaming may not strictly happen in one place and if you are moving around a lot, a handy bag sized portable monitor is going to be much more convenient than your regular alternatives.
As portable gaming monitors aren't as readily available and heavily tested as regular gaming monitors, we are going to go over why someone would actually buy a portable gaming monitor and what is important to look for, to ultimately help you find out if you should invest in this type of panel or not.
What Is A Portable Gaming Monitor?
While smaller form factor PCs, laptops, and consoles can easily be stowed away and taken with you, regular monitors are very bulky and can often break quite easily in transit. Portable monitors vary in size and there are panels for almost everyone, with gaming varieties being the most recent.
Portable monitors, in general, have been developed from laptop screens, with the perfect size being between 15 and 17 inches. This size can suit a gamer in a pinch and when you are sitting close, you negate the downsides of a smaller screen anyway. Most portable displays use a stand that consists of thin, robust plastic. These stands are very similar to tablet carry cases, almost identical in fact, with them folding over to provide the user with an obtuse viewing angle. To prevent the screen from simply falling down, there is usually a grippy part to the carry case or what you may often find is a groove in the cover, providing stability.
As mentioned these foldable stands are formed from the carry case itself that naturally will protect the screen and device if dropped. More basic designs with portable gaming monitors use the same pivot mechanism as a picture frame, although these can't double up as protective covers and are usually found on cheaper models.
Why Buy A Portable Gaming Monitor?
First off it is important to know that while portable gaming monitors are generally more expensive, there is a model for everyone's budget. When it comes to why you should buy one of these portable gaming monitors, it is mostly down to personal circumstances, as WePC would always advise you to get a regular gaming monitor instead.
First off, let's talk about gamers who use laptops. Laptop gamers love the convenience of being able to set up and play their AAA titles anywhere, whether it's around the house or on the go. The issue with gaming on a laptop is usually down to the limited screen size, and I don't know if you have tried to use a laptop screen but it does become tiresome. So a quick fix to this issue would naturally be a portable gaming monitor. You can pack away this device with your laptop and set it up in a hurry giving you extra screen real estate to play with.
Another reason you should buy a portable gaming monitor could be down to how small the environment your PC or console resides in. You may travel a lot for work and have been looking for a less bulky solution to finally play some games when you're in a hotel or staying a friend's house, without packing your 27" gaming monitor into a suitcase.
The bottom line is, we would never recommend you buy one of these over a regular gaming monitor unless your situation requires you to get one.
Things To Consider Before Buying A Portable Gaming Monitor
So now you know why you should buy a portable gaming monitor, let's go over a few things to consider, to ensure you get the right product for your needs.
Resolution
At the moment, screen resolution options appear to be limited for gamers to just 1080p and 4K. This won't always be the case and I'm sure 1440p models are already in the making but unless your gaming rig can handle 4K, I would stick to 1080p, as everything on the screen will be much easier to read.
Panel Type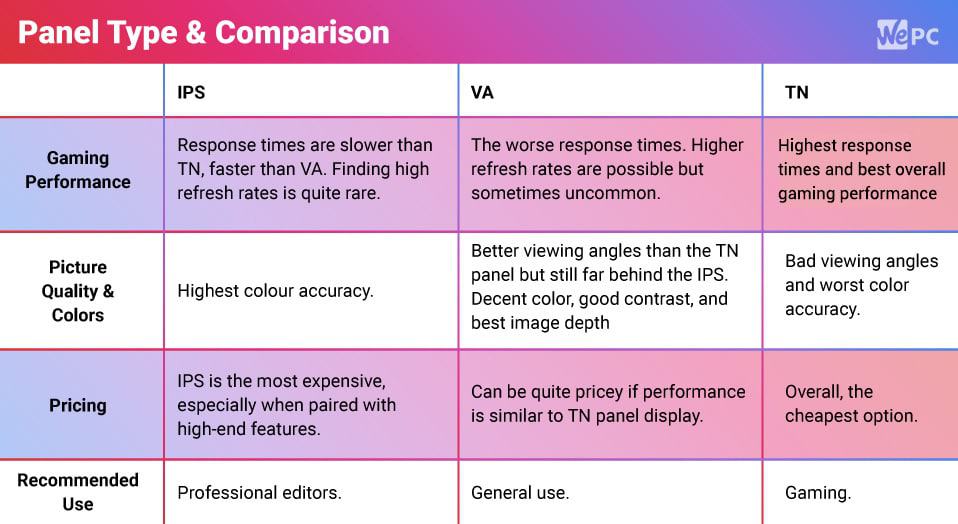 A lot of portable monitors appear to be the superior IPS panel type. Monitors that make use of IPS (in-plane switching) are generally preferred over VA (vertical alignment) and TN (twisted nematic) panels. IPS are preferred for their wider viewing angles, giving you more use from your portable gaming monitor than just gaming as you can lounge around and watch films without having to adjust the screen.
IPS is quite common these days and with the response times getting closer and closer to the response times on TN panels, there are fewer reasons to go for a TN panel than ever, aside from price.
Power And Connectivity
These highly mobile portable monitors have the added benefit of using USB-C connectivity recently, allowing them to charge up rapidly and become even more viable. A lot of USB-C ports support both DisplayPort over USB and USB power, allowing the data and power to flow through the same port.
Quite a lot of portable gaming monitors sport a USB Type-C port but will often come with additional HDMI ports to hook this up to your gaming device too.
Portable Gaming Monitors: Our Top Picks
If you've decided that you want to splash out and get your hands on a portable gaming monitor, here are some of our favorite options to pick from. If you want to find out more about why we love them and check out some more options, be sure to take a look at our Best Portable Gaming Monitors page for more information!
Final Word
Whether you are tight on space, thrive off convenience, or want to keep an eye on the kids while they game, a portable gaming monitor has many benefits. Of course, this type of monitor does come at an extra cost but when has convenience not?
We recommend you always go for a normal gaming monitor when you can and only opt for a portable monitor if you absolutely need to.
Hopefully reading this has helped you determine why you should buy a portable gaming monitor and you can get back into those games quick time!
Have you ever owned a portable gaming monitor? Are there any models you feel should have made the cut? Head over to the WePC Community and share it with the team.
---