Secure your next Clash Royale win with these best Golden Knight decks
Use Clash Royale's new dashing but deadly Champion to its fullest potential
Updated: Nov 30, 2021 2:26 pm
If you're searching for the best Golden Knight Clash Royale decks, you've likely heard about the new update that has hit the increasingly popular mobile game.
This latest update Supercell has dropped for Clash Royale has introduced Champions, a new super set of cards that all have unique abilities that look to dispatch your opponents in quick fashion. What this does, however, is create a whole host of new deck opportunities for players to build and these new combinations can certainly be tricky to craft right out of the gate.
This is where we come in. Below, we'll be showcasing the best Golden Knight decks for Clash Royale so that if you're running this new Champion, you'll hopefully never get embarrassed in your PVP battles!
Best Golden Knight Clash Royale decks
We've picked out three of the best Golden Knight decks around for you below so that you too can utilize the new Champion to its fullest potential. There are variations in each of the decks but some cards crossover into one another so you potentially could build all three if you have the cards at your disposal.
Boss_CR's Golden Knight Miner Control deck
First up, we have a Golden Knight deck from Youtuber Boss_CR. This Golden Knight deck utilizes Miner Control as its main strength and it has certainly been successful in his endeavors so far. Here's a full card list if you want to make it for yourself:
Golden Knight
Bats
Miner
Tesla
Lightning
Mother Witch
Electro Spirit
The Log
3M EBarbs Ghost Pump deck
Another one of the best Golden Knight decks is the 3M EBarbs Ghost Pump; this deck works wonders against a variety of opponents and has been proven to come out on top in quite a high percentage of battles. This deck contains the following cards:
Barbarian Barrel
Elite Barbarians
Elixir Collector
Golden Knight
Heal Spirit
Ice Golem
Royal Ghost
Three Musketeers
RHogs RR FM Zappies deck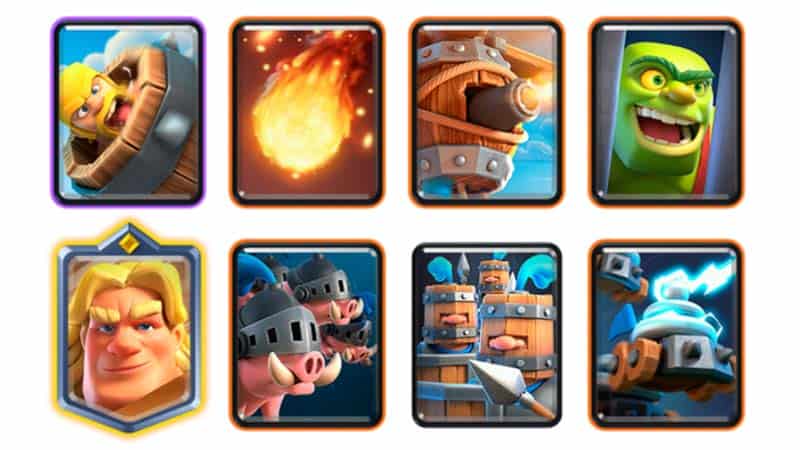 Last, but not least, we have this RHogs RR FM Zappies Golden Knight deck. This one utilizes the Barbarian Barrel of the previous deck but instead, mixes it up with a variety of other cards such as Zappies to conquer the battlefield. Here are all the cards you need to create this deck for yourself:
Barbarian Barrel
Fireball
Flying Machine
Goblin Cage
Golden Knight
Royal Hogs
Royal Recruits
Zappies
---