Dying Light 2 Voice Actors
All Voice Actors from Dying Light 2. Learn who lend their voice to Aidan!
Updated: Feb 24, 2022 10:32 pm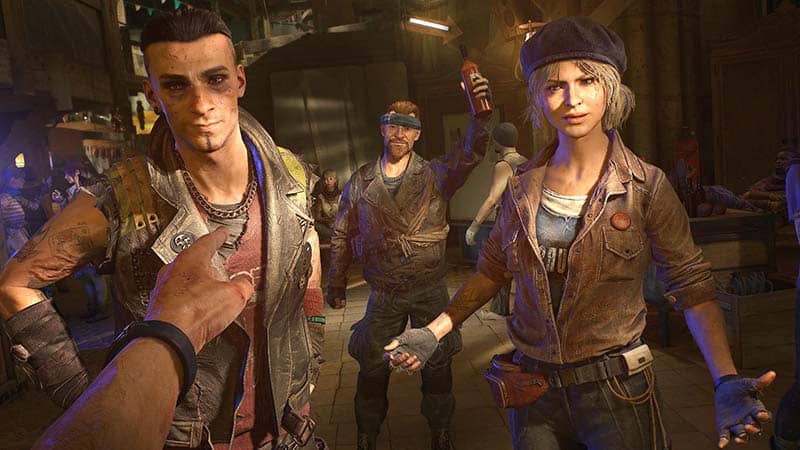 Dying Light 2 is a great game with amazing flow of gameplay. Its story might not be the strongest aspect of the game, but it is worth experiencing and giving a try. It is definitely helped by the incredible work done by the voice actors of Dying Light 2. Let's meet the cast!
Dying Light 2 Stay Human Voice Cast
We cover only the English version voices of the game, because it is the language the most people will experience the game with.
Main Dying Light 2 Cast
Aiden Caldwell played by Jonah Scott
Lawan played by Rosario Dawson
Hakon played by Jonathan Forbes
Frank played by Stewart Scudamore
Jack Matt played by Elroy Powell
Waltz played by Demetri Goritsas
Kris played by Nigel Barber
Aitor played by Alec Newman
Sophie played by Suanne Braun
Loes played by Anna Rust
Vincenzo played by Ben Cura
Cilian played by Francis Magee
Rowe played by Glenn Wrage
Read More: Dying Light 2 day one patch contains over 1000 fixes
Other Dying Light 2 Voice Actors
Anderson played by Jade Anouka
Nitaf played by James Sobol Kelly
Barney played by Joseph May
Thalia played by Samantha Dakin
Corrin played by Kieran D. Gough
Veronika played by Kosha Engler
Nerys played by Lucy Newman-Williams
Juan played by Peter Brooke
Plaguewitch played by Sara Powell
Alberto played by Sidney Kean
Other Barney played by Stefan Trout
Steve played by Christian Banas
Nikolas played by Mark Holden
Danior played by Nathan Osgood
Albert played by George Ledoux
Additional Voicees: Adam Wittek, Antony Byrne, Atilla, Akinci, Bruce Lester-Johnson, Clare Corbett, Graham Vick, Harriet Carmichael, Katherine Fenton, Nathan Wiley, Nigel Whitmey, Osy Ikhile, Hyoie O'Grady, David Holt, Josh Danford, Gyuri Sarossy, Derek Hagen, Jason Barnett, Adam Longworth, Al Doyle, Alex Jordan, Andrew Spooner, Andrew Wincott, Angie Greaves, Ben Clutter, Brandon Lee Sears, Caroline Loncq, Chris Finney, Hadrian Howard, Helen Goldwyn, Jack Myers, Jay Rincon, Jess Robinson, Joel Trill, Jonathan Rhodes, Katherine Kingsley, Mark Holgate, Masud Milas, Michelle Schechter, Miriam-Teak Lee, Munirih Grace, Oliver Huband, Penelope Rawlins, Robert Czebotar, Vaughn Joseph, Walles Hamonde, Yasmin Mwanza, Doug Cockle.
Read More: Dying Light 2 Update 1.06 Fixes Save File issues
All cast was taken from the official IMDB game site.
Interestingly, Hakan is only voiced by Jonathan Forbes, but his face belongs to David Belle in real life. Our main character Aidan was voiced by Jonah Scott who also starred in Akudama Drive, Beastards, Love Alarm, Pokémon, Wasteland 3, and more.
Dying Light 2 is out now on PC, PS4, PS5, Xbox One X/S, and Xbox Series X/S. You can buy the game on Steam.
Make sure to stay up to date with the most recent gaming news and follow WePC News section. Take a look at Everything Wrong With Dying Light 2 and Dying Light 2 February 8 Improves DLSS for PC Players.
---