Which is the fastest car in Forza Horizon 5?
Which car is going to take you to pole position?
Updated: Nov 30, 2021 2:29 pm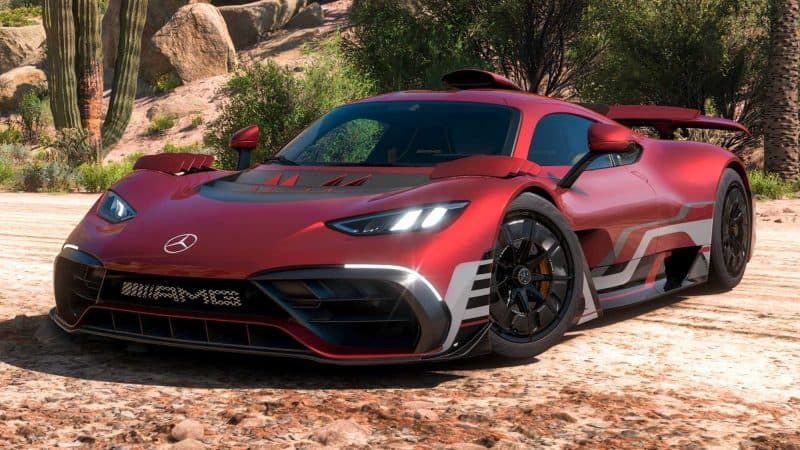 The biggest racing game of the year is finally coming out. Forza Horizon 5 is soon to be released and prior to its release, people and fans already want to know which car they should aim to get. Of course having a nice-looking car is swell and all but you're not going to win any races if you don't have speed. As the common driving mantra goes, you gotta have a need for speed.
As for which car would rank in pole position, there's been a lot of heated debates on various online threads. With some hoping for their fan favourite to be the fastest ride. Whilst others believe that the Mercedes-AMG One will be considering it's the year's cover car.
Thankfully, we've had early access to the game. You can even read our review of it here.
Fastest car in Forza Horizon 5
The fastest car in Forza Horizon 5 found so far is the Koenigsegg Jesko, which can reach speeds of up to 308 MPH. So if you're a more competitive racer and want to secure your chance at winning. Well, all the various events and races that'll be thrown your way.
Best car in Forza Horizon 5
But speed doesn't always win the race, if the tortoise and the hare has taught us anything. Sometimes it's about endurance, control and weight. Sure, you can have the speediest car, but if you can't control it? Well you'll be colliding into the walls more often than not.
That's why we've got our pick for best car.
The Lamborghini Sesto Elemento Forza Edition is a fantastic car. With speed, acceleration and handling, the Sesto holds some great potential to be a true S-tier pick for any level of player. But of course, there are some cars that might not be considered great but could be formidable in the right players' hands.
---