*LATEST* FIFA 23 Career Mode: EVERY confirmed new feature and REACTION
Everything we currently know about the FIFA 23 career mode
Updated: Nov 1, 2022 11:03 am
FIFA 23 Career Mode news is finally here – and we've got every bit of information you need right here.
Some fans were left disappointed following EA's Career Mode showcase on August 1, but there are still plenty of great features to get excited about.
BUY NOW: FIFA 23 Ultimate Edition (Xbox) – Green Man Gaming
The addition to play as real managers, either at their own club, or under a new club, for example, is welcome.
In this guide, we'll keep you up to date with all the latest FIFA 23 Career Mode news – starting with the all important question – what's new in FIFA 23 Career Mode?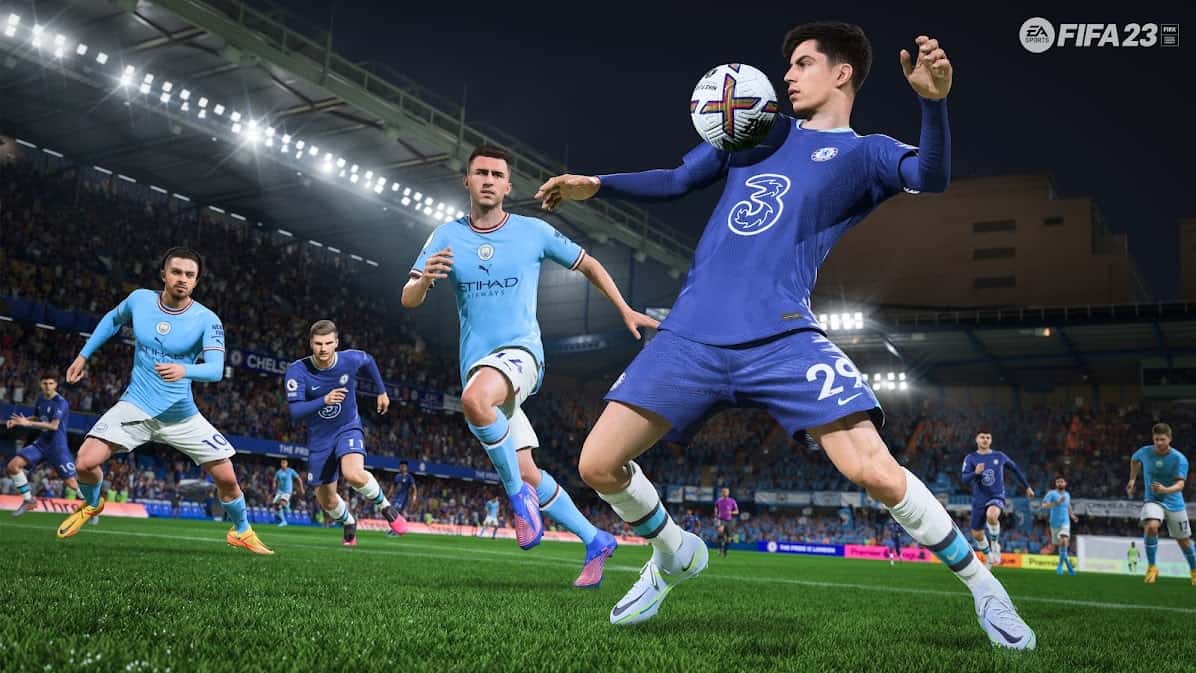 FIFA 23 Career mode – new features
There are a number of new features coming to FIFA 23 Career Mode. These are:
Player Career personality
Playable highlights
A new, revamped menu
Dynamic moments
New transfer window evaluation
NOW READ: Check out our predictions for the next FIFA 23 Promo: Rulebreakers.
EA writes on the FIFA website: "Live out your football dreams as a manager or a player in Career Mode FIFA 23 brings you the ability to define your personality as a player, manage as some of football's most famous names, and enjoy a new way to play your season with Playable Highlights in the most authentic FIFA Career Mode experience to date."
New player career personality
This new system allows you to build a new connection with your players. There are three types – Mavericks, Virtuosos and Heartbeats.
Mavericks act with instinct and can change the game on their own – they're more difficult to manage and volatile but harness their ability and they can be unstoppable.
Virtuosos blend dynamism with a bit more structure, while Heartbeats are no frills hardworking players who are the engine room of the squad. They don't give up, they're model players and they won't let you down.
All players can change their personality type as the Career progresses – and each one has their own set of attributes.
Playable highlights – Interactive Sim Match improvements
To strike a balance between realism and not feeling bogged down, you can now play the highlights of a match – much like a highlight reel.
This is a good way of saving time if you aren't as into the game play side of things, but you can still have an influence over the game.
This builds on EA's Interactive Sim Match feature in FIFA 21, which let you change the course of a game by controlling key moments like penalties and free kicks.
This is hardly a drastic change, but it's a welcome one. It's now far easier to access information about contract expiries and Youth Academy prospects.
There are also new features such as being able to buy cars or visit players in hospital that help bring you into the world.
Dynamic moments
There are new cinematic sequences about transfers and switching squads, which build on last year's game which reserved cinematics for huge moments.
For example, if a new star signing arrives at your club, you may see something happen with said player.
There will also be dynamic moments around players. As EA said, "expect to see lots of fist bumping".
New transfer window evaluation
This new feature adds something called the Transfer Analyst.
This gives you a score from A-F on you skills as a negotiator. You'll also get hints about how to get a better deal for players you want to sell on later on.
The Analyst will look at your signings, and let you know the quality of your business during the window. Hopefully this could link into some of the targets you get from the board in FIFA 23.
AI improvements
The new system analyses all of the parameters in a much more intelligent way – so your opponent will make better decisions depending on how you're playing.
The biggest plus to this is the substitutions the opposition makes will now be influenced by how the game is going. So if your opponent needs a goal, they will bring on an extra striker.
Hopefully this will help make the game more immersive than ever before.
Authentic managers
Ever wanted to take Man City to glory as Pep Guardiola? Well now you can.
FIFA 23 lets you pick from authentic likeness from any manager in the game – put them in their own club or you can get them managing a different club. Pretty cool if you ask us, and could lead to some great roleplaying in the game.
Fan reaction
Unfortunately, for EA anyway, some fans have not reacted well to then trailer that was released.
Fans have taken to Twitter, Reddit and the YouTube comments to share their dissatisfaction about what they saw.
Many have complained they wanted to see bigger changes, more added to the youth systems in the game, as well as some new features.
It isn't all bad, with some fans voicing they are looking forward to the changes made to the new Player Career, with the additions of personalities being added to the game.
One commenter on YouTube also added "I honestly think it is a step in the right direction, especially the Player Career Mode".
We will also get a fresh look at the Matchday Experience on the 5th of August, maybe this can go some way to reverse the fan disappointment currently being experienced. However, we will have to wait and see.
The fan reaction has continued to be negative since the release of the trailer.
Other features: Create-a-club
Create-a-club was recently introduced as a new feature in the FIFA 22 career mode.
The new game mode would let you control all aspects of a football club, including its; identity, name, nickname, league, and the kits the players use.
It was immediately popular with fans of Football Manager, with many of the game traits crossing over.
Stadium customization
Alongside Creat-a-club, players also had the Stadium customization feature. As you've probably guessed, this allowed players to fully customize the stadium that your Create-a-club team uses.
Players could choose from a number of generic base model stadiums in their quest for ultimate stadium status, customizing all aspects of the ground – including ground color, seat color, net shape, and pitch patterns.
I mean, who doesn't love a good old-fashioned circular pitch pattern.
Players will also be able to customize the stadium's atmosphere – including custom goal songs, crowd chants, and walkout classics.
NOW READ: Here's everything you need to know about FIFA 23
Player career
Player career was one of the more popular career modes on offer, allowing you to take a newly designed player of your choice from rags to riches.
Full customization of the player is available in this mode, with players choosing attributes & perks, physical ability, position, animations, and more.
Of course, you could also take over an existing player if that took your fancy as well, allowing you to guide them along on your own personal journey.
Social Media
Tattoos
Post-match interviews
Pre-match interviews
Man of the match awards
Training cut scenes
Rumours are also pointing towards new personalities being introduced into he game, this will be dictated by your actions both on and off the pitch.
It's currently unsure what this means, considering there isn't much you can do off the pitch.
It will most likely be influenced by how often you request transfers, or a new contract, but the dreamer in me is hoping you can go out on the beers and get into some trouble.
FIFA 23 Career Mode stadium customization
FIFA leaker FUTZone recently alerted followers that Career Mode "will feature a Stadium Builder & Editor section" in FIFA 23.
He stated that "you will be able to edit billboards, stadium capacity, dynamic of the stadium, colors and more".
This would be a great edition, especially for those whose supported teams, unfortunately, don't have a fully licensed stadium in the game.
It would be a wonderful element to not only create a club and build its success from the ground up but also develop your stadium and what the support grow, making career mode more immersive.
FIFA 23 Career mode release date
FIFA 23 career mode will launch with the main game on September 30, although players who buy the Ultimate Edition of the game will be able to access it early.
If you're an EA Play member you will also be able to access the game early, but only for ten hours as it is available as a trial.
What is the best team to start a career with on FIFA 23?
If you aren't interested in creating your own club from scratch, you can simply choose an existing club and take them to the Champions League final.
But what is the best team to start a career mode with on FIFA 23?
Well, I suppose that all comes down to what you're looking for in your career mode. For example, if you want to see Manchester United playing good football again, there's the option of starting with them and trying to get them into the top 4 – a near-impossible task.
Alternatively, you can put the likes of Celtic and Rangers into England's Championship and see how far you can take them.
Read More: Best Career mode saves on FIFA 23
For me, I always like to choose a lower league team and build them up from the bottom.
Port Vale is always a cracking place to start, get the crowd rocking, smash the local derbies, and before you know it, you're giving City a 3-0 drumming at the Etihad and about to take Barcelona on for the Champions League trophy.
Could Career Mode feature in FIFA 23 early access?
We hope to see Career Mode in the FIFA 23 Beta and FIFA 23 early access but there was no news on the showcase.
Career Mode should be available in the Beta that was released on the 11th of August, so we should know much more about the game mode soon.
FIFA 23 Wonderkids predictions
We've pulled together who we think will be the stars of the future game right here in our FIFA 23 Career Mode wonderkids hub.
---