FIFA 22 – FUT Rulebreakers Team 1 in-depth: Stats, challenges & runtime
The latest FIFA 22 Ultimate Team promo is here and it's the annual Rulebreakers event
Updated: Nov 30, 2021 2:26 pm
Rulebreaker cards offer a permanent stat adjustment to a number of players which can turn them into completely different beasts. The upgrades allow cards that may have been lacking in one area to become more rounded and more effective in-game.
The headliners from Team 1 of FUT22 Rulebreakers are a duo of 90 overall stars – Borussia Dortmund's Erling Haaland and Real Madrid's Casemiro.
Rulebreakers: Haaland, Dembele & Casemiro
Haaland is already one of the most popular players in FUT22 and his Rulebreakers card will certainly be in demand with a massive 25 lift in his passing stats jumping from 65 to 90. As for Casemiro, the Brazilian center defensive midfielder now boasts 86 shooting: a 13-point lift from his regular card.
Barcelona and France winger Ousmane Dembele will also be popular with his 86 overall card being given a nine-point uplift in shooting in addition to having both five-star skill moves and a five-star weak foot.
Pace upgrades have also been handed to Real Sociedad and Spain attacking midfielder and Liverpool and England right-back Trent Alexander-Arnold.
FUT22 Rulebreakers Team 1: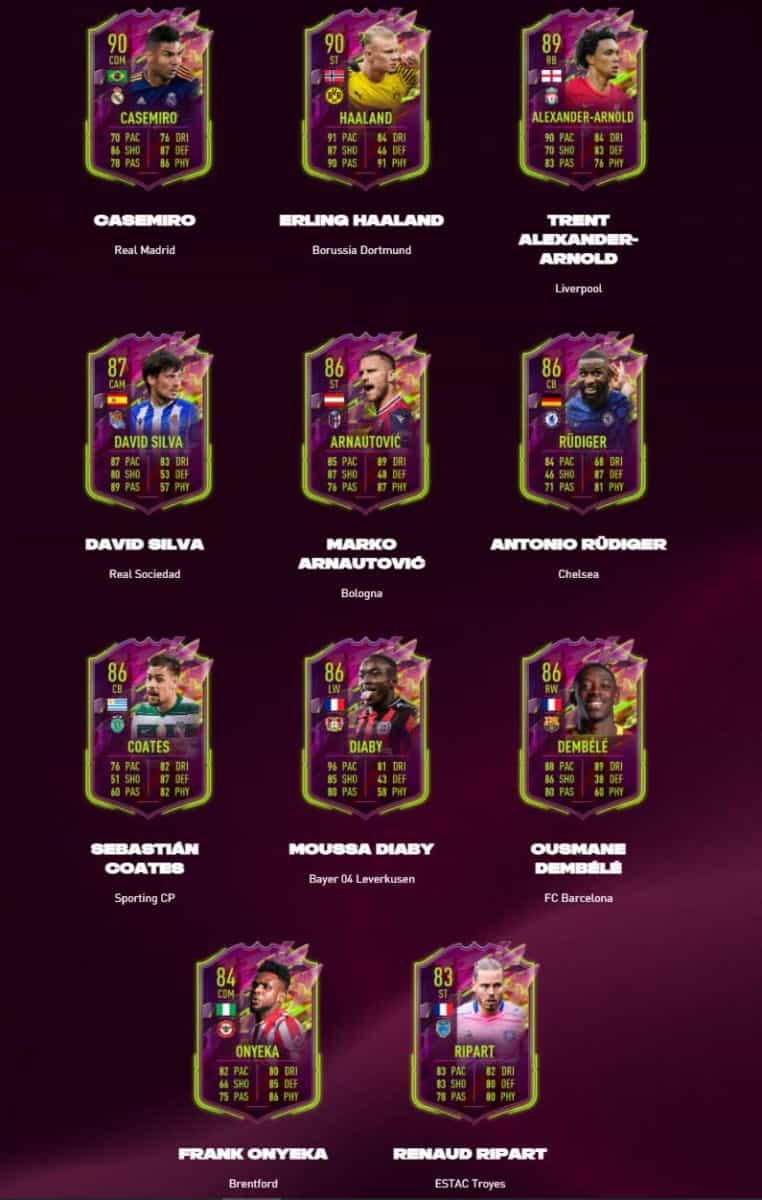 Erling Haaland (OVR 90) – Borussia Dortmund & Norway
Casemiro (OVR 90) – Real Madrid & Brazil
Trent Alexander-Arnold (OVR 89) – Liverpool & England
David Silva (OVR 87) – Real Sociedad & Spain
Antonio Rudiger (OVR 86) – Chelsea & Germany
Ousmane Dembele (OVR 86) – Barcelona & France
Moussa Diaby (OVR 86) – Bayer Leverkusen & France
Marko Arnautovic (OVR 86) – Bologna & Austria
Sebastian Coates (OVR 86) – Sporting Lisbon & Uruguay
Frank Onyeka (OVR 84) – Brentford & Nigeria
Renaud Ripart (OVR 83) – Troyes & France
The promo also offers players the opportunity to acquire a Rulebreakers card via an SBC challenge and via the Objectives menu.
Rulebreakers – SBC – Christopher Nkunku
The squad building challenge for RB Leipzig midfielder Christopher Nkunku is now live and available to players until 6 pm (BST) on Sunday 7th November. Nkunku could prove to be a popular SBC with many players favoring French-focused squads in FUT22.
Following on from last year's edition of the Rulebreakers promo, once you've completed the SBC you will be given two options to choose from – an Nkunku with increased passing or Nkunku with boosted shooting.
In order to unlock Nkunku's Rulebreakers card you will need to complete two SBC challenges:
Rulebreakers Bundesliga Challenge:
Minimum 1 player from Bundesliga
Minimum 1 player from Team of the Week (TOTW)
Minimum Team Rating of 85
Minimum Team Chemistry of 60
Reward: One Small Rare Gold Players Pack
Rulebreakers France Challenge:
Minimum 1 player from France
Minimum 1 player from Team of the Week (TOTW)
Minimum Team Rating of 87
Minimum Team Chemistry of 55
Reward: One Prime Gold Players Pack
Rulebreakers – Objectives – Michail Antonio
West Ham United and England striker Michail Antonio is the Rulebreakers Team One objectives player, and the 84 overall card has a 12-point uplift in its shooting statistic going from 76 to 88!
Antonio's upgraded card also has increased dribbling and passing stats which make the West Ham man a more rounded forward.
The objectives are open from 6pm on Friday 29th October and will end on Friday 5th November.
How to obtain Rulebreakers Michail Antonio
Friendly Finery – Score a finesse goal in 11 separate matches in live FUT Friendly: Red Links
On the Head! – Score three headers in live FUT Friendly: Red Links
Physical Passer – Assist four goals using players with a minimum 75 PHY in live FUT Friendly: Red Links
Go for Glory – Win by minimum two goals in four separate matches in live FUT Friendly: Red Links
The rewards for each objective are as follows:
Friendly Finery – 1 x 75+ Rated Rare Player
On the Head! – 1 x Gold Pack
Physical Passer – 1 x Two Players Pack
Go for Glory – 1 x Small Electrum Players Pack
---