FIFA 23: What is HyperMotion2?
What should we expect from HyperMotion on FIFA 23?
Updated: Sep 20, 2022 11:01 pm
HyperMotion technology was first introduced in FIFA 22, as a way to "revolutionise" the way the game feels and plays. It was only available on Next-Gen consoles and is set to return for FIFA 23.
Read more: Release date for FIFA 23
HyperMotion introduced advanced 11v11 match capture. This was done by putting Xsens suits on professional footballers and recording them play a match.
HyperMotion
The goal was to ensure the movements were as realistic as possible going into the game, creating new unique animations, as well as other things like their positioning.
According to EA this allowed for over 4000 unique animations in FIFA 22 aiding things like responsiveness and the physicality of the players.
HyperMotion is set to appear again in FIFA 23, but if rumours are to be believed, this time around they will be using stadium cameras as opposed to the Xsens suits.
FIFA 23: What's HyperMotion 2?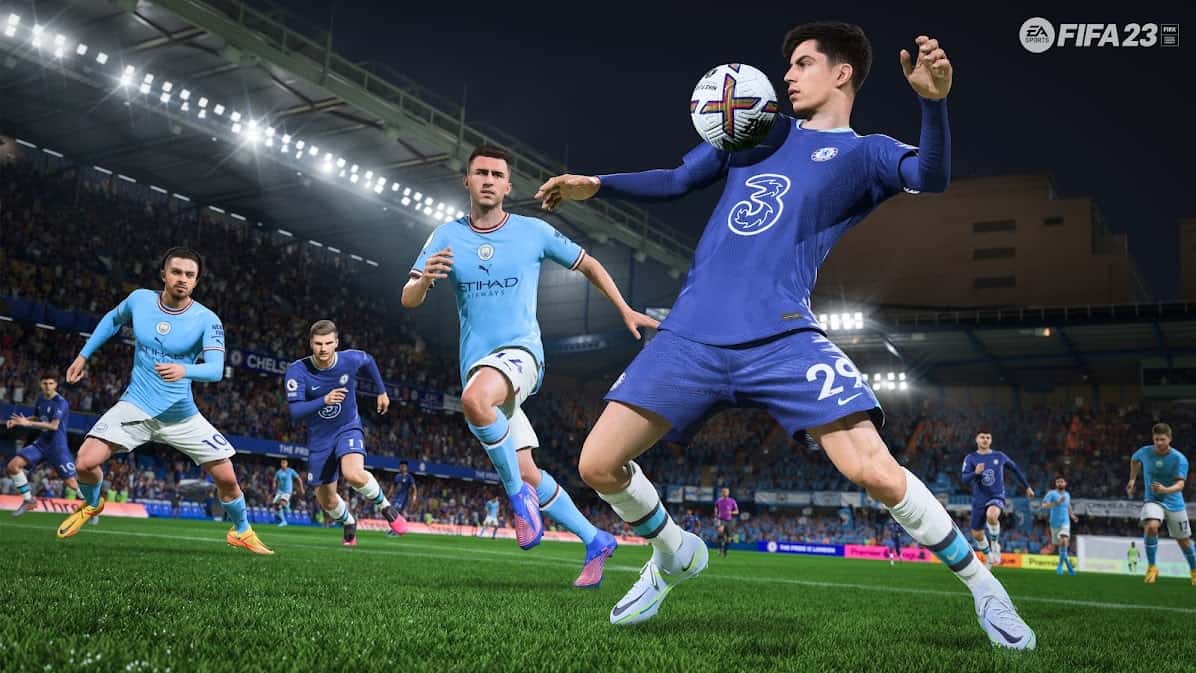 This time around the upgraded technology will be called HyperMotion 2, as can be seen on the box art for FIFA 23.
The goal is once again to make in-game animations as unique and real as possible, while the positioning will also be helped, in FIFA 23.
FIFA 23 will bring to life over 6,000 animations, that have been captured from real games. HyperMotion 2 has also helped to make a more realistic pitch for matches.
HyperMotion 2 has also ensured that the Women's teams in the game are unique, with their own authentic animations and changing how they feel on the pitch
It should continue to help with movement and positioning off the ball too, making the players more instinctive with the runs they make to try and create space.
Read more: FIFA 23 Pre-order bonus predictions
HyperMotion2 could completely change build-up play and defending in FIFA 23; player blocks have been one of the things mentioned to be getting upgraded this time around. While deflections will also play a big part in FIFA 23. It could help, or goals could just be flying in from anywhere, it's simply too early to tell.
Hypermotion in FIFA 23
For FIFA 23, they have also recorded training drills to try and capture as many unique animations as possible.
According to EA, these have all helped to make the gameplay experience more immersive and unique from moment-to-moment.
As it stands it seems that the HyperMotion technology will remain one of the key differences between the Next-Gen version of the game and the version released on the older consoles.
It is also why the Next-Gen version of the game costs more too.
Going forward, we will likely see the version released on the previous generations continue to fade, with the gap in quality continuing to grow. It will be interesting to see how different the two versions of the game are.
We will only really be able to tell just how good the new upgrades feel, and if they are genuine improvements, once we can go hands on with the game. Hopefully this won't be long.
It's safe to assume that if this was only available on the Next-Gen versions last time out, FIFA 23 will be no different. HyperMotion will likely only be available on the PS5, Xbox Series S/X and Stadia versions of FIFA 23.
NOW READ: Cristiano Ronaldo's predicted FIFA 23 rating
We have now seen all of the gameplay reveals, and the closed beta is officially out. This will give us a a much better idea of any gameplay changes in the game and what we can expect from HyperMotion2.
We have now seen people have their first hand-ons with the game during the closed beta. There does look to be some big improvements especially with defending. HyperMotion2 does look like it will really elevate FIFA 23, to the next level.
More will follow after as we get closer to the FIFA 23 release date.
More FIFA 23 guides
---