FIFA 23: Kylian Mbappe ratings prediction
Will the world's best youngster go up in FIFA ratings yet again?
Updated: Sep 12, 2022 11:42 am
In this guide, we look back over the last 12 months to predict what Kylian Mbappe's FIFA 23 ratings will be.
Sadly, we now know our predictions for Mbappe were too bold, with him only being a 91 rating in FIFA 23, so he won't be getting a boost. However, below is why we thought Mbappe may get a boost.
Kylian Mbappè is, without doubt, football's main superstar right now, targeted by the biggest clubs in the world and demanding huge wages to secure his talent.
NOW READ: Ronaldo FIFA 23 rating prediction
He ended the season scoring over 40 goals in all competitions for club and country – many of which were assisted by Lionel Messi – accumulating a bunch of assists and match winners along the way.
While the club couldn't manage a Champions League run this year, they did lif the Ligue 1 trophy for another year.
What does all this mean for Kylian Mbappe's FIFA 23 rating though?
Kylian Mbappe FIFA 23 player rating prediction
Off the back of another successful season, we look back to predict how Kylian Mbappe's rating will evolve ahead of the FIFA 23 release date.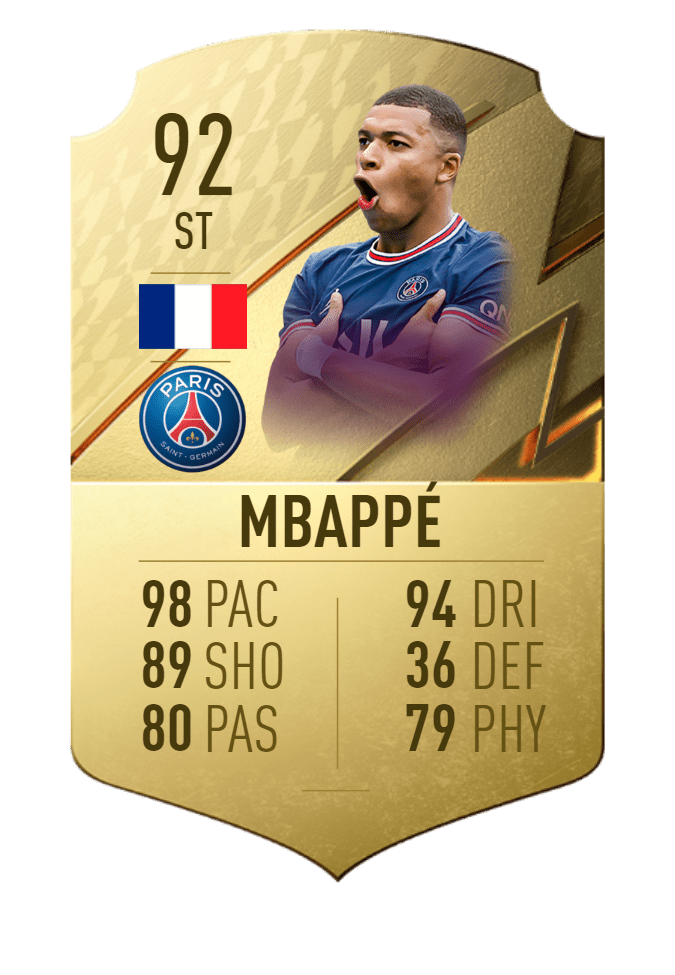 OVR rating – 92 (+1)
The French winger played almost every game for the French giants last season, accumulating over 40 goals and assists.
He was a major player in the club's achievements in the 2021/22 campaign, providing countless chances across both the domestic league and cup competitions.
We predict his OVR rating will increase by 1 point for the upcoming FIFA 23 game.
Pace 98 (+1)
It's safe to say that Mbappe is easily one of the fastest players in the world, leaving quick midfielders and defenders for dead on numerous occasions.
Despite the french winger not getting any younger, he is entering into his prime years – meaning his pace will likely increase ever so slightly.
We've predicted that his pace will increase by 1 point this year, making Mbappe one of the quickest players FIFA 23 has to offer.
Shooting 89 (+1)
Mbappe bagged over 40 goals in all competitions last year, making his mark on the Ligue 1 for another year in a row.
Off the back of an excellent goal season – becoming the french league's top goal scorer – we've decided to give Mbappe a 1-point increase over his FIFA 22 OVR rating.
If he'd bagged that Rabona attempt against Saint Etienne that number may be slightly higher.
NOW READ: FIFA 23 demo & early access
Passing 80 (-)
Passing isn't exactly Mbappe's strong suit, however, he has made a bunch of assists this year in all competitions.
Despite shooting over passing, we've decided to keep Mbappe's passing the same as last year – sticking with 80 which we feel is a fair conclusion.
Dribbling 94 (+2)
Neymar is clearly rubbing off on Mbappe's dribbling skills, with the French winger showcasing similar tricks and skills to the Brazilian.
For the upcoming FIFA 23 game, we've predicted that his rating will increase by 2 points for the 2022/23 campaign.
Defense 36 (-)
Being a free roam attacker, I'm surprised Mbappe has been given a 36 rating when it comes to defending.
That said, he did showcase his good pace and tracked back on a few occasions last season, warranting a non-mover for his defensive skills.
Physics 79 (+2)
While there hasn't been much of an improvement in the youngster's physical attributes, he does seem to be slightly bulkier when comparing physiques over the past 12 months.
For that reason, we predict his Physical ratings to go up by a couple of points.
NOW READ: FIFA 23 top 50 player ratings
Kylian Mbappe FIFA 23 Price
Even though the game isn't out yet, we can start to get an idea of what the Frenchman will cost.
Using market data from the brilliant Futbin site, at the time of writing, the standard gold Messi costs 92,000 coins on PlayStation, 70,000 on Xbox and a pricy 128,000 on Origin.
Encouragingly, this represents a huge dip from where it started – with nearly all versions coming close to 2,000,000 coins on release.
We believe, price wise, Mbappe's FIFA 23 card will cost around this mark – but you'll get what you pay for – bags of pace to run rings around defenders.
Will we see a 99-rated Kylian Mbappe card?
Mbappe has arguably been the best player in the world over recent seasons, destroying his fellow colleagues in the French Ligue 1.
But is that enough to see a 99-rated Kyling Mbappe card though?
After snubbing his dream move to Real Madrid and successfully becoming one of the leading goalscorers in the league, we'd have to say that the chances are high for the 23-year-old.
---