FIFA 23: Tottenham Hotspur predicted ratings
Will getting top four helps the Spurs squad rating on FIFA 23?
Updated: Oct 14, 2022 5:09 pm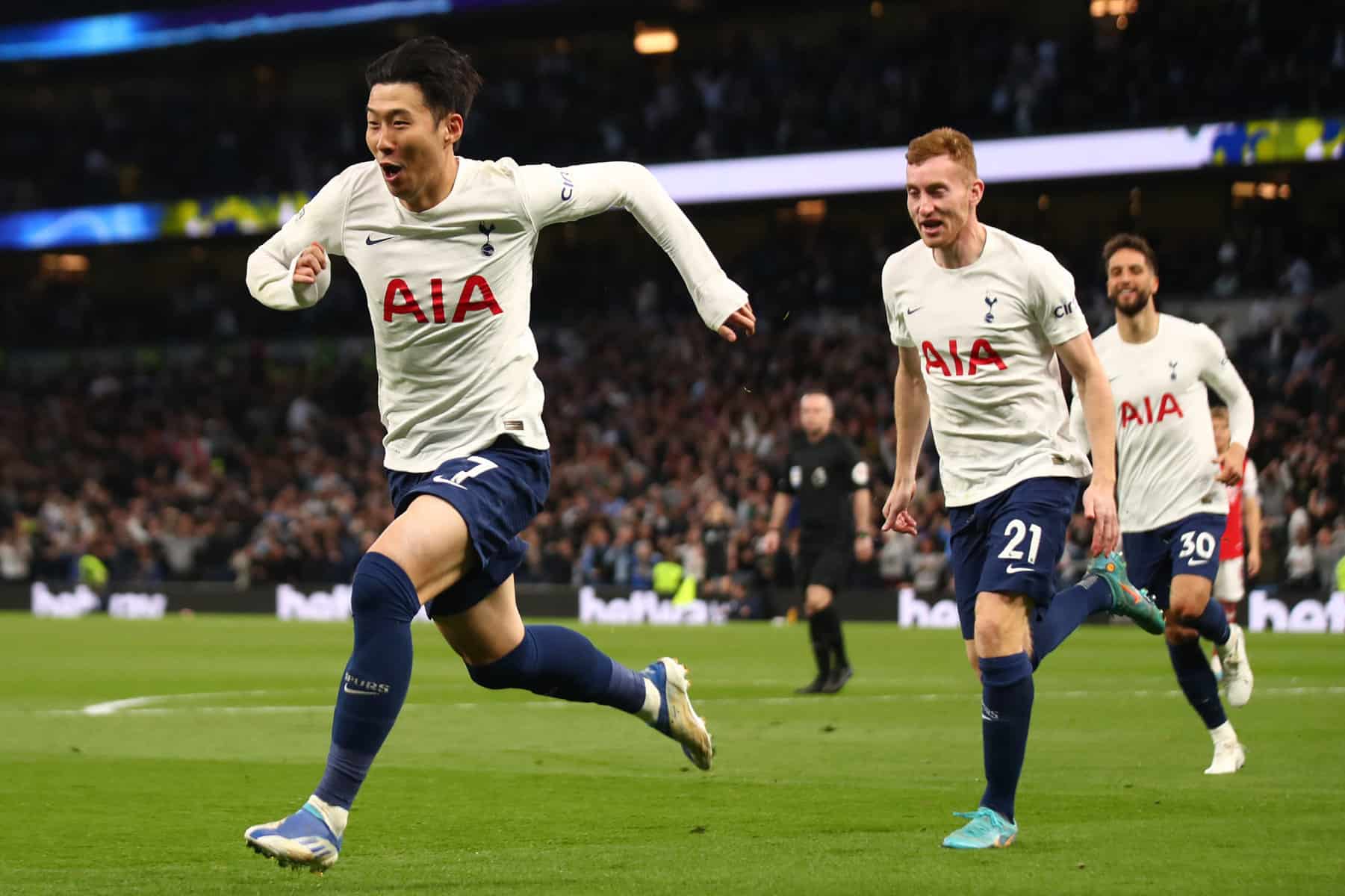 Last season was a difficult one for Spurs, but they managed to pull it round in the end, securing Champions League football for next season. If it wasn't for this, some of the players could have been looking towards a ratings reduction for FIFA 23, their early season form was very poor.
Since Antonio Conte was appointed during the November of last year, all the squad has kicked on and started showing what they're capable of on the pitch. They achieved their main goal for the season, and it would have felt even sweeter as they beat local rivals Arsenal to fourth.
Admittedly they did underperform in the domestic cups, but how they turned around their season deserves credit, and the players who really excelled during this period are set to have this recognised in the upcoming FIFA 23.
Tottenham Hotspur: Goalkeepers and defenders
Hugo Lloris – 87 (-)
Fraser Forster – 75 (-)
Brandon Austin – 64 (-)
Cristian Romero – 83 (+1)
Davinson Sánchez – 79 (-)
Eric Dier – 80 (+1)
Clément Lenglet – 80 (-2)
Japhet Tanganga – 74 (+1)
Joe Rodon – 72 (-)
Sergio Reguilón – 80 (-1)
Emerson Royal – 78 (-1)
Matt Doherty – 77 (-1)
Ivan Perisic – 82 (+1)
Ryan Sessegnon – 75 (+1)
Died Spence – 75 (+10)
Although it may appear like Spurs have a lot of defenders, most of them can play in multiple positions across the pitch. The way Conte likes his teams to play relies heavily on his wingbacks getting high up the pitch, creating overlaps and plenty of width, to overload the opposition defence.
This is most noticeable with the addition of Inter Milan winger/wingback Ivan Perisic. Perisic may be nearing the twilight of his career, but his reinvention as a wingback has been a revelation and he looks like a very shrewd bit of business going into the new season.
For anyone who enjoys wingbacks on FIFA, Spurs will be a great option for Kick Off or Seasons.
Last season Argentinian centre back Romero was crucial to how Spurs played and looked like an incredible piece of business. He struggled with injuries during the first half of the season, but once he came back fit he was one of Spurs' best players, and the foundation that their season was built upon.
Romero should get a light boost for FIFA 23 and his fitness will be decisive, if Spurs want top four again next season.
Tottenham Hotspur: Midfielders
Oliver Skipp – 78 (+3)
Harry Winks – 77 (-)
Pierre-Emile Højberg – 83 (-)
Yves Bissouma – 81 (+2)
Tanguy Ndombele – 80 (-2)
Rodrigo Bentancur – 80 (+2)
Giovani Lo Celso – 80 (-1)
Pape Matar Sarr – 72 (+2)
Oliver Skipp finally started to get more first team minutes last year, and showed that he has the quality to feature for the first team more going forward.
Unfortunately that may be unlikely, Spurs predominantly use a two in midfield and with some of the depth they have got there now, players like Skipp could need to go out on loan to find more minutes.
Other players like Lo Celso and Ndombele may also be seen as surplus going into the new season, with both just returning from loan moves. Before the release of FIFA 23 there will most likely be a few more changes to this Spurs squad.
Højberg was their outstanding midfielder last season, he was consistent and always looked up for the challenge. He was genuinely good enough to justify an upgrade for FIFA 23, but he is already quite highly rated so it seems unlikely.
New signing, Yves Bissouma from Brighton, looks likely for an upgrade and it would be well deserved. He has been one of the best in his position, in the Premier League, for quite some time now. His move has certainly been earned. It will be exciting to see how he gets on in a better team.
Tottenham Hotspur: Forwards
Heung-min Son – 90 (+1)
Bryan Gil – 77 (+1)
Dejan Kulusevski – 81 (-)
Lucas Moura – 80 (-1)
Harry Kane – 90 (-)
Richarlison – 82 (-)
The Spurs front line last season was devastating. The signing of Kulusevski in January was a fantastic piece of business; the fluidity he showed upfront with Kane and Son was incredible and one of the reasons they got top four.
It's going to be incredibly exciting to see this front three across a whole season, while they will all be desirable at different stages of FIFA 23.
For FIFA players, the big one in Spurs' attack is going to be Son. He was incredible last season, securing his first golden boot and showed he should considered one of the best in his position.
He should get an upgrade after a season like that; this boost combined, with his five star weak foot makes him truly one of the best on FIFA 23.
If Kane can start well this season, and the World Cup isn't too much of an interruption, Spurs could be one to watch in the coming season.
For the first time in a very long time, maybe ever, Spurs also have genuine depth upfront thanks to them signing Brazilian forward Richarlison. It's an exciting time to be a Spurs fan.
Read More: Why we think Kane will remain a 90 in FIFA 23.
Final thoughts
Spurs managed to salvage their season with some shrewd signings and appointing one of the best managers in the world. Going forward it's difficult to tell how well they will get on, but they have continued to strengthen well before the new season, so the future does look bright.
Their players will inevitably be desirable on FIFA 23's Ultimate Team when the game first releases, while they should also get plenty of specials throughout the duration of the game. Son looks as though he will be hugely important for Spurs next season, and it's fair to say he will be pretty special on FIFA 23 too.
---