FIFA 23: Virgil Van Dijk predicted ratings
Will Van Dijk be back to his best in FIFA 23
Updated: Sep 12, 2022 11:52 am
After an injury hit campaign during the 20/21 season, Van Dijk was back to his best last season and so was Liverpool. Without him Liverpool do not seem the same side, his influence over the squad cannot be underestimated and this should be highlighted in FIFA 23.
For this reason there is no doubt that Van Dijk will continue to be the highest rated centre-back in the game, and rightfully so too. As it stands, in world football, there aren't many defenders who have his blend of power in defence and calm in possession.
It was a bit harsh to drop him down a rating on FIFA 22 from FIFA 21, considering he wasn't on the pitch for much of Liverpool's poor season. Yet he proved once again last season just how good he is, so he should get a boost again in FIFA 23.
Virgil Van Dijk – FIFA 23 – Ratings Predicted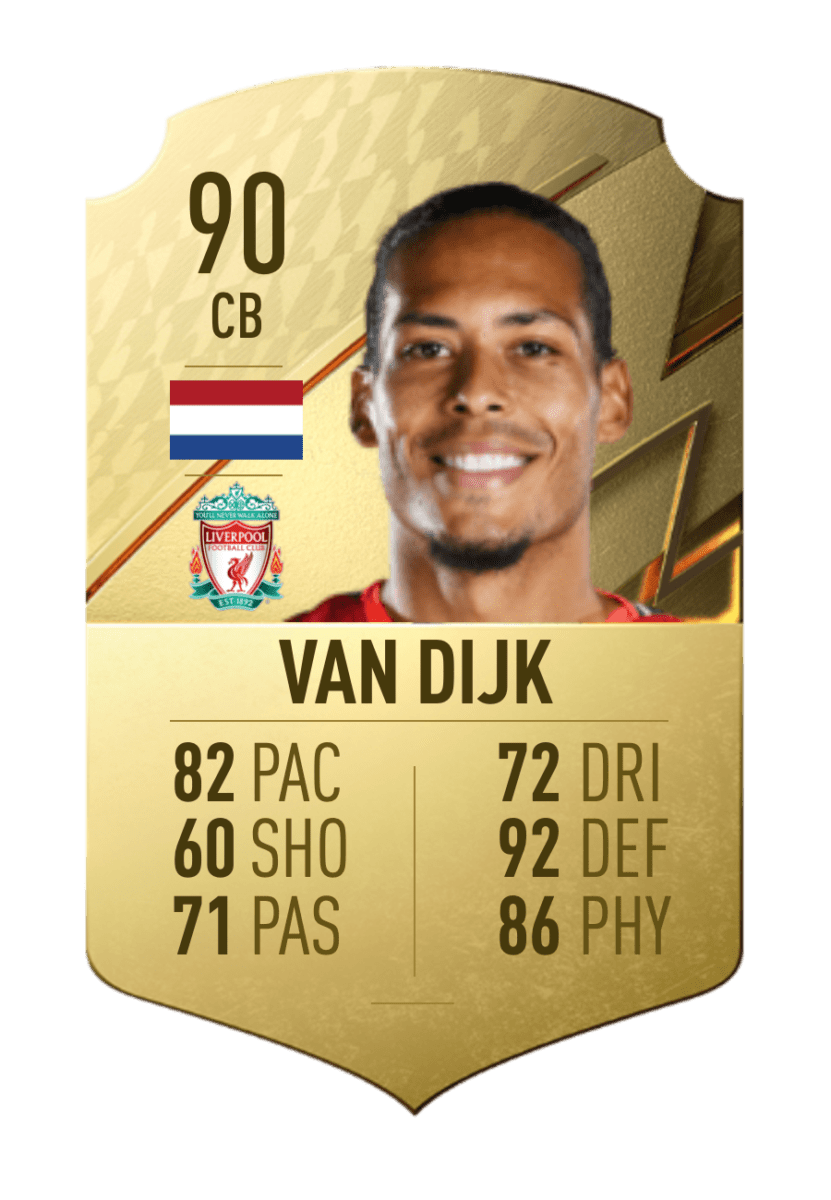 OVR Rating 90 (+1)
Honestly this could be higher, it was harsh to drop him down last season and 91 wouldn't be a ridiculous rating. Van Dijk is the best in his position, but he also makes it look incredibly easy and effortless at the same time.
If EA recognises this, he could get that extra rating. Yet, that seems unlikely, so in FIFA 23 it's safe to assume he will most likely get a +1 putting him back to where he was during his best season.
Pace 82 (+4)
A plus four boost may seem a bit drastic, but when you look at the breakdown of his pace his acceleration is only 66 on FIFA 22. I understand this is most likely because when he played in the 20/21 season he was still not fully fit.
Now he is back to his best, it's time to adjust that acceleration so it is a bit more accurate in FIFA 23, and EA most likely will. Van Dijk is incredibly quick, and EA has been a bit more generous in recent years with their pace boosts for defenders.
Shooting 60 (-)
Van Dijk is a defender first and foremost, so doesn't get forward all too often as it isn't really his job. There is also nothing from last season to suggest his shooting should go up at all.
It makes sense for this to largely stay the same, there may be a few minor tweaks here and there, but not enough to impact on the overall rating.
Passing 71 (-)
The way Jurgen Klopp wants Liverpool to play relies on big diagonals from the centre-backs to hit teams on the counter and bypass the midfield, and it is one of Van Dijk's specialties, with a pass completion rate of 89.5% in the Premier League last season.
It may not be justification enough to increase the stat on the card, but his long passing will most likely be increased from the 86 it currently is.
Dribbling 72 (-)
By centre-back standards Van Dijk is as good as it gets on the ball. He is exactly what you want from a modern centre-back and he should play like it in FIFA 23.
It's difficult to think they will change this too much, but if it did go up a bit it would still be well deserved. It is already high for this position though.
Defending 92 (+1)
This is the big one for Van Dijk and he should be the best of the best in FIFA 23. In a one on one he's near impossible to beat and he can catch up with any forward.
He has all types of tackles in his locker as well and he is often in just the right place at the right time. His Heading accuracy could do with a boost as well, Van Dijk is imperious in the air and FIFA 23 will most likely reflect that.
Physicality 86 (+2)
After an injury hit campaign FIFA 22 really went in on Van Dijks stamina. FIFA 23 should rectify that, after he has had a season where he misses very few games.
His strength is probably about right as it stands but his other attributes in this category will get a little bit of a tweak.
Virgil Van Dijk FIFA 23 Price
If Van Dijk gets the pace boost that we think he will, his price will be a bit more on FIFA 23. He will be the best CB in the game and he has great chemistry links through club, league and nationality.
If rumours are to be believed and dutch midfielder Frenkie De Jong does move to the Premier League that strong link could also inflate Van Dijks price. He was just over 250,000 coins on FIFA 22 when it first released last year, if his pace is boosted he may creep above 300,000.
Van Dijk is the best defender in the most expensive league in the game. He is going to be incredibly desirable early on, and maybe even for a while depending on promotional cards, if you're lucky enough to pack him at the beginning of FIFA 23 you could be set defensively for quite some time.
If set pieces are effective again in FIFA 23, he will be an incredible outlet on corners too. Proving to be a nightmare for your opponent at both ends of the pitch.
What specials should we expect for Van Dijk?
Not only is Van Dijk incredibly popular with Liverpool fans he is also very, very good. This means he is always likely to get a few specials.
Surprisingly, in FIFA 22, he only received form-based special cards, like his Team of the Season. It seems very likely next season he will still get the form based cards as usual, but we could see a few other specials come his way too.
Something akin to the Birthday card he received in FIFA 19 would be the safest guess; this card converted Van Dijk into a striker, allowing for interesting and devastating squad combinations at the time. A player this popular, will never be ignored by FIFA.
More FIFA 23 guides
---