Genshin Impact 2.2 – upcoming banners and 5-star characters
Who are the upcoming featured 5-star characters in Genshin Impact 2.2?
Updated: Nov 30, 2021 12:35 pm
In the Genshin Impact 2.2 Special Program, we got an sneak peek into the upcoming Character Event Wish and Weapon banners. The upcoming Character Event Wish banners will feature the 5-star character Tartaglia (Childe) in the Farewell of Snezhnaya banner rerun, and the five-star character Hu Tao in the Moment of Bloom banner rerun. Keep reading to find out more about their banners as well as speculation about the upcoming weapon banners.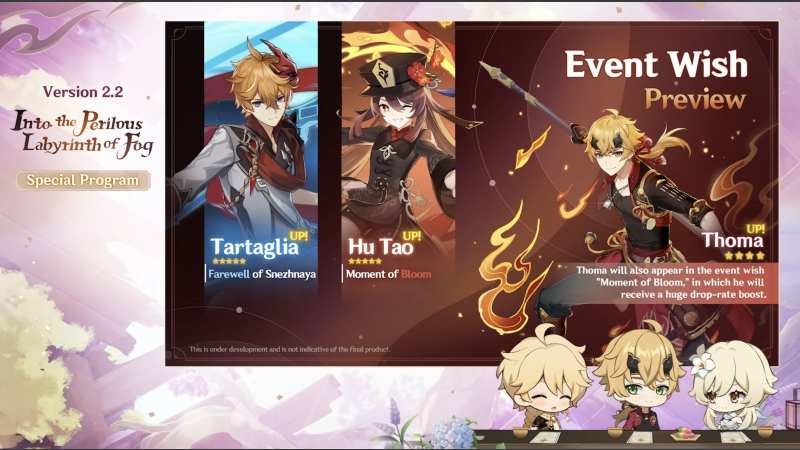 Tartaglia Banner Rerun
Tartaglia is getting his second rerun in Genshin Impact. A highly coveted DPS character, Tartaglia is able to deal massive amounts of Hydro DMG with his unique weapon-changing Elemental Skill. Whilst we do not know which 4-star characters will be featured alongside him, we might be able to assume Xinyan will be making an appearance given her prevalence in the upcoming event. Another likely potential candidate would be Noelle, who has not been featured on the Character Event Wish banner since 1.4. Fischl or Barbara, who have not been seen since 1.6, could also make an appearance.
Hu Tao Banner Rerun
Hu Tao is another beloved DPS, who deals high Pyro DMG at the cost of losing her HP. We know that the new 4-star character Thoma will be appearing alongside her, although the other two 4-star characters are currently unknown. Potentially characters such as Fischl or Barbara could be featured if they are not included on Tartaglia's banner, and Razor has a chance of making an appearance, too.
Epitome Invocation Weapon Banners
Whilst nothing has been announced officially about the upcoming weapon banners, it has been rumoured that the new 5-star Bow Polar Star will be released alongside Tartaglia. We might also see the new 4-star weapons Wavebreaker's Fin, Akuoumaru and Mouun's Moon released alongside it. For Hu Tao's weapon banner, many players are hoping to see a rerun of the Staff of Homa, Hu Tao's signature Polearm and a highly coveted weapon. Given this weapon hasn't been featured since it first released in 1.3, this seems quite likely. Fingers crossed!
---