How to make a map in Minecraft
Here's how to make a map for Survival Mode in Minecraft.
Updated: Jun 14, 2022 11:57 am
A map in Minecraft can contribute greatly to an improved gameplay experience, and is a useful tool for Survival as well as Multiplayer mode. With a map, players can easily find their way home, even if they get lost in the giant sandbox game in a faraway biome. So, let's find out how to make a map in Minecraft, and become your very own blocky cartographer.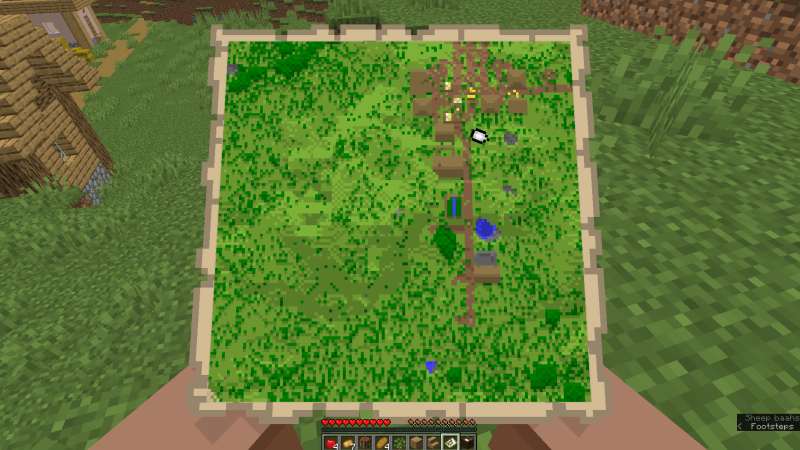 How to Make a Map in Minecraft
There aren't materials needed to craft a map in Minecraft, but they will take some time to gather. The first is paper, which is crafted from Sugar Cane.
Sugar Cane is found in most biomes, especially near water. Place three Sugar Cane horizontally in a Crafting Table to get three Paper. As Paper is made in multiples of three, you'll have to repeat the process thrice to get the eight Paper needed for a map. For more, we have a full, separate guide on crafting and farming paper in Minecraft.
The other crafting ingredient you'll require for a Minecraft map is slightly more costly to make, a compass. You'll need to combine four Iron Ingots and one Redstone dust in a Crafting Table as per the image below. Iron Ingots are created from nine Iron Nuggets each or by smelting Iron Ore.
Instead of crafting, you have a chance of finding a Compass in Village, Shipwreck, Stronghold or Ancient City chests. You also may be able to trade with a Village Librarian for a Compass for four Emeralds.
Place items in your Crafting Table
Now that you have all the required ingredients, open up the Crafting Table and place the compass in the center block (middle row, middle column). Place 8 Paper in all the remaining blocks surrounding the compass.
This crafting recipe will yield 1 Empty Map and now you can move it to your inventory and start filling it in!
How to Fill a Map in Minecraft
To start with you will have an empty map. You will have to travel and fill the map yourself, but make sure that you've enabled it as an active item first. You can do this by equipping the map at the bottom of your screen before traveling.
You can open up the map and walk around to see a representation of the world from a top-down perspective. Each pixel in the map represents one Minecraft block. You will also see a small oval white shape on the map – this represents your position in the world. It will also point in the direction that you're facing. The Bedrock edition allows players to create a map without a compass, but the map will lack the player's location.
Maps in Minecraft can be constantly expanded as you travel through the world. You cannot scroll in a map, so you might need to craft more paper to create a larger-sized map.
Minecraft Cartography table
Once you are into the swing of making maps the next stage is to locate a cartography table – this is a block that generates within villages and can be used for cloning and locking maps, as well as zooming out on them. If you need a larger map to map your world, finding a cartography table close by will certainly make things easier.
Bedrock or Java Edition
The map is crafted the same way, regardless of which version of Minecraft you are playing on, or whether you are playing on a console or PC. As mentioned above however, you can craft a map in Bedrock without the use of a compass.
Other Minecraft maps
The above has shown you everything you need to know about crafting your own survival map. However, there are a few other types of map in Minecraft. In order to help you locate hard-to-find structures Woodland Mansions and Ocean Monuments, there are two additional types of map; the Woodland Explorer map and the Ocean Explorer map. Both of these can be purchased from a Cleric Villager.
There is also a buried treasure map, found in Shipwreck map chests. This works in the same way as a Woodland or Ocean Explorer map, in that you need to utilize the little dot marking your current location. With all three map types, the larger the dot, the closer you are to your destination. Then, once your dot is fully on the map, you're nearly there. Finally, with a buried treasure map, X marks the spot!
More Minecraft Crafting Recipe guides
And head over to our Minecraft hub for even more news, guides and how-tos!
---