How to make an Anvil in Minecraft
Here's how to make an anvil for enchantments in Minecraft.
Updated: May 9, 2022 2:56 pm
An Anvil makes a Minecraft player's life so much easier. It eliminates the need for an enchantment table, repairs tools, and armor, and can even be used as a heavy weapon. Crafting an Anvil doesn't take too much effort as long as you have the right materials. Here's how to do it.
How to craft an Anvil in Minecraft?
In Minecraft, an Anvil is created from three Iron Blocks and four Iron Ingots. Iron Ingots can be made in different ways in Minecraft. The most common way to make them is by smelting Raw Iron, which is found abundantly underground, and drops from Iron Ore. Iron Ores are found through mining, and not only can you put the dropped Raw Iron through a Furnace, you can also directly smelt Iron Ore blocks, if you mind them with Silk Touch.
We recommend, though, mining with a Fortune-enchanted Pickaxe, as this could result in more Raw Iron drops than normal.
As well as your four Iron Ingots, you will also need three Iron Blocks to build an Anvil. Iron Blocks are made in a Crafting Table with nine Iron Ingots. This means that, overall, you will need 31 Iron Ingots to complete one Anvil, making it a fairly expensive recipe.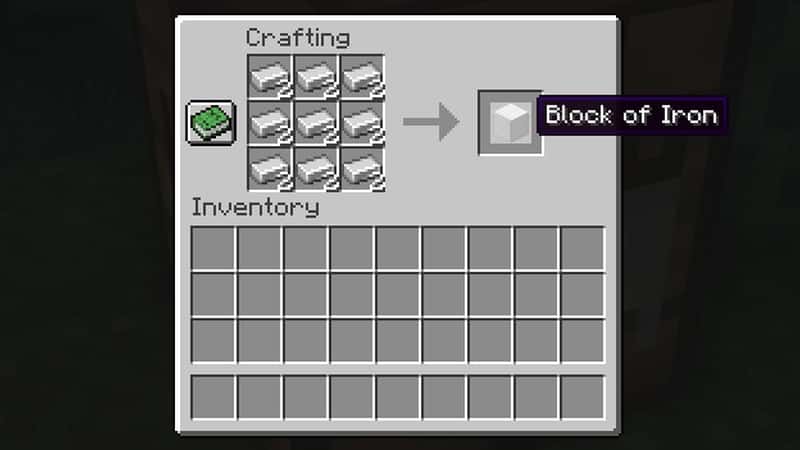 Players can also find Iron Ingots in different environments, most commonly in Dungeon, Stronghold, and Temple Chests. Or, if you're brave enough, kill an Iron Golem, since they drop 3-5 Iron Ingots once they die.
Open up the crafting table and place your three Iron Blocks in the first row. In the second row, place one Iron Ingot in the middle slot, then fill the third row with your remaining three Iron Ingots. This placement and recipe will give you one Anvil.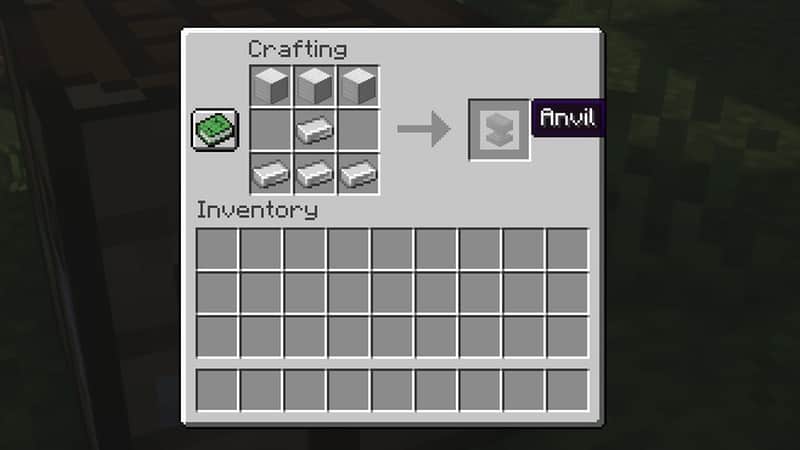 How to Use an Anvil in Minecraft?
Here are the multiple ways you can use an Anvil in Minecraft.
Enchantments: If you have an Enchanted book, you can enchant an object on the Anvil. 
Repairing: Players can repair an item with an Anvil.
Re-naming: You can rename your weapons in an Anvil, or a Name Tag, to use on your favorite pet Horse (or any other mob). 
Anvils lose durability each time you use them. Unlike most items in Minecraft, an Anvil cannot be repaired and will have to be made from scratch again, so keep plenty of Iron about.
More Minecraft Crafting Recipe guides
And head over to our Minecraft hub for even more news, guides and how-tos!
---