How To Play Minecraft VR On The Oculus Quest 2
New headset? Want to get into Minecraft? Let's sort that right out for you
Updated: Apr 11, 2022 1:08 pm
The Oculus Quest 2 is an amazing piece of hit and if you have recently received one and Minecraft is your poison, you are probably wondering how to play your favorite game in your new VR world. Well here's a quick how-to on getting you there. It takes a little bit of work but it will be worth it in the end.
Oculus Quest 2 Specs
Minecraft is not the most taxing of games in many ways but it does benefit from a fast processor, as great as the Quest is, it's still a mobile CPU and therefore will cause us some issues. These are the specs of your Oculus Quest 2
CPU: Qualcomm Snapdragon XR2
RAM: 6GB
Resolution: 1832 x 1920
Refresh rate: 90 Hz
Storage: 64GB / 256GB
Integrated speakers and microphone
2-3 hours of battery life
Adjustable IPD with three settings for 58, 63, and 68mm
Redesigned controllers
How To Play Minecraft In VR
You have been able to play Minecraft in VR since headsets started to arrive but for some, it's never been quite as simple as it may be. Part of the issue is the differing versions of the game you might own, this has been sorted out for a lot of people really when Minecraft arrived on Xbox Game Pass with both Java and Bedrock versions included. Then there is a native version in the Oculus Rift store, but you could well be fed up with buying separate versions.
Minecraft in VR is also not for everybody. Despite Mojang's outstanding efforts, some people find moving around in the blocky landscape a little too much for the stomach. There is an option to play it on a kind of cinema-type screen but that is not what Minecraft VR is all about really. If you are one of the people who can play without VR sickness though, bringing those Minecraft worlds you have made to life in front of your very eyes can be a humbling experience.
Minecraft On The Oculus Quest 2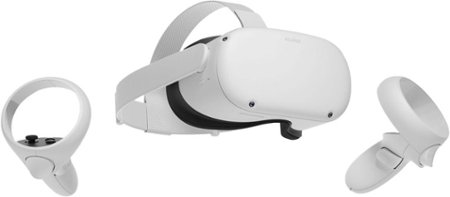 Unfortunately getting Minecraft to work flawlessly on the Quest or Quest 2 needs some extra work that you might not ordinarily expect to have to do, but nothing is too difficult here, as long as you follow the procedure to the letter.
Note: You are going to need to own the Java version of the game. The Windows 10/11 app version doesn't work for this, unfortunately. If you have that version of the game then just follow these steps and you will be up and running in next to no time.
Install Java on your PC if you don't already have it (you probably do though)
Make sure you have a copy of Minecraft Java Edition downloaded and installed. It is available on Xbox Game Pass via the Minecraft Launcher. If you don;t have Game Pass, you will need to purchase the Java version of Minecraft.
Run the game normally to make sure everything works as you would expect
Google and download the latest version of SteamVR for your PC
Now search for, download and install Vivecraft
Open Minecraft Java Edition and choose the Vivecraft profile
Install the Virtual Desktop Streamer application on your Quest/Quest 2
Connect your Quest to your PC with a USB 3.0 cable
You can now play Minecraft on your Quest 2 until your heart's content
Issues
Portability is the main selling point of the Oculus Quest 2 and to play Minecraft you have probably realized you need to be tethered to a PC so that is not an option, which is a real-same. The reason for this si that you need the processing power of your PC to do all the heavy lifting. Will we ever get a version of Minecraft for the Quest? Who knows, maybe one day we won't need to jump through as many hoops.
Minecraft VR Oculus Rift
If you decide you want to play regular Minecraft VR in a Rift or Rift S rather than use an Oculus Quest headset, by doing so you will be able to access these enhanced controls and features:
ENHANCED OPTIONS FOR VR
When playing the game for the first time you will be asked to select a preferred control scheme:
VR Controls (Recommended) Or The Classic Control Scheme.
You can also toggle individual features in the Options Menu. You can reach this through the Pause screen by pressing the Menu button (gamepad).
Virtual Living Room
When entering the game, the player is placed in a static environment we have dubbed the Living Room. The viewpoint is still VR and the player can look around the room but the gameplay is fixed on the virtual screen in front of them. The player can play the game entirely in this mode with access to all features, or toggle the Immersive Mode, by pressing the change view button – this pulls the player into the virtual screen as the world envelops them in the completely 360-degree, rendered point of view.
Based on your VR headset, this button layout may be different. Check your Living Room HUD to make sure you know which to press.
Options: VR Menu
The player's gameplay and interaction with the VR world is primarily controlled through a dedicated set of options that are presented to the player in a new VR Options menu that is accessed through the Menu button on the gamepad. Our recommended defaults are marked in bold below.
VR Controls
[ON] VR Controls (In Progress). All VR Options default to ON if these controls are selected.
[OFF] Classic Controls. Options for VR Head Steering, Linear Jump, VR Turning and VR Turning Sound are ignored.
Show Control Selection Screen
At startup, the player is shown a UI screen where they have to pick the VR control selection. Turning this option off stops displaying this screen and the last selected control option is saved. Players can turn this option back on which starts displaying the screen again.
VR Turning
This is only available in Immersive Mode.
[ON] Turing is done in segments (default for VR Controls (In Progress)).
[OFF] Classic Controls turning is turned on. Note that VR Turn by Time setting is ignored.
VR Turn by Time
This is only available in Immersive Mode.
[ON] VR Turn has the same number of turns per second, but the angles are different based on how far the Right Stick is pushed.
[OFF] VR Turn occurs with a constant angle.
VR Turning Sound
This is only available in Immersive Mode.
[ON] A distinctive sound plays every time the player turns.
[OFF] No sound plays when turning.
Head Steering
[ON] The direction of motion of the character follows the player's POV (gaze direction).
[OFF] If the character is moving, direction of motion is independent of POV. The character turns in relation to POV only if they are stationary.
3D Rendering
[ON] This option turns on stereoscopic rendering when in Immersive Mode and slightly lowers the draw distance to try to maintain a steady frame rate.
[OFF] The world will render as monoscopic and the frame rate is higher, since only one frame is rendered to both eyes.
Linear Jump
[ON] The Jump is a 2-stage linear jump, which removes the variable velocity and acceleration/deceleration from the jump. It also jumps the same height as a block instead of slightly higher.
[OFF] The game uses the Classic Controls jumping HUD Drift
HUD Drift
[ON] HUD is allowed to "float" for comfort.
[OFF] HUD is fixed in position to player's POV.
Linear Motion
When turned on, the player's velocity is constant with all acceleration/deceleration disabled.
Sticky Mining
[ON] Causes the cursor to remain locked on the currently mined block until the block is destroyed. If the player POV moves to another block, a second cursor (a small, hovering white dot) appears to guide the player and highlight which block will be targeted next.
[OFF] The cursor moves freely as the player shifts their POV while mining. It is possible to interrupt mining if the player's gaze shifts off the current block.
Options: Controls
VR Sensitivity
This control function is altered when playing in Immersive Mode. It affects the turn speed of both Classic Mode (Sensitivity) and VR Turning controls.
VR Auto-Jump
This control function is altered when playing in Immersive Mode. It turns this behavior on and off in VR, but doesn't affect the Classic Mode Auto-Jump.
Options: Graphics
VR Brightness
This adjusts the brightness of the game in both VR Modes (Immersive and Living Room).
VR Render Distance
This adjusts the Render Distance of the game in both VR Modes (Immersive and Living Room). Setting this too high may reduce frame rate and cause discomfort.
Texel Anti-Aliasing
This option is not supported on Note 4 and is therefore hidden.
[ON] Anti-aliasing of block textures is enabled for improved visual quality. Frame rate will be reduced.
[OFF] Anti-aliasing of block textures is disabled.
More Minecraft guides
And head over to our Minecraft hub for even more news, guides and how-tos!
---