Modern Warfare 2 Best M4 Build
Best M4 Build for Modern Warfare 2
Updated: Nov 4, 2022 11:33 am
If you want to get that K/D ratio up and you love M4s, you need our Modern Warfare 2 Best M4 Build guide. We've got the best M4 build for Modern Warfare 2 to share with you.
This weapon combines high power and a sleek look and has become a staple of the COD franchise in many games.
Let's take a look at our Modern Warfare 2 best M4 build.
Modern Warfare 2 Best M4 Build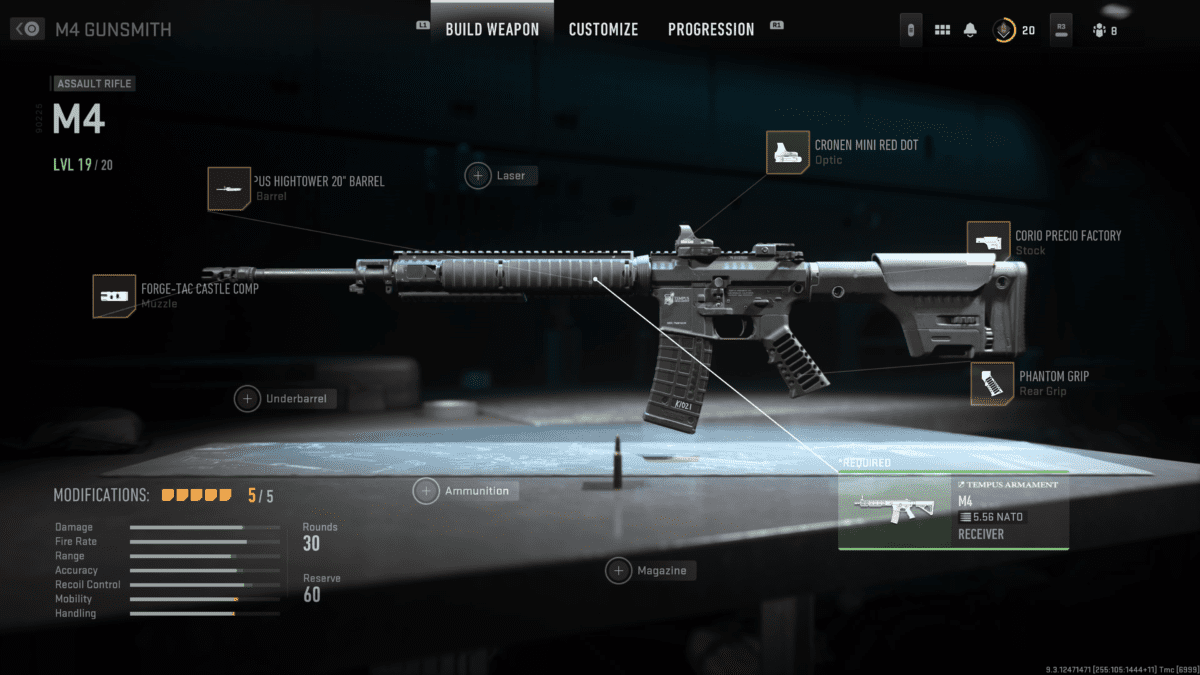 The M4 is an all-around solid assault rifle with a slightly long TTK (time to kill). You'll need to hit enemies with a long burst to put them down, but a headshot will always do, provided you can land one.
Buy Now: Modern Warfare 2 – Vault Edition (Xbox) – Green Man Gaming
When you first start using the M4 without any attachments, you'll notice the strong recoil pattern – that's what you'll want to focus on tamping down with your build.
Equip the following attachments:
Barrell – Tempus Hightower 20″
Optic – Cronen Mini Red Dot sight
Stock – Corio Precio Factory stock
Grip – Phantom
Muzzle – Forge-Tac Castle Compensator
You can unlock all of these attachments by using the M4, but to unlock the Forge-Tac Castle Compensator, you'll need to level up the 556 Icarus light machine gun to level 10. Once you're all done, it should look something like the picture above.
Best Strategy with the M4 in Modern Warfare 2
The M4 in this configuration is best in medium to long-range combat but will work in a pinch up close. We recommend hanging back and mounting onto walls to steady your aim. This will give you an effective range of up to 60 meters (but not on full-auto). Unmounted, you can expect to consistently stick your shots at half of that range.
Move slowly, use cover, and remember you only have 30 rounds to spare in your magazine. You don't want to get into situations where you fight multiple opponents at once and then run dry. Engage with one to two enemies at a time max and reload when it's safe.
We've also had a lot of success packing the deployable cover field upgrade. This will allow you to drop a barrier you can mount off h- perfect for digging in to protect an objective or sitting and waiting for enemies to come your way. The barrier can be destroyed, so don't plan on hiding behind it forever.
What Other M4 Attachments are Good?
We want to say that there are loads of attachments in Modern Warfare 2, and this build is simply the best one we've tried so far. Many available attachments are not included in the multiplayer beta, so this article is likely subject to change.
But for now, this is a great setup to run. You can feel free to mix and match any of the attachments you like. Experimentation is part of the fun of the game.
For instance, if you want to get more up close and personal, feel free to swap out the barrel and stock for shorter ones that focus on aim-down-sight speed. Just know that if you and an enemy spot each other from afar, you're unlikely to win that contest.
Is the M4 the Best Rifle in Modern Warfare 2?
No, but it's a solid choice for mid to long-range combat.
Yes, the M4 is a real-world weapon that is used heavily by the U.S. Military.
---