New World Twitch Drops and Prime Gaming available for launch
Amazon Games is offering New World Twitch Drops and Prime Gaming rewards for launch.
Updated: Jul 12, 2022 10:12 am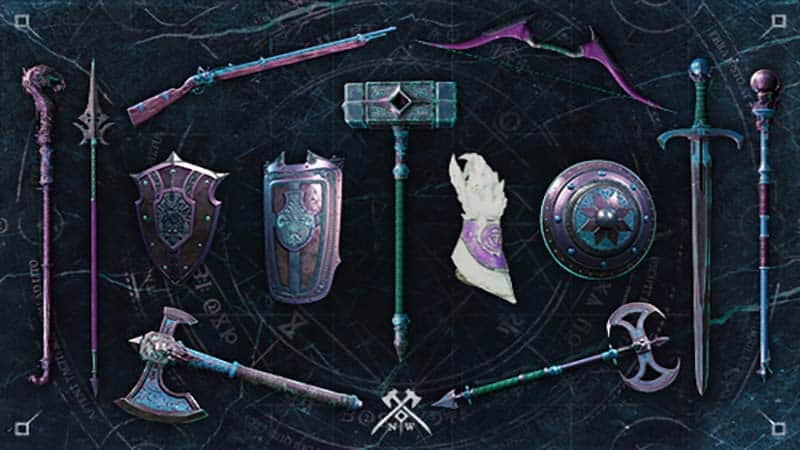 Amazon Games has announced that New World Twitch Drops and Prime Gaming rewards will be available when New World goes live at 08:00 CEST. New World is hosting many launch day celebration events, including a September 27 preload, quiz, and now a mark two of Battle for New World event.
If you watch some of the Battle for New World streamers, you will become eligible for some exclusive New World Twitch Drops.
Vinespun Weapon Skins New World Twitch Drops
Once September 28 rolls around, you can tune in to watch eligible Twitch streamers playing New World. Under their names, you will find the usual !drops enable icon, allowing you to earn rewards while watching their streams. The streamers that are enabled are the same streamers that featured in the first battle for New World during the closed beta test, such as Josh OG, Sacriel, Towliee, Bajheera and more. Watching these channels will eventually qualify you for the Vinespun Weapon skins, which you can glimpse in the article's feature image.
To qualify for these skins, you need to follow this link to Twitch to accept your entry into the twitch event, and you need to watch 10 hours of streams.
New World Prime Gaming
Furthermore, you can get Prime Gaming rewards. From September 28, you can get access to a pirate-themed New World appearance. From October 12 onwards, you can get another pirate theme set. Both sets will be available till November. Collecting both packs will net you 5,000 of the premium currency to spend on the in-game store, emotes, a player outfit appearance for you to transmog into, among other goodies. At the time of writing, the Prime Gaming section nor the Drops campaigns do not feature New World. You will only be able to redeem and get involved when the campaign launches.
As you can see, Amazon Games are offering plenty of content to get outside of the game by being part of the community. If you want to see the full New World Twitch Drops or Prime Gaming rewards head over to the New World blog post provided.
---