How is Pokémon Legends Arceus doing on Metacritic?
With the hotly-anticipated new Pokémon title out on January 28th, 2022, is it worth a go?
Updated: Jan 27, 2022 12:49 pm
Pokémon Legends: Arceus is a new, and – to a degree – unique Pokémon game set in a time before any other Pokémon title has taken place, before the Pokedex was invented, and before Pokémon and people coexisted in the harmony we know today. So, with the game being wildly different from anything we already know, is it worth a try? Thankfully, game critics like ourselves have already done the legwork for you, so what does the internet think of Pokémon Legends: Arceus so far? And should you buy it? Let's find out.
What is Pokémon Legends Arceus' Metacritic score?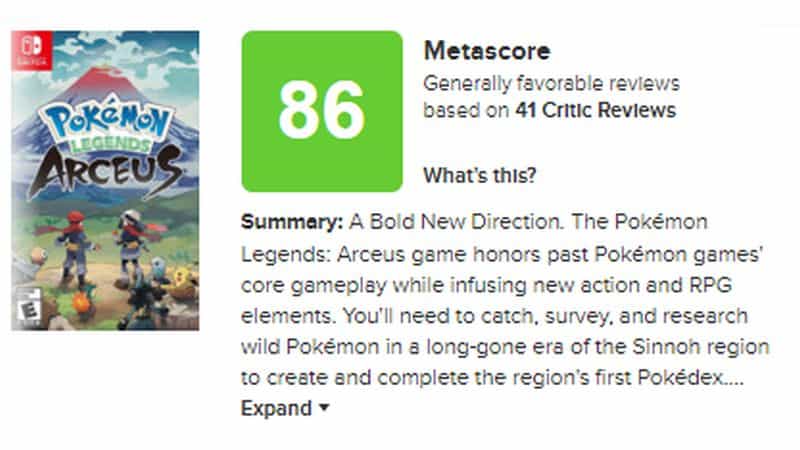 At the time of writing, and based on over 40 reviews of the game, Pokémon Legends: Arceus has a metacritic score of 86 out of 100. That's considered pretty good, and the good thing about metacritic is that you can gauge what the general consensus is on average. Why does that matter? Well, for example, one paper gave the game 100 out of 100, which might disappoint you if you buy the title and don't feel quite as enamoured as they did. Especially when you consider the score on the other end of the spectrum is a wildly different 50 out of 100.
But what do we think of Pokémon Legends Arceus?
Of course, while looking at the overall consensus of the internet's critics, you still want to know what your favorite site thinks of the game. That being us – of course – you might want to take a look at our in-depth review on Pokémon Legends: Arceus. While our score fits pretty snuggly in with everyone else's general opinion, our take remains honest about what could have been done perhaps slightly better, especially with so many Pokémon games already under Game Freak's belt.
So, is it worth it?
In short, it seems that the gaming, news and journalism industry is in agreement that, yes, if you're a Pokémon fan, you may as well give it a whirl. Without telling you what we scored it exactly – again, you can go read the review – we can say here that it's technically classed as "recommended" as per our review policy, so jump into the Hisui region, and let us know if you agree.
---