Mega Ampharos Counters – Pokemon GO
Updated: Feb 8, 2022 4:46 pm
With the new rotation of February Raids comes an assortment of new Pokémon to the Raid rotations. That means new Mega Raids too, some of the most challenging raids in Pokemon GO, though they do reward you with Mega Energy, you'd be remiss in thinking they're easy. Most Mega Raids need a minimum of 6 players, and even then it's not impossible to lose, in fact it's very probably unless you tailor your team.
Mega Ampharos Raid Schedule: Tuesday, February 15, 2022, to Tuesday, March 1, 2022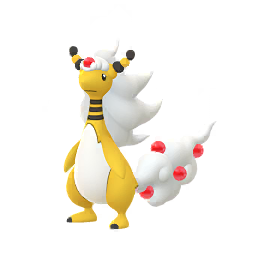 The next Mega Pokemon to take over the Mega Raids is the Electric / Dragon type Mega Ampharos. This powerful pokemon could devastate your team if you're not careful and underestimate it. So we've compiled a list of counters to help you out when going up against Mega Ampharos.
Mega Ampharos is an Electric & Dragon Pokémon. It is vulnerable to Ground, Ice, Dragon and Fairy moves. Ampharos's strongest moveset is Volt Switch & Zap Cannon and it has a Max CP of 4,245.
"Ampharos gives off so much light that it can be seen even from space. People in the old days used the light of this Pokémon to send signals back and forth with others far away.
Mega Ampharos Counters
Mega Ampharos Best Moveset
You've got your Ampharos, now you want to make sure you've got the strongest moveset so you're making the most of this powerful Pokemon.
The best moves for Mega Ampharos are Volt Switch and Zap Cannon when attacking Pokémon in Gyms. This move combination has the highest total DPS and is also the best moveset for PVP battles.
Offense
Defense
Good luck out there, trainers!
---