Stardew Valley Haley guide
I'm thankful for...
Updated: Apr 7, 2022 2:20 pm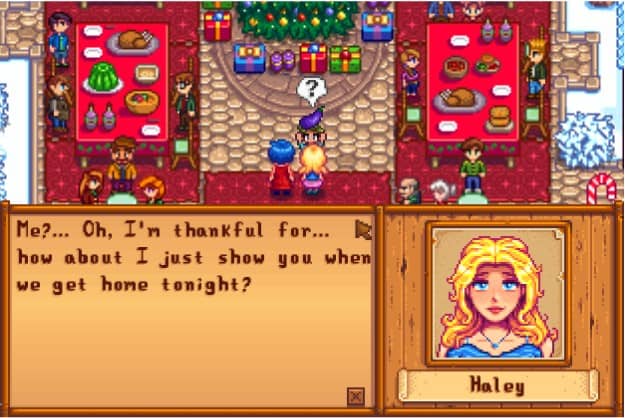 Haley is Emily's sister in Stardew Valley and unlike her easygoing sister, she can come off as rude when you first meet her. But once you build your friendship with her, she becomes endearing and is someone you can rely on. While Emily is one of the easiest characters to romance, Haley is much more difficult to please. You have to put a lot of effort into her heart events if you want to break into her softer side.
How to Marry Haley in Stardew Valley
Haley is one of the youngest characters in the game. She is a high school graduate who doesn't have a job yet. She loves attention and her birthday is one of the best opportunities to make her happy. Haley was born on Spring 14 and she lives with Emily in 2 Willow Lane, in Southwest Pelican Town. She visits the clinic on Winter 9 and her night market visit is on Winter 16.
Unlike her sister Emily, you will have a hard time keeping up with Haley's schedule. She goes out for walks during the middle of the day and since she does not have a job, her daily routine varies a lot across the week.
To make Haley happy, you have to cave in to her expensive taste. With most players being strapped for cash during the early game, it can be difficult to marry her. You will not be able to romance her until you spend a lot of time in Stardew Valley and get access to some of the rare items in the game.
Haley loves coconuts, fruit salad, pink cake, and sunflowers and all of these gifts can be great for earning friendship levels. Most of Haley's heart events take place in her home and you will find out that she has a secret passion for photography.
More Stardew Valley Guides
Featured how-to guides
Featured walkthrough guides
Featured best guides
Your questions answered
Head over to our Stardew Valley hub for more news, guides and how-to's
---