Is the 3080 Ti futureproof? –
Will the 3080 Ti bring you many years of fun? Or will you be left sulking, forced to play in the sun?
Updated: Dec 8, 2022 1:47 pm
The RTX 3080 Ti graphics card is based on the Nvidia Ampere architecture, just like all other Nvidia GeForce RTX 3000 series, and it offers the same upgrades as the rest of the portfolio. But is the 3080 Ti futureproof?
Now read: Is the 4090 worth it?
The DLSS and ray tracing features in the RTX 3080 give a superb gaming experience. The majority of forthcoming games leverage artificial intelligence and machine learning technology. The phrase "futureproofing" does not solely refer to technological advancements.
Gigabyte RTX 3080 Ti Gaming OC 12G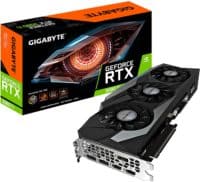 Whatever you purchase now will be replaced in a few years by a better one. To protect the value of your investment, you should aim to get a version that will continue to function properly for the following three to five years.
3080 Ti key specifications
Future versions of the RTX 3080 Ti should be even better at 4K gaming because of quicker VRAM and just more memory. Additionally, the RTX 3080 Ti has a pure increase in power. In contrast to the RTX 3080's 8,704 CUDA cores, the GPU has 10,240 CUDA cores distributed across 80 compute units. Although there has been a 17% increase in core count, don't anticipate a strict 17% performance boost; we'll talk more about that later.
DLSS
Naturally, you also have access to DLSS or Deep Learning Super Sampling. This technology upscales a lower resolution to your native resolution using Tensor cores, of which the RTX 3080 Ti has 320. In order to achieve a respectable framerate, especially at high resolutions like 4K, you shouldn't have to forgo visual quality. DLSS will enable more flashy graphics options.
Every year, technology evolves. You should choose more environmentally friendly and long-lasting cards because of the intense competition and high prices in the gaming industry. The 4k screen, which is still developing, is the major focus of the RTX 3080 ti's design. Go for a 3080 ti if you can afford it easily because you won't need to update for about three to four years.
---
Final word
So, is the 3080 Ti futureproof? Yes, mostly. Any *new* card is futureproofed for a while, but this industry advances fast and technology falls behind just as quickly as it is created. The thing is with GPUs and futureproofing, isn't just asking "is the 3080 Ti futureproof", it's asking whether the card will suit YOU.
Do you only play older games, then yes the card will never ever let you down. If you like to play the latest titles at 4K Ultra settings then you're gonna need to keep upgrading to keep up with the demand that new releases put on our systems.
So, that's why the question you asked is a loaded question, YOU have to decide whether the 3080Ti is futureproofed enough for you.
---