Last Updated:
Nvidia has had its RTX 4000 series out for a couple of months now, and AMD finally has its response out. So we got hands-on with a new RDNA 3 card to give you the Radeon RX 7900 review.
The all-new reference design has made a point not to be like the new RTX 4090 or RTX 4080 in terms of size or price. So it comes down to what it can offer in opposition.
We look forward to seeing the cards perform well. As AMD has promised a lot of improvement and it should be an excellent alternative to disrupt Nvidia's hold on the market.

AMD Radeon RX 7900 XT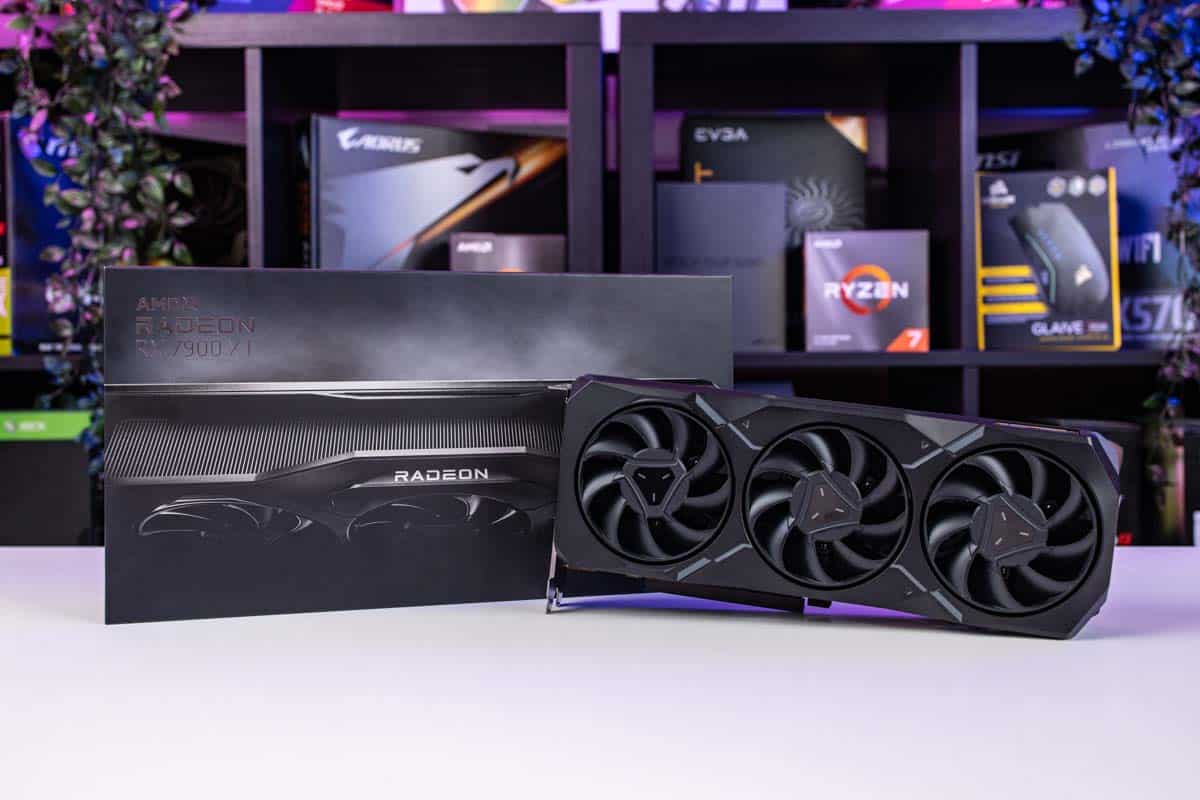 1.5 GHz base, 2 GHz game, 2.4 GHz boost
Packaging and design
AMD's packaging keeps it to the basics in its packaging, which is quite nice. Without all the extra faff and protective film that is just going to get binned anyway. As it's not a necessity these days.
The graphics card sits snuggly into the film and is quite hard to get out. But this does keep it from rattling around in there without the need for extras. It also sits out slightly at an angle to make it a bit easier to come out.
There aren't even port covers for the IO in the back that can be annoying if you forget to remove it and try to install it. Although there is a cover for the PCIe slot so the important data pins will be protected.
Removing the card from the box you're left fairly empty. All that's left is a little compartment for any small documentation. So this makes the whole unboxing a lot easier and hassle-free without so much waste.
Now for the card design, these have further improved on the previous design. Removing any silver highlights, the whole design is now stealth out. With just a whole black coloring on the card.
You just get a dash on red highlight next to the power connectors on the side. And the metallic IO cover, which easily picks up any thumbprints after handling.
Another feature of the card is that it only uses two PCIe 8-pin power connectors. With no new 12-pin power connectors from the new ATX 3.0 spec that has caused some trouble when not properly installed.
This also means the card does not have a big TBP and cooler. Meaning it also only measures in at a length of 276mm, a width of 135mm, and a thickness of 51mm (2.5 slots). But it does feel dense, weighing in at 1.519 kg in that small package size.
So it shouldn't come into any issues with its cooling. With its densely packed heatsink, and three enclosed fans to keep it cool. As well as a metal back plate to give off the heat to not limit it.
The design of the card is rather edgy with sharp edges. And angles to add to the gothic all-black design. But even so, makes it stand out and has a great quality build to it.
Specification
1.5 GHz base, 2 GHz game, 2.4 GHz boost
1x HDMI 2.1, 2x DP 2.1, 1x USB-C
Pros
Much cheaper than its Nvidia counterparts for similar performance
Sleek and stealthy all black design that is very elegant and fits in well
Low TBP and power consumption with a great cooling design that keeps the size of the card down
Cons
Still lacks on some ray tracing performance although it has improved
The RX 7900 XT is one of the first two cards in the lineup of the RDNA 3 architecture. Further aiming to improve the performance and optionality as a pick of a good GPU.
This new generation, splits apart its graphics die. Moving to an MCM (multi-chip module) design, the graphics die is split into multiple chiplets. Giving a much-improved yield from the silicon with smaller sizes.
Now the manufacturing process has been further improved and uses TSMCs 5nm and 6nm processes. That's split between GCD and MCD respectively. Which then measures 300mm2 and 220mm2.
For the 7900 XT, it contains in ti 84 compute units, 84 ray accelerators, 168 AI accelerators (a new addition to the graphics family, as well as 5,376 stream processors and 192 ROPs. These have the potential to reach a game clock of 2 GHz and a boost up to 2.4 GHz.
Now the Infinity Cache is down at 80 MB, but the card now has 20GB of GDDR6 memory in it. Clocked in at 20 Gbps and across a 320-bit memory bus, it has an 800 GB/s bandwidth. AMD saves on both power and money with the fact it's not using GDDR6X memory which might not have the biggest performance increases.
Even though AM5 is ready for PCIe 5 expansions, the new cards are still only on PCIe 4.0. Still likely the fact of saving costs and the cards are unlikely to utilize the full bandwidth potential. Now the board power is at 315W. A slight increase since the announcement of an improved performance at not too big of an extra cost.
Whilst it still falls below the 320W of the 4080 and much less than the 4090's 450W. The reason it can keep its size down and the limited power connectors. Although custom cards are likely to expand on the count.
For its display outputs, this generation is the first to feature the new DisplayPort 2.1 spec. With displays expected to feature it in early 2023, it offers a lot of future-proofing. And the reference card has two of those, along with one HDMI 2.1 and one USB Type-C connector. So it is very flexible on what you can use as a display.
Price
In terms of price, this is another area that AMD aims to be very competitive. With the 7900 XT's MSRP set to $899. So although it's on the more expensive side, it's not as much as its competition.
So as long as the performance and features are there, it is a very good place to be for the GPU. Especially as the 4080 hasn't been such a hot product, with plenty of stock available unlike the 4090 that has been in hotter demand.
RX 7900 XT thermals and cooling
Thermally, the graphics card is well-designed. With a great performance under load. In our testing, its results show off a lot. As under full load, the card never went above 61℃. A different philosophy compared to the Ryzen 7000 CPUs.
Whilst the fans span at a maximum of 1,771 RPM but not at an unreasonable sound level. This also meant the temperature curve is very good, with the temp coming back down to 40℃ within five minutes.
These cards also come with a temperature probe in the fans. Which will measure the ambient temperature coming into the card to cool it. And so will give you some more control over the fan curves with some extra data to base it on.
RX 7900 XT benchmark
For the most important part, we look to see how the card performs in games. Although we did not have the available cards or time to test it against over GPUs, it should give you a good understanding of what it can achieve.
Our test bench
CPU: AMD Ryzen 9 7950X
Cooler: Asus ROG RYUJIN II 360
RAM: 2x 16GB Trident Z5 Neo DDR5
Motherboard: ASUS ROG Crosshair X670E Hero
PSU: ASUS ROG Thor 1000W
Case: Cooler Master MF 700
So in Assassins Creed Valhalla, we get a solid performance across the board at ultra settings. With a 1080p performance of 175 FPS, 1440p at 145, and 4k at 90FPS averages. The 0.1% is likely down to our test method than the actual performance of the card.
CS:GO is a very easy-to-run Esports game. And so it's not a surprise this top-end card breezes through the frames. And so 1080p gets 724FPS, 1440p averages 555FPS, and 4k reaches 313FPS.
Cyberpunk 2077 gives the first look at the ray tracing performance of the generation. With a promised uplift in it. But it's still a great hindrance, with the ultra and psycho levels really tanking it. So the 1080p performance drops from a great 171FPS down to 51 with ray tracing. Whilst 1440p goes from 119 to 32 FPS. Whilst the playable 62 at 4k drops to just 15. Likely waiting for the FSR benefits the game offers.
Doom Eternal has a much lesser ray-tracing effect, although the high framerate may hide the effects as such. As the 426 frames at 1080p nearly halve to 264 with RT. Whilst the 349 at 1440p drops to 208 and 195 FPS falls to 115 FPS at 4K. All of which is still a great playing experience.
Far Cry 6 is much less intensive in its ray tracing and so overall we see over 100 FPS across the board. Except, of course, the 87FPS it drops to at 4k ray tracing, which is still a good achievement at ultra settings that can be dialed in.
Fortnite is definitely not meant to be played at epic and with the highest settings. But these are still reasonable framerates, although it falls to below 50 at 4k. So it can be set to more reasonable options.
Overwatch 2 is relatively new, but still an Esports title it is performance focused. And so the high numbers give you some great ability to play at your best with nearly 400 FPS at 1080p, near 300 at 1440p, and 160 at 4k.
Rainbow Six Siege is in a similar park, with well over 144 Hz across the board. With the potential for much higher numbers if necessary.
Shadow of the Tomb Raider also sees higher framerates. Although the graphs may be askew from the scene loads in between the benchmark so it can be deceiving and does run a lot smoother.
Synthetics
There is also a pure-performance synthetic tested in 3DMark. This is a quick and basic way to compare how the graphics do and look at it in terms of other cards. It definitely shows off the uplift in the card.
Final thoughts
Overall, the card is a great competitor when it comes to pure gaming performance. AMD has seen a great improvement in the software and driver department and so it is not a drawback to use its cards anymore.
The framerates have improved along with the ray tracing performance. So it has been a good rise in what they can offer. Especially at the price, they have set. As long as stock can follow it will be a good alternative as its cheaper than what Nvidia has to offer.
So costing less and running at a lower cost has become more important these days. That's as long as the rest of the people can see that but we do like what Radeon has to offer these days and look forward to the competition at lower-range cards as well.

AMD Radeon RX 7900 XT
Core Clock Speed
1.5 GHz base, 2 GHz game, 2.4 GHz boost
Dimensions
276 x 135 x 51mm