How to Refund a Game on Steam
Steam is constantly striving to create a platform that is not only high in user experience but is extremely versatile as well. Whether it's their easy game activation process or their new games sharing function, the processes Steam fine-tune are designed to make your gaming life much more enjoyable. They now have an extremely generous refund scheme which gives users a chance to redeem a full refund on any game purchase if they meet Steam's requirements. It's a super easy process that requires you to request a refund via a simple step-by-step process.
This article is going to walk you through the process in full. Let's waste no further time and get straight into it.
Steam Requirements
Before we get started on the actual process, it's worth knowing whether or not you're actually eligible for a refund. The following is a list of requirements you must adhere to to be able to request a refund.
A game is refundable when it has been purchased within the last 14 days. If you bought the game 15 days ago, unfortunately, you are not eligible for this process.
The game's title you wish to refund must have been played less than two hours in total. Any more and you will break the rules of the refund policy and become none eligible.
The game you want to refund must not have been modified or transferred in any way.
As long as you stick within these soft guidelines, you will be eligible for a refund request. Now, let's jump into the actual process.
Step #1: Requesting Your Refund
Start by logging onto your Steam account. When inside your Steam, click the "Help" drop-down menu and select "Steam Support" from the options
Step #2: Select What Help You Need
Once inside the Steam Support window, you need to navigate to the "Purchases" tab. You will see a list of options and games. If the game you want to refund is at the top, click the game, if not, find the purchases tab just underneath.
Step #3: Choose The Game You Want To Refund
Once you click on the purchases tab, you will be taken to a list of your purchases. Who knew… Underneath the "Last six months of purchases" section, find the game you want to refund.
Step #4: Select The Problem
Inside this section, you will be greeted with a list of options that relate to the game purchase you want to refund. Just select the "I would like a refund" tab again.
Step #5: Request Your Refund
On the next screen, Steam will give you two options to choose from. One will be a support option to fix any in-game bugs. The other is requesting a refund. Click on "I'd like to request a refund"
Step #6: Select Your Refund Type
Once you have requested your refund for the 19th time, you will finally be able to select the place you want the refund going back to. You can choose from your Steam wallet or your card that you bought the game on. Choose which one you would like and click to the next page
Step #7: Finalising Your Request
Now you will have the chance to alter anything you have requested. This page is a quick summary of your request and also a page that allows you to give some feedback on why you want a refund. Choose the reason you would like to receive a refund and select "Submit My Request"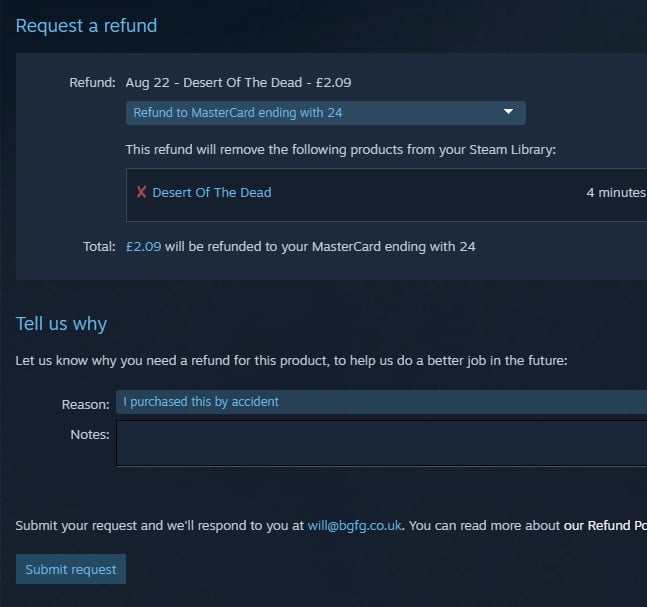 Step #8: Your Receipt
The next page will be a confirmation of your request. It will state which game you have requested to refund and confirmation of your reference number and email address. At this stage, your process is complete. You will now how to wait for an email for the next steps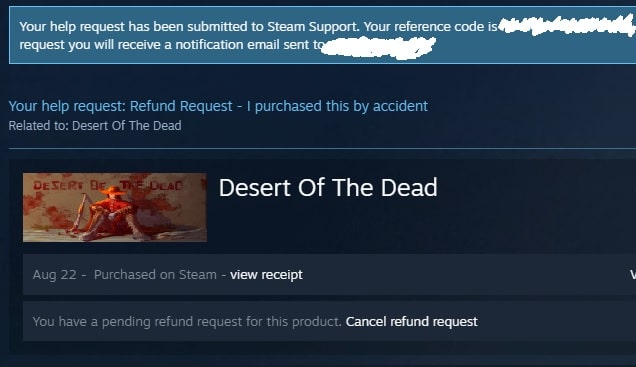 Receiving a Confirmation Email
Once you have requested the refund, you will be sent a confirmation by email pretty much straight away. The email looks something like this
This email signifies the completion of the refund process. You now have to wait for Steam to consider your request. They will email you once the consideration period is over with a result of your request. Here's what we got from Steam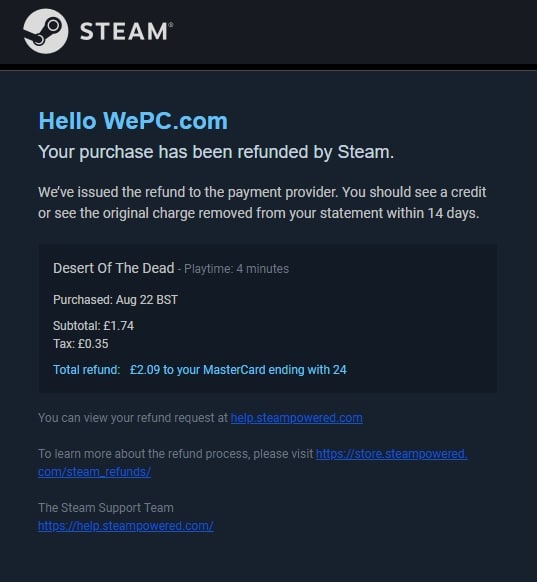 We received this email after a couple of hours and received the money immediately as well.
Final Words
That's it, the complete process of how to request a refund on Steam. It's a really easy one that rarely disappoints.
Any questions regarding the process, please feel free to leave a comment below, and we will answer them as soon as we can.