Amazon responds to Twitch data leak
Massive Twitch data leak leaves Amazon on damage control.
Updated: Oct 6, 2021 5:35 pm
Update on October 6, 2021 at 16:45 BST:
Amazon and Twitch have officially released a statement about the data breach on Twitter, confirming it as legitimate and asking for patience as they try to understand the extent of the leaks. The tweet is below.
Original Story:
A massive Twitch data breach has occurred, and an entire copy of the streaming site including users personal data, chat records and payment information from between 2019 — 2021 has been uploaded on lawless anonymous internet message board 4chan in an 128GB torrent file.
As encrypted passwords and e-mail addresses were included in the data breach, it's definitely worth changing your passwords, enabling 2FA on your various accounts, and even checking in on Have I Been Pwned from time to time to make sure your personal information has not been sold to nefarious people.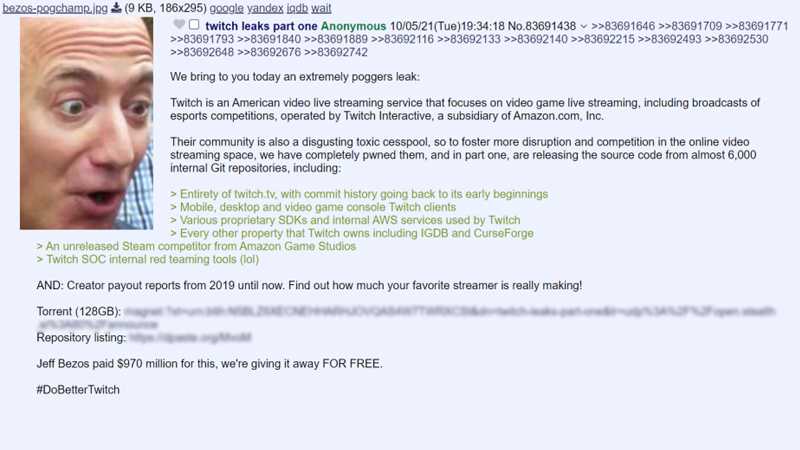 Anonymous sources at VGC sources report that Amazon is aware and all data listed in the leak is legitimate. 'The leaked data is legitimate, including the source code for the Amazon-owned streaming platform. Internally, Twitch is aware of the breach, the source said, and it's believed that the data was obtained as recently as Monday.'
Should this be true, then Amazon and Twitch are in for an incredibly rude awakening when they find that a huge chunk of sensitive data regarding the business has been leaked. It also poses significant security risks for Twitch and Amazon at large, which we've written about here.
We have attempted to reach out to Twitch via their help email, who have strangely, responded from a Justin.TV address. We can presume that they're pretty busy attempting to sort this out.
'In an effort to better serve our growing audience, we've updated our support site and help request system. To submit a support request, please go to help.twitch.tv and scroll to the bottom of the page.
To make this transition, we are closing the [email protected] inbox. This inbox is now unattended. Thank you for your understanding while we make this transition. We look forward to serving you!'
This story is currently developing, we'll update this page as we know more.
---