The new Zen 3 CPUs from AMD have been the main topic of many PC builder forums in the last few weeks. Following on from the live stream presentation where we got our first official glimpse claiming better performance when compared to their Intel 10th-gen counterparts, everyone has been eagerly awaiting the November 5th release to see how true these claims really are.
AMD has been burned in the past when benchmarking showed their claims of better performance to be just that – claims. So, how are the latest chips stacking up?
AMD Ryzen 7 5800X Vs. Intel Core i9-10900K Benchmark
Slated to be one of the fastest 8 core gaming CPUs in the new 5000 series, the AMD Ryzen 7 5800X seems to be living up to that with every new leak that reaches us.
This recent benchmark shows the 5800X being tested on a B550M Aorus Pro motherboard from Gigabyte with a total of 32GB DDR4 RAM configured at DDR4-2348 MHz and timings were maintained at CL17.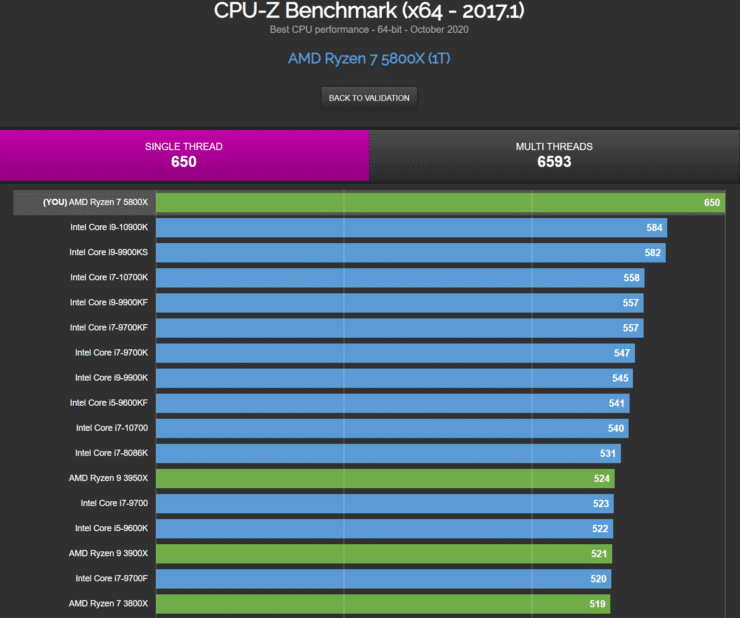 When it comes to single-core performance, the 5800X scored 650 points, making it 11% faster than the Intel Core i9-10900K, its main competitor in today's market. It also means it comes with a 25% faster performance when compared to last generation's AMD Ryzen 7 3800X.
Despite the Intel Core i9-10900K being more powerful on paper with its 10 cores, 20 threads, and a 5.3GHz single-core boost clock, it doesn't even come close in these leaked single-core benchmarks.
When it came to multi-core performance, the AMD Ryzen 7 5800X scored 6593 points, 18% faster than the Ryzen 7 3800X, and 17% faster than the Ryzen 7 3800XT. But, when compared against team blue, this is where it falls short. The 10900K takes the lead here with a 10% faster performance in multi-threaded workloads thanks to its higher number of cores and threads. But, despite having a 25% higher core and thread count, it only brings a 10% lead over the AMD chip.
AMD Ryzen 9 5950X Benchmark
The top billing chips in the AMD 5000 series is the AMD Ryzen 9 5950X coming in at an eye-watering $799 – so, is it really worth the price tag?
Single-Thread Performance
The single-thread benchmarks that have surfaced are using Passmark and show an impressive 3693 points for the AMD Ryzen 9 5950X easily shooting it to the top of the charts. The 5950X comes in 7% higher than the Ryzen 5 5600X and when you compare it to its last-gen predecessor, the Ryzen 9 3950X, it's an incredible 35% faster. Comparing it to Intel's i9-10900K (the closest thing to a competitor for this generation), it scores a 16% lead, keeping up its impressive run.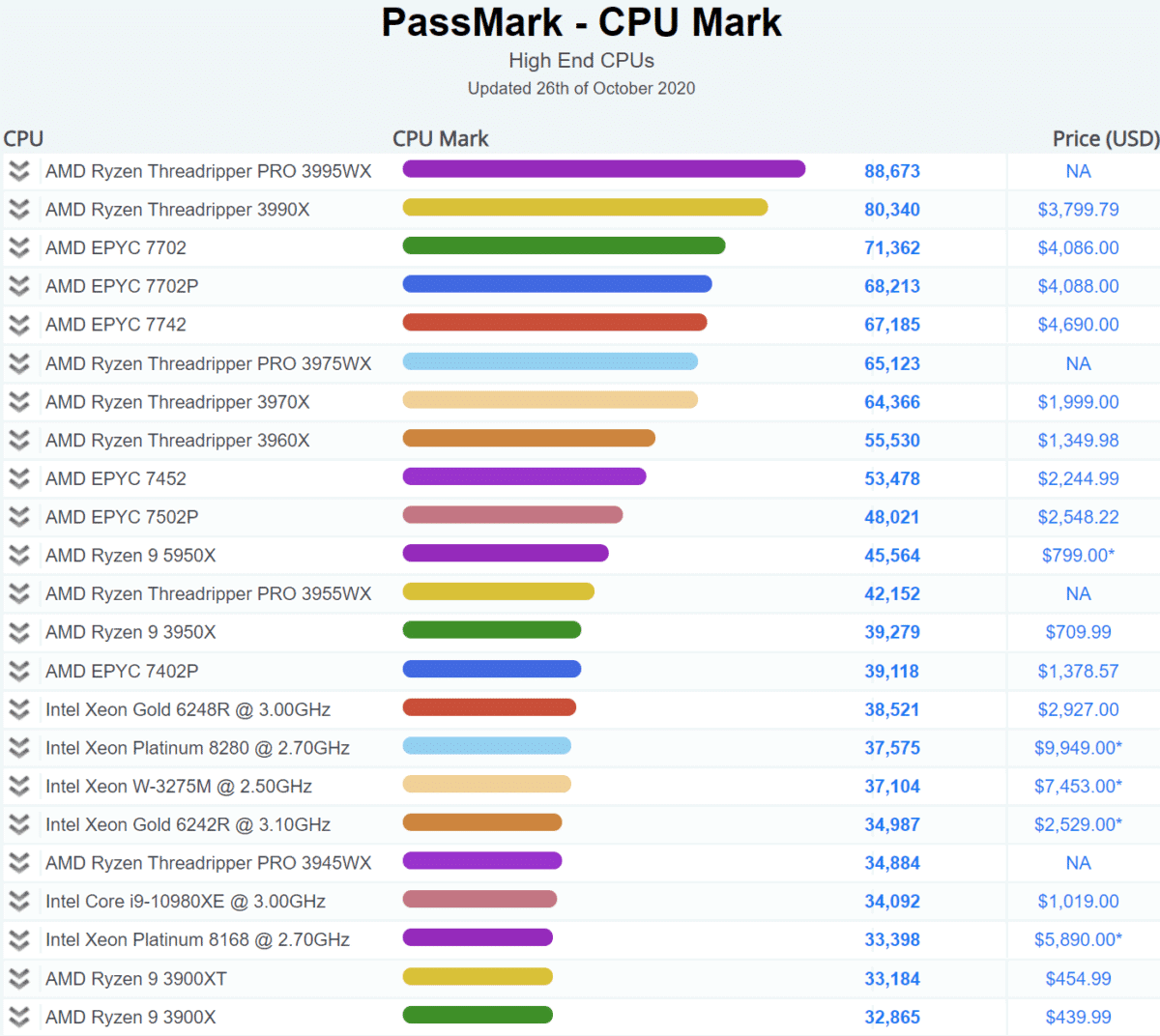 Moving on to look at the multi-thread performance, the 5950X's 16 cores and threads score a solid 45,564 points, a 16% boost over last gen's 3950X. While this is a pretty impressive score, it is still about 10,000 points lower than the Ryzen Threadripper 3960X and 20,000 lower than the Ryzen Threadripper 3970X. This is pretty much what we expected though, with the Zen 2 Threadrippers having more cores and threads than the 5950X. But, seeing how close this performance is makes us very excited to see what Zen 3 Threadrippers will look like – especially since they're predicted to surpass the 100,000 point mark.
AMD 5000 Series – Will It Really Beat Intel?
Looking at these early benchmark leaks, it looks likely that AMD may actually be able to live up to their claims of better performance for their 5000 series, but until we have the chips in our hands – or more accurately, in our testing rig – we can't say for sure. But, for fans of Team Red, 2020 looks like a great year.