Recent testing of the AMD Ryzen 7 4700GE APU has been unearthed and there are some surprising results.
Expected to hit the shelves next month, the Ryzen 7 4700GE is part of the 'Renoir' desktop range. These processors will be replacing the existing Ryzen 3000 lineup and will feature AMD's 7nm Zen 2 CPU and Vega GPU cores.
The Ryzen 7 4700GE appeared under the codename "100-000000149-40_40/30_Y" and looks to be still in an early engineering stage.
This processor features 8 cores and 16 threads as well as 4 MB of L2 and 8 MB of L3 cache. The chip is supposed to have a base clock speed of 3.1 GHz and a boost of 4.35 GHz. The chip that was spotted in these benchmarks only runs at a 3.0 GHz base clock and 4.0 GHz boost clocks though.
Also featured in this APU is a Vega 8 graphics chip which is equivalent to 512 SPs operating at 2000 MHz clock speeds.
What Do The Benchmarks Show?
The Ryzen 7 4700GE was paired with an ASUS ROG Strix B550-Gaming motherboard with two sticks of 8 GB DDR4-4333 MHz CL14 memory. The benchmarks were shared by Twitter user Komachi.
The infinity fabric clock appears to maintain at 2166 MHz (FCLK) which is pretty impressive and shows us just what a monolithic chip with Zen 2 can achieve. Another leak, this time from Chiphell, showed us that the Ryzen 4000 range can maintain an infinity fabric clock of 2200 MHz.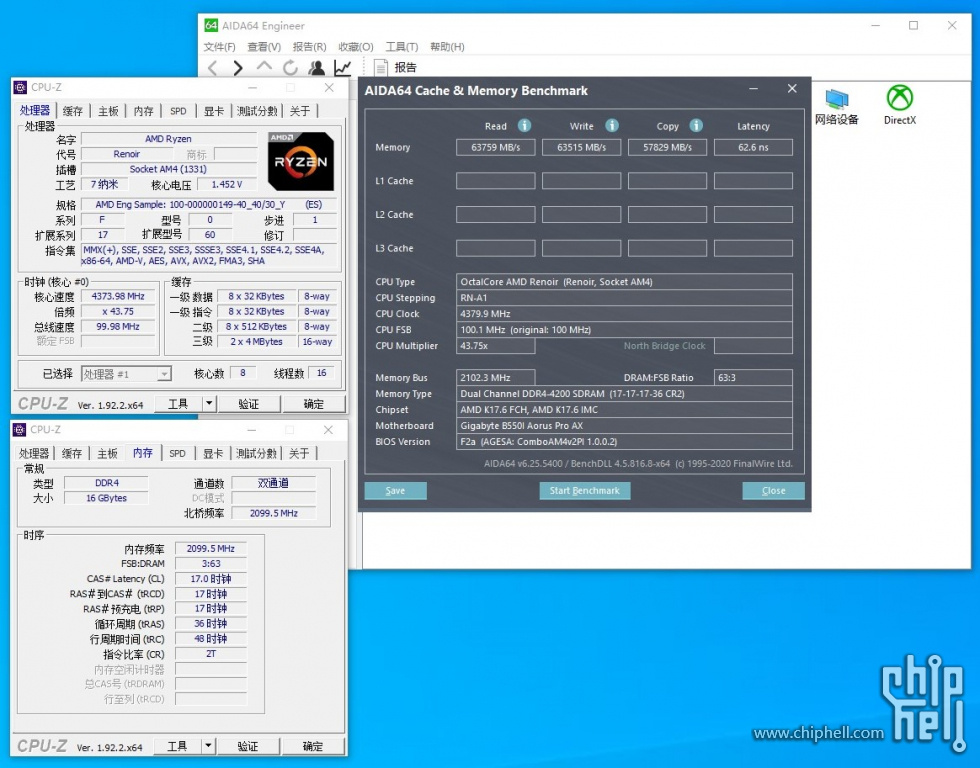 According to the benchmarks, the processor was overclocked to 4.30 GHz on all 8 cores and 16 threads.
However, another test from TecLab showed the CPU overclocked to 4.35 GHz with an ASUS ROG Crosshair VIII Impact motherboard using CL14 timings of 14-13-13-28. TecLab went on further to say that water cooling will help the APU maintain a latency of 45ns.
With previous overclocks seen to offer up to DDR4-5400 MHz speeds with AMD's Ryzen 7 4700G on B550 motherboards, this is all pretty exciting news for the 3rd Gen Ryzen 4000 APUs.
What do you think of these benchmarks? Do you think the extra memory bandwidth will result in faster performance? Let us know down in the comments section below.