AMD Ryzen 9 7900 is 47% more efficient than 7900X
Efficiency is key!
Updated: Jan 5, 2023 10:44 am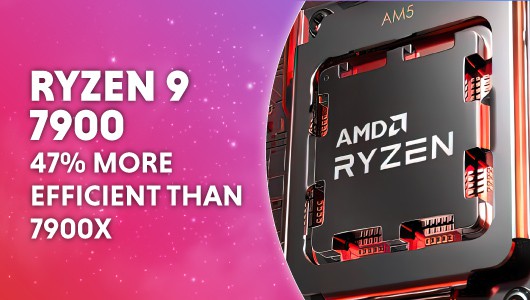 AMD revealed a lot of new tech at its CES 2023 keynote presentation, from new Ryzen AI integration to automotive applications. The most shocking of which was the announcement of the Ryzen 7000 series 3D V-cache CPUs that you can read more about below.
Now Read: AMD reveals Ryzen 7000 series 3D V-cache CPUs at CES 2023.
This news came somewhat overshadowing the work AMD has been doing in the efficiency sector of CPU manufacturing, bringing us to the announcement of the none X Ryzen 7000 series CPUs. Specifically, we want to discuss the Ryzen 9 7900.
---
Ryzen 9 7900 specs
The Ryzen 9 7900 shares a lot of similarities with its big brother, the Ryzen 9 7900X, however, there are a few key differences to ensure it's a little more efficient.
The specifications of the Ryzen 9 7900 are as follows:
Ryzen 9 7900
Architecture: Zen 4
Core count: 12
Thread count: 24
Boost speed: 5.4GHz
Cache: 76MB
TDP 65W
---
AMD Ryzen 9 7900 is 47% more efficient than 7900X
AMD takes pride in its efficiency, in fact, that's what AMD is pretty well known for. So we assumed a none X version of the Ryzen 7000 series CPUs was only a matter of time. AMD has claimed that the Ryzen 9 7900 is up to 47% more efficient than its bigger brother, the 7900X.
This efficiency comes at 65W on the 7900 as opposed to 170W on the 7900X. But it's something AMD must deem achievable. As long as we don't suffer a 47% performance loss on the side of the Ryzen 9 7900 then we should be golden. We can't wait to get hold of this CPU and get to testing.
---
Can you overclock the Ryzen 9 7900?
Yes! it's a common myth that you can only overclock Ryzen X-based processors, technically ALL Ryzen processors are unlocked to overclock. You can do this Via your motherboard firmware, or in the Ryzen Master utility available for free on AMD's website.
A fair warning, however. Overclocking requires ample cooling and power. if you attempt to overclock without headroom in both of these departments, then you might end up causing yourself some issues. Manual overclocking is something that should only be tackled by a professional.
Overclocking will also diminish the efficiency of the CPU, as you're having to pump more power into it, it will, however, increase the performance – sometimes quite significantly.
---