When Will AMD's Zen 3 Be Released?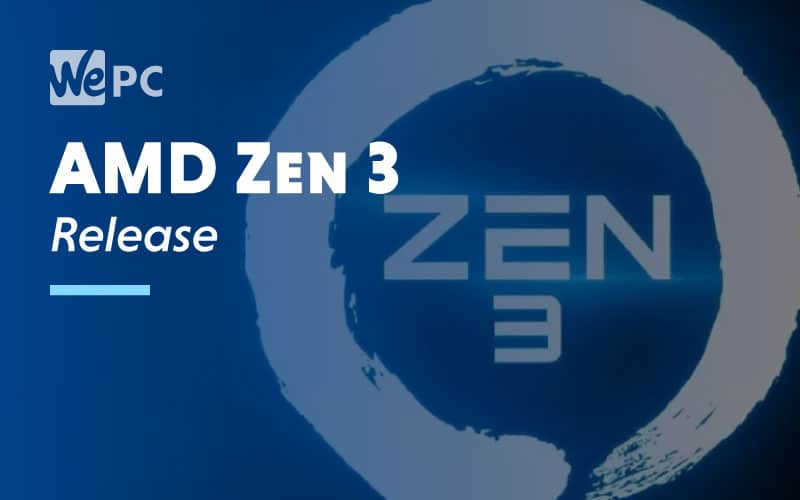 Known as the successor to the hugely popular Zen 2 line of Ryzen 3000 CPUs, AMD's new Zen 3 CPUs are coming soon.
We already know that AMD's Zen 2 beats rival Intel's Coffee Lake in most ways – from performance to the price per core count. What Zen 3 will bring to the table is unknown as of yet, but we have high expectations for it.
What Will Zen 3 Bring To The CPU Market?
AMD's Ryzen 4000 CPUs will be launching at some point this year and we will have a far better idea of what Zen 3 has to offer then. Zen 3 processors are to be produced using a new 7nm+ fabrication process. This brings the potential for even further efficiency and performance.
Zen 3 promises a lot, including higher core counts, higher clock speeds, higher instructions per clock and also more transistor density. On top of this comes lower power consumption but the details on this are sparse. This could refer to a lower TDP or that there's more performance for the same amount of power which seems to be the more likely route. 
Trying to work out what Zen 3's performance will look like in comparison to Zen 2 is quite difficult. While the processor's upgrade isn't an entire overhaul of the architecture, it's not just a simple refresh either. Therefore, performance increases aren't necessarily going to be reflective of the differences we saw between Zen and Zen+ or even between Zen+ to Zen 2. 
The Release Date For Zen 3
What we do know is that AMD's Zen 3 processors will be released this year. This much was confirmed by AMD CEO Dr. Lisa Su. 
However, it's anyone's guess when this will be. We imagine somewhere over the summer, but can't be sure. The moment we hear a confirmation, we will let you know.
Zen 3 Performance
Again, details are not confirmed but what we do know is that this new architecture is using TSMC's new 7nm+ semiconductor fabrication process.
This new process from TSMC uses Extreme Ultraviolet (EUV) lithography as well as a short 13.5nm wavelength for the semiconductors. This should result in a potential 20% increase in transistor density and an overall power consumption decrease of 10%.
Details are vague right now, but we're excited to see how Zen 3 will perform. Many of the details we have about Zen 3 are unconfirmed rumors so it's hard to say exactly what this new architecture will look like until it's finally released. 
Hopefully, as the months go on, we will get more confirmation from AMD, but until then we'll wait for the official release. Any more information we get in the meantime, we will definitely keep you updated about it.