The Best Cyber Monday TV Deals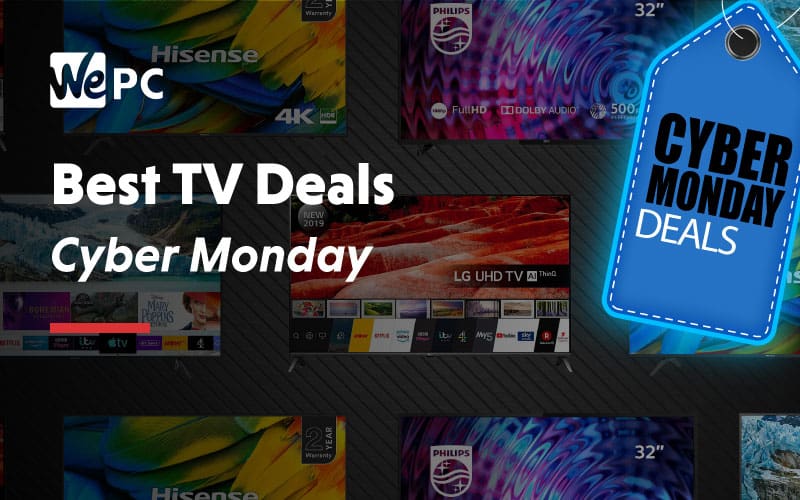 Want to get in on the Black Friday savings, but couldn't find what you wanted in-store, or slept right through the sale. Don't worry. That's why Cyber Monday was invented. 
This year, there are some incredible Cyber Monday TV deals to choose from. You can shop from the comfort of your own chair (or cafe, as you watch suckers flock into all the stores in a rush), but to save you even more time, our team have compiled the best Cyber Monday TV deals right here, and will be updating them throughout the event 
Take a look below at what you can expect from the biggest shopping day of the year!
The best of the best, these are the deals you need to move quickly on during the Cyber Monday buying event - this is the place to start. 
WePC are here to make sure that nothing slips you by this Cyber Monday weekend. We curate all the best Cyber Monday deals from across the web and gather them all here - just for you. That means no more hours of trawling countless websites for deals. Or, heaven forbid, actually going into a real store to fight through the crowds. 
All you have to do is bookmark this page, and check back throughout the weekend sales to find the best TV deals around.
November 2019 TV Cyber Monday
With more and more stores taking part in the Cyber Monday sales every year, we're left with an ever-growing list of retailers to check in with if we don't want to miss out. To save you time though, check for the latest TV deals right here. 
If you're looking for the best TVs around, you're probably looking for a 4K TV. These are the best 4K TV deals we've found this Cyber Monday weekend
If you've got a smaller room, or are looking for a TV to act as a gaming monitor, these small TV deals are perfect for you.
One step up, and we have our mid-size TVs. Perfect for your living room, or even for in the bedroom. These are the best mid-size TV deals this Cyber Monday weekend
Really immerse yourself in your entertainment with one of these large-screen TVs. And save some serious money while you're at it with these Cyber Monday deals.
Where To Find The Best Cyber Monday
Amazon are always going to be on top when it comes to Black Friday. They just are. they have all kinds of different TV deals on offer throughout Cyber Monday, and your going to see some amazing savings on the TV's that they do promote. Make Amazon your first port of call when shopping Cyber Monday TV's.
Best Buy are always worth looking into on Cyber Monday, with all kinds of deals available to look through throughout the weekend. They often have really good discounts available online, with up to 25% off some of their items - so make sure the second tab you open is Best Buys! 
Walmart is always going to be Walmart - a great place to pick up all kinds of different deals, with insane savings across all kinds of different tech - check in with them for big-name Cyber Monday savings
Cyber Monday weekend may be hectic, but it's the best time of year to get your hands on the hottest deals around. Whatever tech you're looking to get your hands on, whether it's gaming monitors, prebuilt PCs, or games consoles - this is the day to do it.
Make sure you bookmark our different Cyber Monday pages so you don't miss out on any of the deals on Black Friday, and leave a comment below or in the community to let us know what kind of deals you saved on!