The Best Christmas Gifts for Gamers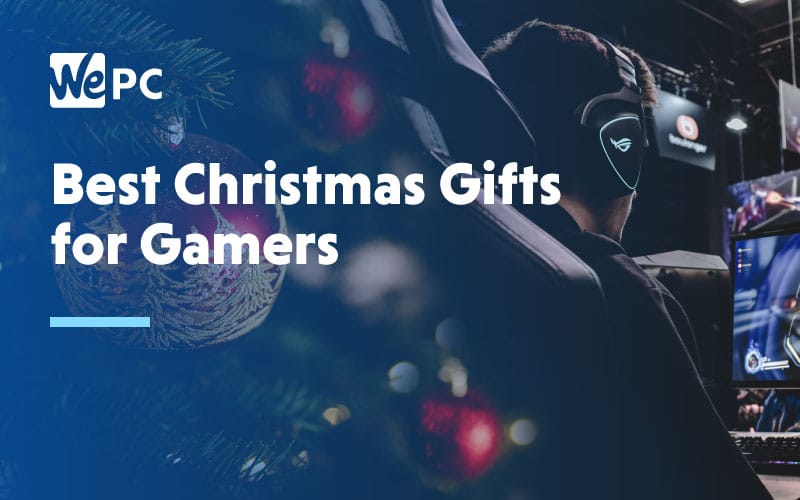 Every year millions of gamers wake up on Christmas morning only to find their stockings stuffed with gifts that have no place other than the bottom of a bargain bin. The WePC team wants to make sure that changes, so we spent some time coming up with a comprehensive buyer's guide on the best Christmas gifts for gamers this year. 
Need to buy a gift for a gamer kid? Don't worry; we've got you covered too. We have a special kids gift guide to browse through, and even a list of the best games released this year that any gamer would be happy to find in their stocking.
PC Gaming Ideas
Gaming Mice
It's no secret that any PC Gamer is going want new hardware for Christmas. If you are looking to impress, you can always look to our best gaming mouse guide, which features the Wireless Logitech G Pro, the Zowie EC2-B, the Logitech G-600, the Razer Deathadder Elite, and the Logitech G203 Prodigy. All fantastic options for the PC gamer you love.
Gaming Keyboards
Keyboards are vitally important to PC gamers, and if you feel like treating one this Christmas, then a gaming keyboard is a brilliant gift idea. Our best gaming keyboard page features lots of great ideas, but we would suggest the ASUS ROG Strix Flare, the Corsair K70, the ROCCAT Vulcan 121, the Logitech G Pro, and the Zowie Celeritas II.
Gaming Monitors
Monitors might be a bit more expensive than other conventional gifts for PC gamers, but if you really love the person you're buying for, they could be a great idea. We have a great article on the best PC Gaming Monitors available, but for a gift, we would suggest the ASUS ROG Swift, the Acer Predator, the BenQ SW2700PT, the Asus VG279Q, or the Acer XB321HK.
Mouse Bungee
A mouse bungee is a great way to treat the PC gamer in your life to a gift that's only going to help them with their gaming. Razer's cable bungee is a great way for gamers to keep their mouse cable out of the way for what they promise will be 'esport level performance.' It won't just improve their game, but it might tidy their desk as well!
RGB Cooler Fans
The chances are that if you aren't a PC gamer, you might not understand why RGB cooler fans are so popular amongst gamers (a look at our Instagram might help). Still, we suggest the ThermalTake Ring or the Corsair LL Series as perfect gifts for PC gamers looking to inject a little color into their builds.
Graphics Cards
We know that graphics cards can be expensive, but if you love a PC gamer and want to get them something extra special, then this could be a brilliant idea. Our best graphics card page has some great contemporary cards on it, but for gift-giving, we would suggest the EVGA GeForce GTX 1660 Ti, or the MSI Gaming GeForce RTS 2070.
Desk Toys
PC gamers use PCs, and PCs go on desks. It makes sense that a brilliant PC gamer gift would be something to brighten up their desks, right? Practical gifts like headphone charging stands, desk fans, or phone stands will always be appreciated, while something more fun like a collectible from Destiny or an Overwatch Funko Pop will always go down well.
Gaming Chairs
They might not be the most conventional gift for a PC gamer, but they are fantastic if you know a PC gamer who spends a lot of time in front of a screen. We have a "best of" guide ready for you to look through, but if you just want our top recommendations, we have to go with either the Secret Labs Omega or the Vertagear S-Line 2000.
Nintendo Gift Ideas
The Nintendo Switch Gamecube Controller
Sometimes a bit of old school cool is needed when it comes to Christmas gifts – and there isn't much that beats old school cool than a retro Gamecube controller. The perfect Nintendo Christmas gift, the controller, is modernized for use with the Switch, comes in five different styles, and works perfectly with Super Smash Bros Ultimate.
The Nintendo Switch Lite
The brand new Nintendo Switch Lite is a smaller, more portable version of the classic Switch system. Compatible with all Nintendo Switch games that support handheld mode with a sleek unibody design, the Switch Lite is a great and cheaper way to introduce a gamer close to you to all of the Nintendo Switch's best games. 
A Nintendo Switch Carry Case
Chances are the gamer in your life has been too caught up playing their games to think about protecting the precious hardware that allows them to play. Luckily, there are some great, affordable carry cases on the market today that allow Nintendo fans to take their Switch on the go safely. You can even get branded designs to suit their favorite games!
Nintendo Switch Pro Controller
It's no secret that the Nintendo Switch's Joy-Con controllers can leave some players wanting. Luckily, Nintendo has released the Pro Controller that offers wireless play with more of a traditional controller design, putting a lot of gamers qualms about the Joy-Cons at ease. Plus, it even has USB charging, giving it a better battery life than the Joy-Cons!
Mario Kart 8 Deluxe
Everyone here at WePC loves this game, and we've had more than one heated inter-office Grand Prix. Mario Karts 8 Deluxe offers all the familiar racing action we have come to expect from the Nintendo's flagship racer, while still finding room to improve and add brand new gameplay features. Honestly, if you know a Nintendo Switch fan who hasn't played Mario Kart 8 yet, then you could not ask for a better Nintendo gift.
Pokémon Sword & Shield
Pokémon Sword & Shield is a very safe bet when it comes to gifts for Nintendo fans. The title will be the first Pokémon game for Switch systems, so its almost a guarantee its going to be on any gamers wish list this year – but if you still need to be convinced that this is a perfect gift for the Nintendo fan in your life, we have compiled a load of Pokémon info right here.
Super Smash Bros. Ultimate
Super Smash Bros was Nintendo's brawler to Mario Karts racer. Addictive, cartoony action, and a roster of recognizable characters, including the likes of Mario, Final Fantasy's Cloud, and even Banjo Kazooie, are some of the reasons that Smash Bros. Ultimate has become the universal hit it is today. A perfect gift for Nintendo fans that enjoy classic Nintendo action.
Luigi's Mansion 3 
Luigi's Mansion 3 is the plumber's third solo adventure, with critics praising the game as another worthy entry into the series. A family-friendly, puzzle laden adventure that promises interesting gameplay and more classic Nintendo gameplay from the spooky franchise. A fairly new release, you can bet that this is on a lot of Nintendo fan's wish lists this year.
Cool Nintendo Themed Mugs
Any Nintendo fan is going to love these cool Nintendo themed mugs, and they are perfect affordable gift ideas. You can easily find different designs based on Zelda, Mario, or even retro Nintendo designs on Amazon.com, with plenty of other options out there to suit the Nintendo fan in your life.
Memory Cards
The thing about owning a Nintendo Switch is that games can take up a lot of memory, make sure that the Nintendo fan in your life doesn't run out of room by giving them the gift of additional memory. There are tons of options out there when it comes to additional Nintendo Switch memory, but Sandisk has an officially licensed Nintendo version ready to go.
E-Shop Vouchers
Sometimes, the best gift you can get a Nintendo fan is allowing them to choose for themselves. Luckily, Nintendo E-Shop gift cards are available to buy from Amazon that give the user funds in the online Nintendo store, letting them choose, purchase, and download their chosen games and apps all by themselves, taking all the stress of choosing away. 
Xbox Gift Ideas
Seagate Portable SSD
The Seagate Game Drive for Xbox is a brilliant external storage solution for the Xbox One and the perfect gift for Xbox gamers. The Seagate gives gamers a way to extend their storage on the Xbox One, allowing them to store more games with a quick and fast-moving SSD rather than a hard drive -ideal for digital-only consoles!
Xbox One Elite Controller
Know an Xbox gamer looking to take their skills to the next level? The Xbox One Elite Controller may be the best Xbox related gift to help them up their game, with 40 hours of rechargeable battery life, exclusive configuration options, and interchangeable thumbsticks and paddle shapes. This is the next step in Xbox controllers!
Xbox One Console
Confused about all the different types of Xbox Ones on the market, and want to cut through the codenames? The Xbox One X is the highest performing Xbox One on the market, capable of 4K gaming. The Xbox One S is the standard edition these days, while the Xbox One S All-Digital is a budget option that offers standard performance on digital downloads only.
Halo Risk
What's the best gift for the gamer who has everything? What about a gamer twist on an old classic. Halo Risk is the classic strategy game that we all know and love, with a twist in the shape of the popular first-person shooter. It comes complete with three all-new maps, including a 60" map of the full Halo ring. A great way to bring non-gamers into the fold!
Halo Gifts
The flagship of the Xbox brand since it was very first launched, Halo is massively recognizable – and there is a slew of merch to match. We've no doubt you can find a great Halo gift in the form of an action figure, a mug, a statue, a shirt – even mega blocks. When merchandise includes mega blocks, we're pretty sure if you think it exists, it does. Halo merch is "infinite". 
Gears Of War Lancer
We don't really know what to say about this, other than it's over the top, cheesy and utterly ridiculous – making it the perfect gift for any Gears of War fan out there. The Lancer has become one of game's recognizable weapons, alongside the Portal Gun and the Master Sword, and owning one would make any gamers day.
PlayStation Gift Ideas
The PlayStation 4
Possibly the most obvious PlayStation gift is the PlayStation itself. Sony has two different options on the market today when it comes to PlayStation consoles, the high-performance PS4 Pro that offers higher framerates and resolutions, and the more affordable PS4 Slim, that can provide the same immersive gaming experiences without the 4K HDR support.
The PlayStation Classic
Know a PlayStation fan who is constantly caught up in fits of nostalgia? The perfect PlayStation gift would be the PlayStation Classic. A retro console that is loaded with classic PlayStation games like Final Fantasy VII, the PlayStation Classic is a great way to relive the early days of PlayStation. It even includes two classic controllers and a digital memory card!
PlayStation Ugly Sweaters
Just how big a fan of PlayStation is the person you're buying for? Big fan? Good. That means they will (probably) love the array of ugly sweaters that PlayStation has put out. The PlayStation fan in your life can wear your gift and join in on the new ridiculous festive tradition, all while showing off their love of gaming.
PlayStation Mugs
PlayStation is no stranger to creating unique and interesting mug designs, so a good PlayStation themed gift could be a mug that shows off your gift recipient's love of their favorite PlayStation games. Crash Bandicoot TNT crate mug? God of War fan? The PlayStation itself? There is something for everyone when it comes to mugs.
God Of War
It's fair to say that the PS4 has some incredible 1st party games, God of War being a fan favorite. But did you know you can buy God of War action figures, Funko Pops, statues, baseball caps, beanies, and t-shirts? Just in case you have to buy a gift for a God of War Fan, we wanted you to know that there are plenty of options out there for you.
Horizon Zero Dawn
Horizon Zero Dawn was a smash hit on the PS4, and it's fans are spoiled for choice when it comes to gift ideas. You can look into plushies, action figures, T-shirts, and Funko Pop designs that are sure to make perfect gift ideas for Horizon Zero Dawn fans. Plus, at $15 as part of the Playstation Classics collection, it makes the perfect gift to give a potential fan!
Everyday Gamer Gift Ideas
Multi Charger Port
Any gamer can tell you that they have a nearly unlimited amount of devices that they want powering at all times of the day. As most chargeable gaming devices use USB charging, a multi-port USB charger is an insanely good gift idea for gamers. They could charge two controllers, a phone and even a Switch console with this five-port USB wall charger.
Noise Cancelling Earphones
Sometimes nothing beats drowning out the world with a good set of earphones and being immersed in the fantasy setting of your choice. Luckily, there are lots of different options out there if you want to treat the gamer in your life to a pair of noise-canceling earphones. The Bose Quietcomfort pair are a brilliant choice, but if you are on a budget, Taotronics are always reliable.
Noise Cancelling Headphones
Sometimes earphones aren't enough, and a great gift for a gamer is going to be a set of decent headphones. There are loads of options out there to choose from, with popular choices being made by Sony and Bose, with Anker offering a more affordable pair of headphones that doesn't scrimp on sound quality or noise reduction.
VR Headsets
Pricey? Sure. But, if you are looking for a gift for a gamer you love, a VR headset might be a great way to show a vested interest in their hobby that will probably see a lot of use in the years to come. There are a bunch of VR options available for the PC and the PS4, and even options available for gamers who prefer mobile gaming.
Final Word
Let us know what's on your Christmas 2019 wishlist in the comments below. And, if you're looking for more great gamer gift ideas, head on over to the WePC Community and see what your fellow gamers have been buying this festive season.