There's something quite liberating about an open-world game. You're not confined to a set story or quest, you can go about on your own and explore the world that developers have painstakingly put together.
Open world games are some of the most graphically impressive and beautiful worlds you'll have the opportunity to explore while gaming.
Today, we're listing some of our top picks for the best open-world games to pick up in 2020. This might not list all of the best open-world games out there, but we've put together some of our favorites we recommend playing.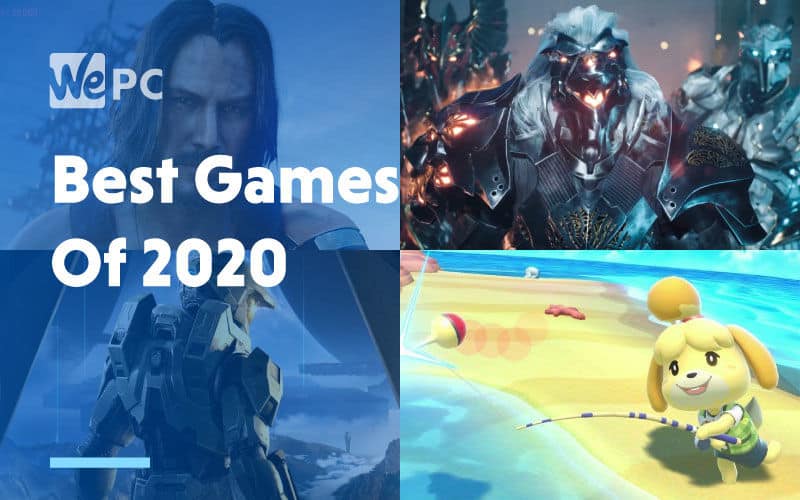 The Best Games Of 2020: 10 Games We're Looking Forward To The Most
Take a look at our top picks for the best games of 2020 across PC, Playstation, Xbox, and Nintendo Switch. Did your favorites make the list? Click below to find out!
Read More
1. Fallout 4
Release Date: 10 November 2015
Publisher: Bethesda Softworks
Developer: Bethesda Game Studios
Fallout 4 falls under the action role-playing genre and is the fifth installment in the Fallout series. The game is set in an open post-apocalyptic world, in the year 2287 – 210 years after a nuclear disaster hit the United States.
You play as a character known as the "Sole Survivor", who wakes from cryogenic stasis in a nuclear fallout shelter. The aim of the game is to search for your missing child across the bleak landscape while completing various side quests and acquiring experience points needed to level up and survive.
The open-world setting allows you to develop and manage settlements as well as craft tools and weapons from scavenged materials.
2. Red Dead Redemption 2
Release Date: 26 October 2018 (5 November 2019 on PC)
Publisher: Rockstar Games
Developer: Rockstar Studios
One of the biggest games of 2018 was the highly-anticipated Red Dead Redemption II, and it did not disappoint. This game broke several records, generating $725 million in sales from its opening weekend alone. It's definitely a game you don't want to miss out on.
The story follows Arthur Morgan, an outlaw who must survive and make a living in a dying Wild West landscape. He must fight against rival gangs and government forces through a series of heists, hunting missions, shootouts, and narrative side quests.
One of the key features of this game that really stands out is how beautiful and detailed the open world is. You can sink some serious hours into just exploring the terrain on horseback, meeting characters and hunting wild animals.
Red Dead Redemption 2
Red Dead Redemption 2: Special Edition
Red Dead Redemption 2: Ultimate Edition
3. Grand Theft Auto 5
Release Date: 17 September 2013
Publisher: Rockstar Games
Developer: Rockstar North
By this point, the Grand Theft Auto series probably needs no introduction. Set in the fictional state of San Andreas, the story follows three criminals who must commit heists while hiding from the authorities and powerful criminals.
Players are free to roam the infamous open world or they can embark on the set missions as part of the narrative. Most missions involve heist sequences, shootouts or driving gameplay. But be careful not to get on the wrong side of the law (too much) as the "wanted" system still stands. Commit too many crimes and you will be hunted down by law enforcement.
While the open-world setting has always been fun to explore in this franchise, recent installments such as Grand Theft Auto 5 have added some extra activities to get stuck into. Activities such as BASE jumping and scuba diving have expanded on an already vast open world. There's always something new to enjoy even if you're already familiar with the franchise.
Grand Theft Auto V
Grand Theft Auto V: Premium Online Edition
Grand Theft Auto V – Criminal Enterprise Starter Pack
4. Assassin's Creed Odyssey
Release Date: 5 October 2018
Publisher: Ubisoft
Developer: Ubisoft Quebec
As the 11th major installment in the world-famous Assassin's Creed franchise, Odyssey is another open-world title, this time, set in Ancient Greece. Set in the year 431 BC, the narrative follows a mercenary who fights for both sides of the Peloponnesian War.
This installment has more of a focus on the narrative and role-playing side of the franchise, with more branching quests and dialogue options as well featuring multiple endings.
There's plenty of opportunity for combat of course, including naval combat via Hellenistic-era warships in the Aegean Sea. The setting is both striking and immersive no matter where in the open world you decide to explore.
If you want a break from the main quest, you can explore and even learn about Greek history via the Discovery Tour – a feature that is great for history fans. You even get Herodotus himself teaching you about the history of the Peloponnesian War.
Assassin's Creed Odyssey
Assassin's Creed Odyssey Deluxe Edition
Assassin's Creed Odyssey Ultimate Edition
5. Metal Gear Solid 5: The Phantom Pain
Release Date: 1 September 2015
Publisher: Konami
Developer: Kojima Productions
Last on the list is a stealth game which is the ninth installment in the Metal Gear series. The story is set in 1984 and follows mercenary leader Punished "Venom" Snake who must venture into a Soviet-occupied Afghanistan to seek revenge on whoever killed his forces.
Gameplay requires you to remain undetected and avoid enemy guards by using maps, weapons, stealth items, and binoculars.
Metal Gear Solid 5 was widely praised for its open world and player freedom when it comes to exploring outside of the main quest. You can explore the world via vehicles, on foot, on horseback, through helicopter support or even rock climbing.
Metal Gear Solid V: The Phantom Pain
Metal Gear Solid V: Ground Zeroes
Metal Gear Solid V: The Definitive Experience
Final Word
While you might have been expecting Minecraft on this list, we decided to pick open worlds that work alongside main quests and narratives.
All of the above games have clear objectives and quests, but offer something more for you to explore and totally immerse yourself in.
Of course, there will be plenty of other open-world titles we have missed off the list. If you see your favorite missing, be sure to let us know about it in the comments section below.