The Best Cyber Monday Monitor Deals in 2019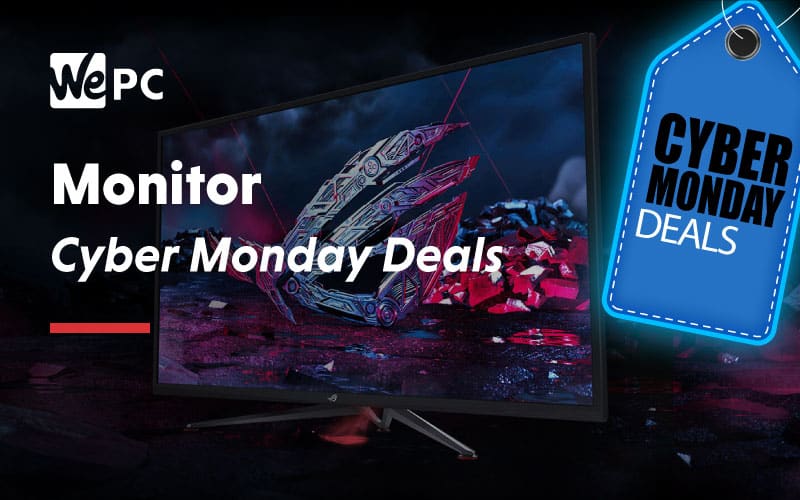 Looking for the best Cyber Monday monitor deals the internet has to offer? Well, look no further, this comprehensive guide is going to showcase all the best deals big November weekend has to offer.
Whether you're looking for one of the latest ultrawide gaming monitors or just a budget display to keep you going, this page will host all the best deals we can find on Cyber Monday.
So, let's waste no further time and dive straight into it.
Limited Time Offers!
Featured US Deals
Featured UK Deals
Featured Canada Deals
Featured Bundle
Featured Premium Bundle
Cyber Monday Monitor Deals
Black Friday isn't the only day of the year where massive savings can be made across a bunch of top-selling products. There's another day in the calendar where similar deals can be found! That day is Cyber Monday.
This page has been designed so that you don't have to spend hours sifting through websites, researching products, and generally stressing over which monitor to buy. We will have all the best deals come December 2nd so just sit back and choose between our top selections.
Our Best Gaming Monitor Deals US
Best High-end Monitors
Monitors Under $500
Monitors Under $400
Monitors Under $300
Monitors Under $200
Monitors Under $100
Ultrawide Monitor Deals
Gaming Monitor Deals UK
Our ultrawide gaming monitor pick for the UK is the following:
Our curved gaming monitor picks for the UK are the following three:
Best Cyber Monday Monitor Deals 2019
Unfortunately, we're still weeks away from Black Friday & Cyber Monday meaning no deals are currently live. However, when deals do go live, this is the place where you'll find them!
This section will be broken into the following categories to make navigating through deals as simple as possible.
Top Deals
This section will showcase what we believe are the top Cyber Monday monitor deals. These deals will be determined by total monetary saving, percentage of discount, and top-selling products.
This section will be updated on an hourly basis so remember to check back for the best deals.
Acer Monitor Cyber Monday Deals
Some of Acer's monitors came with 50% off last Cyber Monday, so we expect great deals on their Nitro monitors in 2019.
Alienware Monitor Cyber Monday Deals
Another great brand that we always keep an eye for Cyber Monday is Alienware. Expect some money-saving deals on some of their G-sync monitors again this year.
AOC Monitor Cyber Monday Deals
We were a bit disappointed by AOC's monitor deals last Cyber Monday – let's hope they slash their prices more this year!
ASUS Monitor Cyber Monday Deals
With some of our favorite monitors being ASUS monitors, we hope they repeat some of the fantastic deals they brought us for 2018.
Dell Monitor Cyber Monday Deals
As such a big name brand, it would be great to see some equally big price drops during Cyber Monday from Dell – here's hoping!
BenQ Monitor Black Friday
Finally, we'll be looking at BenQ to see what kind of deals they produce – they were pretty middle of the road last year, so it will be interesting to see!
LG Monitor Cyber Monday Deals
LG is another brand that produces excellent gaming monitors and we can't wait to see what deals they bring us this year.
Samsung Monitor Cyber Monday Deals
Last year, Samsung brought some incredible deals with some monitors coming in at $130 under their usual price – will 2019 be as good?
HP Monitor Black Friday Deals
We didn't see any particularly impressive deals from HP last Black Friday, so we're hoping they change it up this year and bring some big deals to the table.
Bundles
Bundles are exactly what it says on the tin. If we see any monitor bundles, this is where they will be showcased. We will try to stick to a minimum of 20% saving so that you don't get bombarded with hundreds of offers.
Accessories
Any accessories we feel are worthy of your consideration will be found in this section here. Think keyboards, mice, headsets and so on. If a decent deal is out there, we'll pop it here for you to check out.
What Is Cyber Monday?
Most of us have been bombarded with the marketing for Black Friday for years now, but Cyber Monday still remains lesser known to most. It always falls the Monday after Black Friday and is traditionally when online retailers roll out their best deals.
Where to  Find The Best Cyber Monday Monitor Deals
Finding the best Cyber Monday deals can be a pretty tricky task. I mean, there are hundreds of websites to choose from, and they all offer decent savings to the untrained eye.
However, our team of skilled and dedicated individuals will scour the web and find the best deals it has to offer. Below are some of the places we will be searching for top-tier deals:
Amazon
Amazon is the most widely used website when it comes to Cyber Monday. Last year's Cyber Monday was Amazon's biggest sales day of the year and you can see why. The deals are fantastic.
This will be one of our first stops in our quest to find you the best Cyber Monday monitor deals. And we expect big savings from this retailer.
Best Buy
Best Buy is a great place to search for deals whatever the time of year. That being said, they go a bit crazy on Cyber Monday. For that reason, Best Buy is right up there for places we will be searching for big deals on monitors.
Newegg
Newegg might be new to some people, but people in the know will be fully aware of the great savings that can be made on Black Friday week. It's a great place to find deals and somewhere we will be keeping an eye on leading up to December 2nd.
Walmart
Walmart is known for its fantastic in-store deals on Black Friday. However, let us not forget their Cyber Monday deals.
Like many retailers, Walmart also has an excellent selection of online deals. Luckily for you, we'll be showcasing the best of them right here.
How To Find The Best Cyber Monday Deals
Nobody wants to spend hours scouring websites for those all-important Cyber Monday deals – and you don't have to! Our first tip this Cyber Monday is to stick with us – we'll be updating our pages with the best and latest deals throughout the day, so you don't need to do any of the heavy lifting!
But, there are other tips you should keep in mind to make sure you don't miss out on the deals you want.
First, make sure you already know what you're looking for before Cyber Monday begins. We've got buying guides for the best ultrawide monitors, best curved monitors, best console monitors, and pretty much any kind of monitor you're after. Do a bit of research before the big day and you'll save yourself a big headache.
And, of course, don't forget to check out Black Friday monitor deals as well! Most online retailers offer deals throughout the whole week – not just on Cyber Monday, so don't miss out!
Final Thoughts
So, there you have it, a full breakdown of what to expect this Cyber Monday.
It's a massive day in the calendar and one that we will be taking extremely seriously. All the best deals will be showcased on this page so make sure to bookmark it and keep checking as regular updates will be made.
Leave us a comment letting us know what Cyber Monday Monitor deals you'd like to see this December, we'd love to hear from you!