The Best Cyber Monday Gaming PC Deals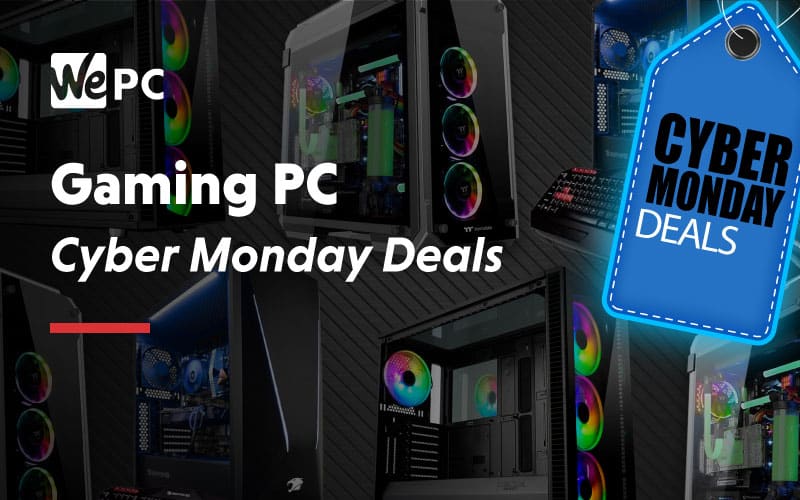 Black Friday is over, but that doesn't mean that the sales are. Cyber Monday means that you can still pick up great savings on prebuilt PCs, monitors, GPUs, RAM, keyboards, motherboards, hard drives and more - just scroll down to see our Cyber Monday gaming PC top picks!
Sign Up For The Latest Gaming Chairs Deals As They Happen
The Best Cyber Monday Gaming PC Deals
Black Friday is, without doubt, the biggest retail sales event of the year. You can find some incredible savings on well known brands and developers that you won't see at any other time of the year.
Thats why the WePC team are going to be trawling through the web to find the ultimate Cyber Monday deals for you, using our combined knowledge and experience to make sure that you can easily find the very best Cyber Monday gaming PC deals that the internet has to offer.
So, sit back, relax, and let us bring the deals to you.
Prebuilt
Amazon Deal Of The Day
US
UK
Monitors
US
UK
GPUs
US
UK
RAM (Memory)
Keyboards
US
UK
Motherboards
US
UK
HDDs
Laptops
US
UK
SSDs
US
UK
Mice
US
UK
Routers
Microphones
Final Thoughts
Sure, Cyber Monday and everything that goes with it can be stressful - especially if you are looking for some very particular tech. Thats why we're trying to make this whole process easier for you.
Hopefully you find exactly what you are looking for, and if not? let us know! And, if you find great Black Friday deals that we aren't displaying, why not head over to our Community page where you can share your finds with the rest of the WePC readers.
Sign Up For The Latest Gaming Chairs Deals As They Happen