Black Friday is the most anticipated sales event of everyone's year. Nowadays, you don't have to pitch your tent outside the store to secure yourself a new gaming PC or laptop on the cheap, no, CyberPowerPC is taking part, so the team at WePC is going to be compiling all the best CyberPowerPC Black Friday deals of 2020 right here!
CyberPowerPC sells their range of pre-built computers on a wide variety of retail sites, so if you are looking to grab yourself a Black Friday deal just in time for Christmas, or fancy picking up a system with a warranty and software, you've come to the right place.
*Prices are subject to change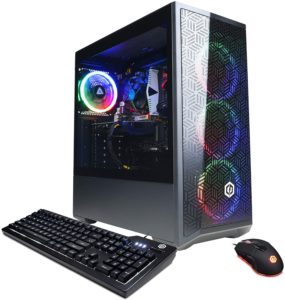 CyberpowerPC Gamer Xtreme VR Gaming PC
CyberpowerPC Gamer Supreme Liquid Cool Gaming PC, Intel Core i7-9700K 3.6GHz, NVIDIA GeForce RTX 2070 Super 8GB, 16GB DDR4, 1TB PCI-E NVMe SSD, WiFi Ready & Win 10 Home (SLC8260A2, Black)
CyberpowerPC Gamer Xtreme VR Gaming PC, Intel i5-10400F 2.9GHz, GeForce GTX 1660 Super 6GB, 8GB DDR4, 500GB NVMe SSD, WiFi Ready & Win 10 Home (GXiVR8060A9)
CyberPowerPC Black Friday Deals
When Black Friday arrives there are so many deals to sort through it can be a daunting task for many, especially if you haven't bought a gaming PC before. Fear not, WePC has your back, ensuring you don't miss out on the huge savings that many gamers can take advantage of with CyberPowerPC's Black Friday deals.
The best CyberPowerPC gaming PC Black Friday Deals are most likely going to consist of slightly older spec'd systems but that doesn't mean they aren't any good. These deals will still offer excellent gaming performance and there will be a Black Friday deal for every budget.
What To Look For When Grabbing a CyberPowerPC Black Friday Deal
CyberPowerPC always comes to Black Friday with a great variety of gaming PC and laptop deals. They offer gaming systems for all budgets, so make sure you have an idea of what you would like to spend and try your best to stick to it.
It is important to know what games you are going to be playing on your gaming computer before you buy, as you need to ensure you can run that game in your desired settings and resolution. For example, if you were looking to play a AAA title in 4K, then a budget $500-$600 prebuilt gaming PC probably isn't going to cut it.
Ultimately when it comes to PC gaming, the most important component is the graphics card. If you are unsure about how a PC will perform, you can simply check for the graphics card in the builds online benchmarks on YouTube. This will tell you the expected average FPS in certain games and give you a rough idea of which games you can play comfortably.
CyberPowerPC Black Friday Deals 2020
CyberPower is going to be dropping many deals this Black Friday, so will be continually updating this page as they roll out. This article will feature the very best gaming PC and gaming laptop deals that CyberPowerPC has to offer, so don't forget to bookmark this page and stay informed.
CyberPowerPC Gaming PC Black Friday Deals
Here you can find the best Black Friday CyberPowerPC gaming PC deals as soon as they go live. These pre built desktop computers will feature excellent gaming performance at a discount price.
CyberPowerPC Laptop Black Friday Deals
Here you can find the very best Black Friday CyberPowerPC laptop deals as soon as they start appearing. Laptops are generally a bit more expensive than similarly spec'd desktop PC's but you can rest assured these will offer excellent gaming performance, with that juicy discount along for the ride too.
Where To Find The Best CyberPowerPC Black Friday Deals
With CyberPowerPC Black Friday deals featuring across a multitude of websites, it can sometimes be a tricky task finding the absolute best deal for your money, not to mention time-consuming. We are going to be scouring the usual retail websites that sell CyberPowerPC gaming PC's and laptops for the hottest Black Friday deals and bringing them straight to you.
Amazon
Amazon has been stocking CyberPowerPC products for years now and is a great place to start when it comes to Black Friday deals. The major retailer always offers excellent discounts for CyberPowerPC gaming PCs and laptops.
CyberPowerPC
CyberPowerPC, as usual, is going to be taking part in the Black Friday sales event this 2020, featuring some of the hottest deals directly on their website. For everything gaming PC and laptop related, CyberPowerPC's site is a great place for discounts.
Best Buy
Best Buy will be taking part in Black Friday this year and some of the discounts featured will include CyberPowerPC gaming PCs and laptops. The retailer stocks a wide variety of electronic goods, so we are expecting another good turnout for Black Friday this year.
Newegg
Newegg is a similar retailer to Amazon and featured some excellent CyberPowerPC Black Friday deals last year. Newegg will have a wide variety of deals come the day, so we are looking forward to seeing what discounts are available nearer the time.
Walmart
Walmart is another retailer that stocks CyberPowerPC gaming PC's and laptops, so we should be seeing more Black Friday deals as we approach the event.
CyberPowerPC Black Friday Deals 2019
Doesn't matter if you buy a gaming PC from CyberPowerPC or elsewhere, they cost hundreds, if not thousands of dollars. These high-value items are expected to receive a serious discount this year thanks to new hardware launches from AMD, Nvidia, and Intel lowering the price on older generation stock.
To get the Black Friday juices flowing, let's take a look at some of last year's deals so we can get an idea of what to expect come Black Friday.
CyberPowerPC – Gamer Master Gaming Desktop – Was $879.99, dropped to $699.99
CyberPowerPC – Gamer Xtreme VR Gaming PC – Was $899.99, dropped to $799.99
So, here we have all the CyberPower Black Friday deals you can dream of in one place. Black Friday is a great event for those looking to get into PC gaming or, of course, upgrade their current system. Don't forget, you aren't just getting a great Black Friday deal with these CyberPowerPC computers, you are also getting a warranty and get to take advantage of the companies software and testing processes.
Make sure you bookmark this page so you don't miss out on the best CyberPowerPC Black Friday deals when the time arrives