After revealing Shadow Warrior 3 via a self-effacing tongue-in-cheek trailer during the Devolver Direct broadcast a few weeks back, Devolver has premiered '17 glorious minutes' of gameplay from the upcoming off-beat first-person shooter slasher.
As apt descriptors go, glorious certainly fits the bill – Shadow Warrior 3 was unwrapped in gory, comedic, and fast-paced fashion. It charts the journey of fallen corporate shogun Lo Wang and his erstwhile nemesis-turned-sidekick Orochi Zilla as they set off to 'kill a dragon as big as a mountain with a Halloween mask.' Some mask magic and a murderous bunny later, and Lo is left alone to traverse sheer demon-infested ridges to reach a sanctuary to save Zilla in a mission called 'Way to Motoko.'
We get a good look at Shadow Warrior's 3 gameplay, which is unique, to say the least, marrying first-person shooting with sword fighting alongside a good smattering of gravity-defying superpowers, dashing acrobatic action, and grappling-hook aided traversal. It's fast-paced, not dissimilar to Doom Eternal in both the speed of movement and the sheer violence of the combat. Protagonist Lo has to contend with large groups of enemies and fight his way out or risk being overwhelmed. Speed and precision are essential to keep the upper hand.
Dynamic environments and an arsenal of weapons, including some concocted from downed enemy corpses, allow for a certain freedom and creativity in how the player goes about dispatching demons. Demons are dismembered, limbs fly, and unidentifiable chunks of flesh pepper the ground after each encounter. Naturally, Lo has a quip for every situation, ranging from dad jokes to Game of Thrones references, and a healthy sprinkling of expletives. It sure looks like a lot of fun.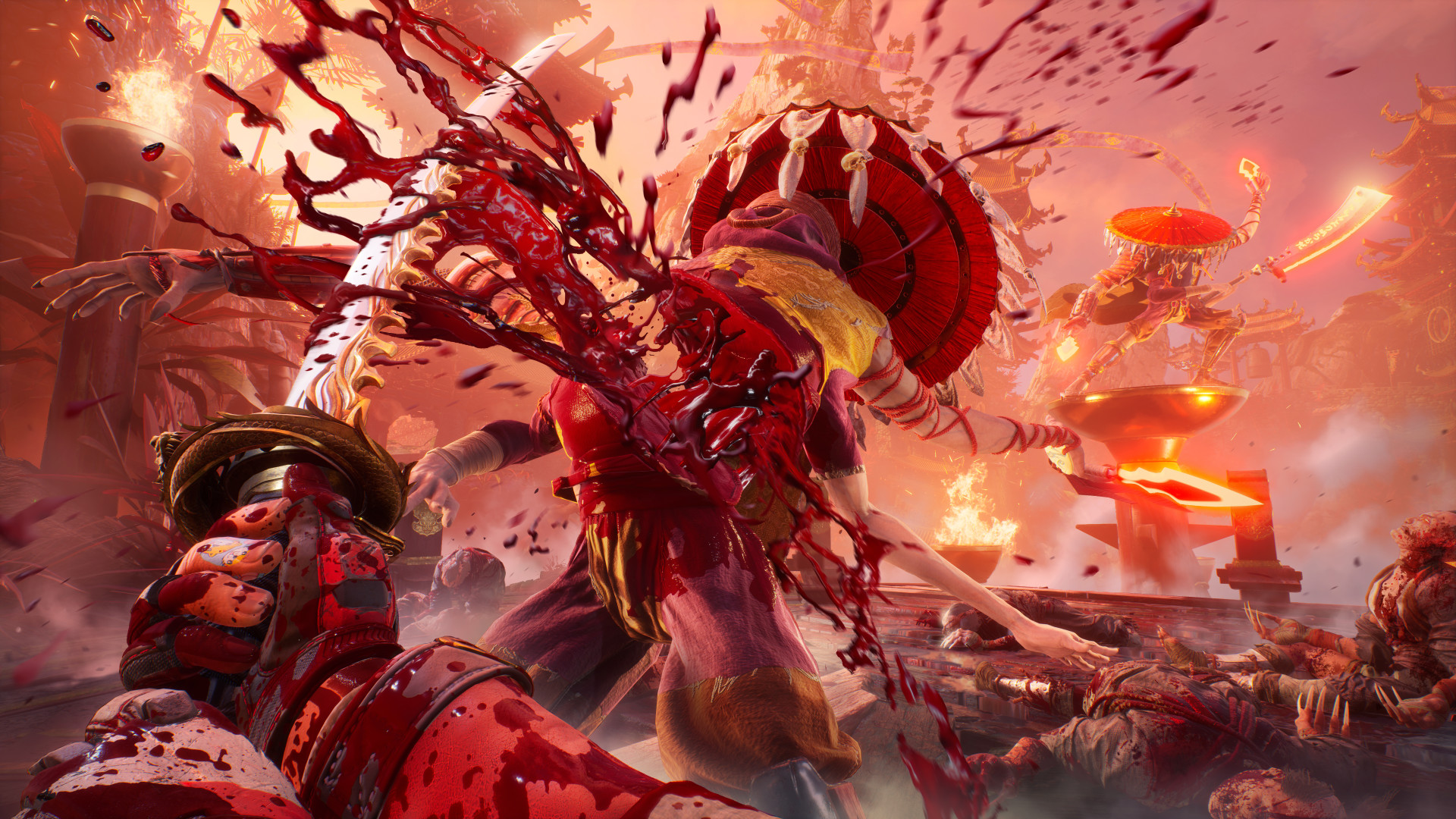 It's also worth pointing out just how good Shadow Warrior 3 looks, despite YouTube's notorious quality-sapping compression. We can confidently expect the final product to look impressive, especially as Flying Wild Hog still has another year to polish and improve the game.
Devolver also provided some new feature blurbs to accompany the trailer, which you can check out below:
"Bring a Katana to a Gunfight – Conduct a symphony of death with each encounter by mixing overwhelming firepower with devastatingly precise katana strikes as you dash in and around the demonic hordes.
Fancy Footwork – Flow between nimble movement techniques including air dashes, wall running, double jumps, and the fancy new grappling hook busts your combat and movement options wide open in every battle.
Execute Then Annihilate -Execute spectacular finishing moves to claim a piece of your conquered foe and unleash its powers back on the horde in a burst of unstoppable fury and powerful magic.
Dynamic Combat Arenas – Each environment is lined with hazardous structures and devices that can be activated to add another layer of creative choice to the offensive strategy.
Neo Feudal Japan – Trek across a mythic Asian land infused with the magic and technology of ancient samurai, now overrun by the demonic yokai from Japanese folklore.
Funny Business – Brace for expertly delivered one-liners from Lo Wang, pointed banter with Zilla, and an intense thrill-ride of absurd predicaments on the way to turning doomsday into a new day."
Developed by Flying Wild Hog, Shadow Warrior 3 is currently penciled in for a 2021 release on PC via Steam.