Yes, you read that correctly. Today, we're going to be taking a look at all the best dinosaur games out there. Now, while you think there wouldn't be many, this list does include some must-play games for you to check out.
Best Dinosaur Games
We've rounded up some of the best dinosaur games from a number of different genres and platforms. If you're looking for something new to play and love dinosaurs… you really have no excuse for not checking these titles out!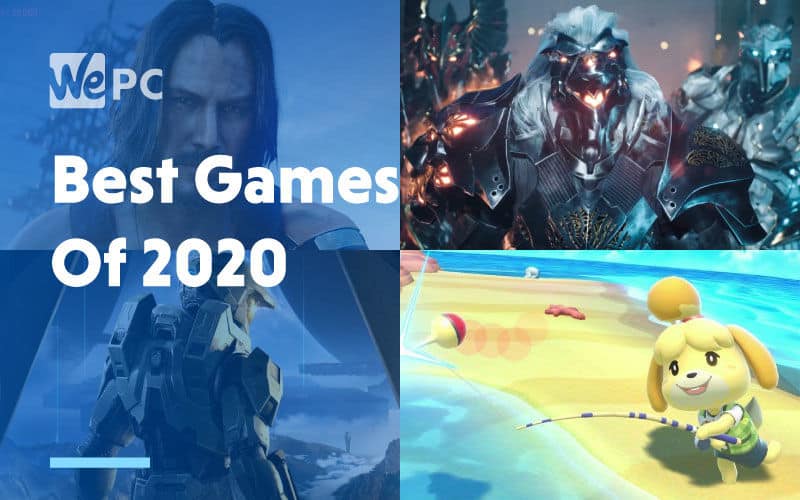 The Best Games Of 2020: 10 Games We're Looking Forward To The Most
Take a look at our top picks for the best games of 2020 across PC, Playstation, Xbox, and Nintendo Switch. Did your favorites make the list? Click below to find out!
Read More
1. ARK: Survival Evolved
Release Date: August 27, 2017
Genre: Action-adventure survival video game
Developer: Studio Wildcard
Publisher: Studio Wildcard
If you are a fan of survival games then it's definitely worth giving ARK: Survival Evolved a look. Once you spawn into the world, you'll have to start from scratch in an environment filled to the brim with dangerous dinosaurs.
This game has quite an interesting progression curve as well. The further you progress will see you learn how to tame these dangerous beasts and in some cases, create mounts to ride them!
If you've ever wanted to live in your own little dinosaur paradise then this is a great way to pass the time. You can enjoy the experience with a group of friends if you need a bit of friendly company in this hostile environment.
2. Jurassic World Evolution
Release Date: 12 June 2018
Genre: Business simulation
Developer: Frontier Developments
Publisher: Frontier Developments
While we were very tempted to fill this slot with Zoo Tycoon: Dinosaur Digs, this is only an expansion pack for an existing non-dinosaur game. We went for a more recent dinosaur business simulator instead in the form of Jurassic World Evolution.
This game tasks the player with the challenge of doing something the Jurassic Park movies couldn't – creating a dinosaur theme park that doesn't fall to pieces on the first day! You have full control over how to build your park, the direction your research will take and even the ability to mess with the dinosaur DNA to make your exhibits even more terrifying!
If you're a fan of park building games then this is an interesting spin on the existing formula.
3. Lego Jurassic World
Release Date: 12 June 2015
Genre: Action-adventure
Developer: TT Fusion
Publisher: Warner Bros. Interactive Entertainment
There seems to be a Lego game for almost everything these days, we've had Lego Star Wars, Lego Lord of the Rings, Lego Marvel but more importantly for this list, we have Lego Jurassic World.
For anybody that has played a Lego game in the past, they'll feel right at home here. This title follows the story of the original Jurassic Park trilogy along with the first Jurassic World movie (and yes, you'll be able to interact with a Lego Jeff Goldblum in this game don't worry!).
These games are great when played with friends. Lego games have some of the most enjoyable co-op available. You'll be able to play as some of your favorite characters in the Jurassic Park universe alongside a huge number of Lego dinosaurs as well.
4. Turok: Dinosaur Hunter
Release Date: March 4, 1997
Genre: First-person shooter
Developer: Iguana Entertainment
Publisher: Acclaim Entertainment
Originally a title for the Nintendo 64, Turok: Dinosaur Hunter has recently made its way to the Nintendo Switch with a pretty faithful port of the original. Players will have to explore a world filled with traps, puzzles, deadly weapons and, of course, dinosaurs.
With mechanics similar to the Quake-style of games, the action in Turok is often frantic and fast-paced. If you don't move fast, you'll soon find yourself overrun by the horde of dinosaur enemies that are aiming to destroy you. This is fast-paced action at its best and a great first-person shooter to sink your teeth into.
5. Yoshi's Crafted World
Release Date: March 29, 2019
Genre: Platform, side-scrolling
Developer: Good-Feel
Publisher: Nintendo
While this may be a bit of a stretch, everybody's favorite dinosaur is Yoshi, right? It's only fair that he gets a spot on the list. While we could have gone for Yoshi's more famous outing in Super Mario World 2: Yoshi's Island, Yoshi's Crafted World is a lot more accessible to find these days.
Yoshi's Crafted World has a beautiful cardboard aesthetic that makes each environment you play in look both stunning and unique. There are lots of activities to do in the world, you can pass your time exploring, gathering collectibles and completing the stages of the main quest.
Final Word
Well there you have it, we've managed to come up with what we think is a quite diverse dinosaur-related list. If you are a fan of dinosaurs and video games in general then some of these will be great additions to your game library.
Have we missed a title that would fall on your best dinosaur games list? If so, be sure to let us know in the comments section below. We love hearing your thoughts, especially when it comes to niche gaming areas.