EK has released a new heatsink for M.2 SSDs
Keep up your drives speed with these stylish heatsinks
Updated: Jul 21, 2022 3:52 pm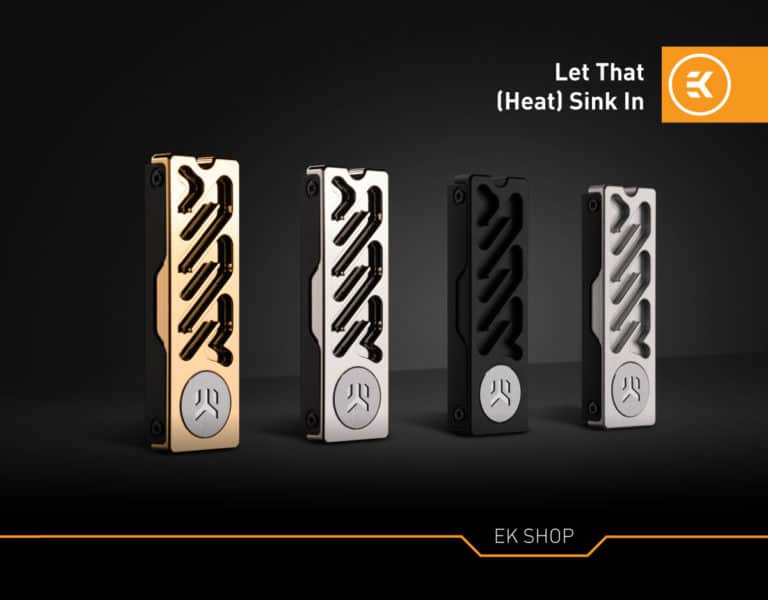 EK has released the Quantum Convection M.2 NVMe heatsink. The aluminum heatsink is a passive cooler, straying away from EKWB's standard water cooling solutions.
It promises to keep your NVMe from throttling and slowing down. As these days speeds are getting higher and higher. And M.2s lead in terms of speed, but if the controller gets too hot it will slow down to protect itself.
This way you can keep up the performance you expect. And now with an EK design, the Quantum Convection can be more unique and well designed and not just a generic out-of-the-box option.
It has a heatsink at the back for good compatibility. As well as having a cutout in the heatsink for airflow to remove the heat away.
Availability and price
If you're looking to buy the new premium Quantum Convection heatsink you can find it immediately from EK's webshop. They are made and shipped from Slovenia so there are also global retailers that will offer them.
In terms of price, it will cost €31.90 for most of the color options. Except if you fancy yourself some new bling and fancy a gold option that will cost four euros more at €35.90.
| Color | MSRP |
| --- | --- |
| Black | €31.90 |
| Silver | €31.90 |
| Nickel | €31.90 |
| Gold | €35.90 |
Compatibility
The EK Quantum Convection M.2 NVMe works on single and double-sided 2280 M.2 NVMe SSDs. These are the ones 22mm wide and 80mm long.
The heatsink comes with a front and back piece that screws together. This allows the heat from the backside to be transferred to the front to be dissipated.
The lower profile design of this heatsink also is less likely to interfere with the graphics card. As the fastest slots tend to be close to the top alongside the fastest PCIe lanes.
Single vs double-sided M.2 NVMe SSD
Single-sided M.2s are ones that only have chips on one side of them, usually the front. This is usually for lower capacity drives that don't have enough to fill up both.
So double-sided SSDs are the ones with chips on both sides. This does improve capacity but also does require some sort of cooling from the motherboard side which has much less space, so transferring is the best option.
---