Fifa 22: FUT Rulebreakers Team 1 revealed – Haaland, Casimero, Rudiger
All the info you need on the FUT 22 Rulebreakers promo for Team 1 so you can find the perfect star to slot into your squad
Updated: Oct 30, 2021 2:21 pm
Fifa 22 Ultimate Team has released with a bang, bringing back old FUT timed promotions as well as crazy Ones To Watch players thanks to this year's stellar transfer window. The latest promo to make a return is Rulebreakers which typically increases a variety of players' stats to make them more 'usable' in competitive squads. This year is no different with Rulebreakers players having permanent stat adjustments to enhance their overall effectiveness.
While part of Rulebreakers Team 1 was seemingly leaked early, it lacked some of the players that were going to be included in FUT 22's latest promo. This leak showcased the La Liga stars that were going to be getting those all-important upgrades including David Silva and Ousmane Dembele but no more.
Luckily, the time has come for the full confirmation of Rulebreakers Team 1 and it looks like it's going to be making FUT Champions that bit more competitive this weekend.
Fifa 22 Ultimate Team Rulebreakers Team 1
Below, you'll be able to see a full list of the players included in team 1 of the RuleBreakers promo.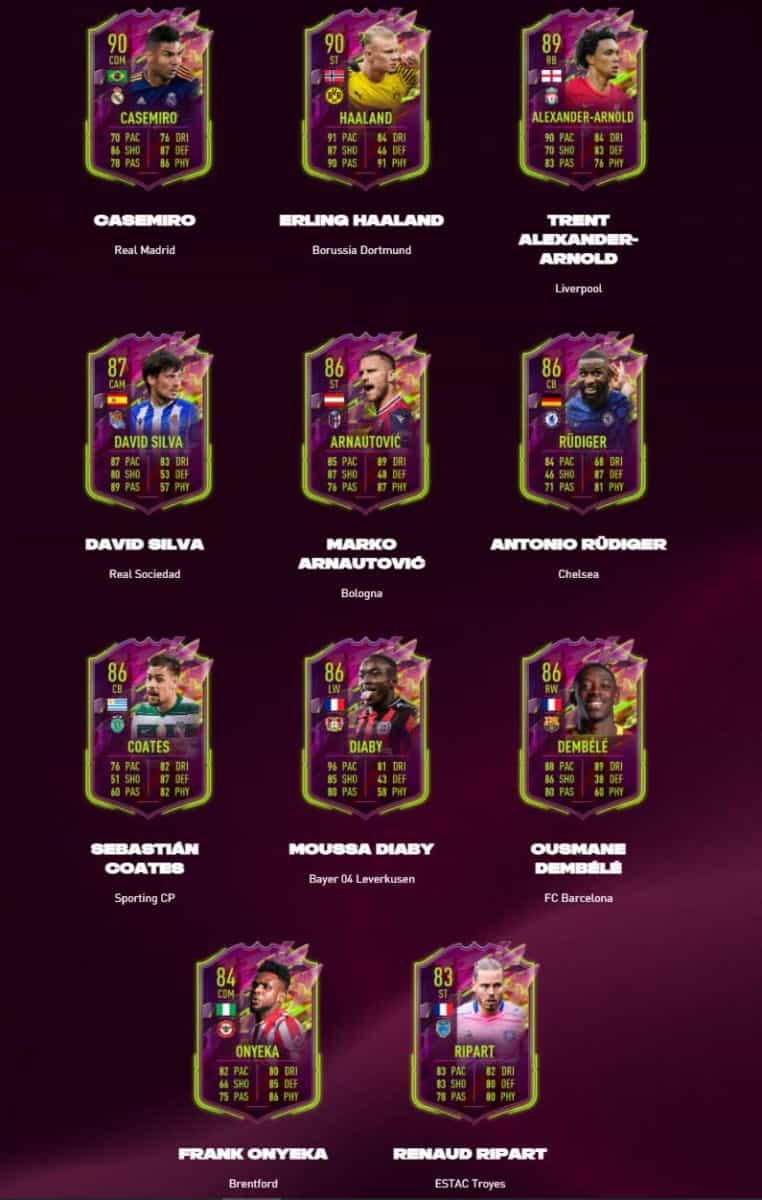 Haaland
Casimero
Alexander-Arnold
David Silva
Rudiger
Dembele
Diaby
Arnautovic
Coates
Onyeka
Ripart
As you can see with both the big names in the list and the above image, you're looking at some fan-favorite players as well as big upgrades to some that you wouldn't typically see in those FUT Champions squads.
The notable inclusions that we think might be worth spending those hard-earned coins on are Rudiger from Chelsea and Onyeka from Brentford. Looking initially at Rudiger, he has received a nice little pace upgrade, essential for center-backs, and will work very well in both Premier League squads or those looking for a German defender. Onyeka, again, will be useful for those wanting to add to their Premier League squad and will sure up that midfield with both his pace and defensive qualities.
Naturally, there will be a Rulebreakers Team 2 that will be revealed in the coming weeks but until then, you're stuck with the above choices.
---