What time will Forza Horizon 5 be released? Release Date, Countdown & Early Access
Turn 10 have revealed exactly what time you can get into the Horizon Festival on November 5th, 2021
Updated: Nov 8, 2021 11:39 am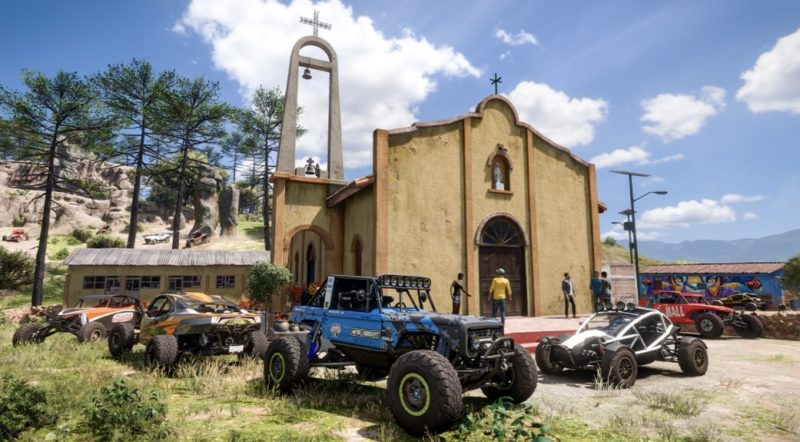 As the release date of Forza Horizon 5 races ever closer, we want our tyres warmed up and to be ready on the grid in time for the green light. So just what time can we pull away from the line and start exploring scenic Mexico? Turn 10 Studios have revealed all…
Forza Horizon 5 early access release time
Early access to Forza Horizon 5 will be at 12:01am local time on Xbox and PC (not Steam), meaning this is different across the globe. The table and infographic below show exactly what time you can expect to get in in your region.
| | |
| --- | --- |
| New Zealand (NZDT) | 12:01am NZDT |
| Australia (AEDT) | 12:01am AEDT |
| Japan (JST) | 12:01am JST |
| Singapore (SGT) | 12:01am SGT |
| India (IST) | 12:01am IST |
| United Arab Emirates (GST) | 12:01am GST |
| Russia (MSK) | 12:01am MSK |
| South Africa (SAST) | 12:01am SAST |
| United Kingdom (GMT) | 12:01am GMT |
| Central European (CET) | 12:01am CET |
| Brazil (BRT) | 12:01am BRT |
| Mexico (CT) | 12:01am CT |
| United States and Canada (ET) | 12:01am ET |
And here's the official infographic if you want it straight from the horse's mouth.
Forza Horizon 5 release time on Steam
Steam works slightly differently, so the release time will be different. This happens at the same time globally, which is the equivalent of:
9:01pm, November 4th, 2021 PDT
12:01am, November 5th, 2021 EDT
16:01pm, November 5th, 2021 GMT
New Zealand get in first
New Zealand will be the first country to gain access to the Horizon Festival, and may even be in by the time you're reading this. Some players have even admitted to changing the timezone on their Xbox in order to gain access with the Kiwis.
Forza Horizon 5 preload
If you have pre-ordered Forza 5, either digitally or physically, you can preload the game ahead of the release time in order to be completely ready to go. Don't forget that load times can take a while, so you don't want to be doing this when you could be zipping across the Mexican landscape.
How to get Forza Horizon 5 early access?
Horizon 5 early access is granted to people who have purchased the Premium Edition of the game. If you have bought any of the other versions of the game and are starting to think you need early access, then you can still get in on November 5th by grabbing the Premium Add-Ons Bundle to add to your existing game purchase.
Forza Horizon 5 general access release time
If you are happy waiting for the gates to open to the rest of the public, then you'll get into the festivities on November 9th. There is currently no official schedule for release times for general access, but given that we have received this official timetable for early access, there will almost certainly be confirmation nearer the time. And don't forget to get preloaded while you're waiting.
Forza Horizon 5 review
We got our hands on Forza Horizon 5, so make sure you check out what we thought of that game in our extensive review.
---