The Game Awards 2019: Trailers, Announcements, and Winners
Updated: Nov 28, 2022 2:52 pm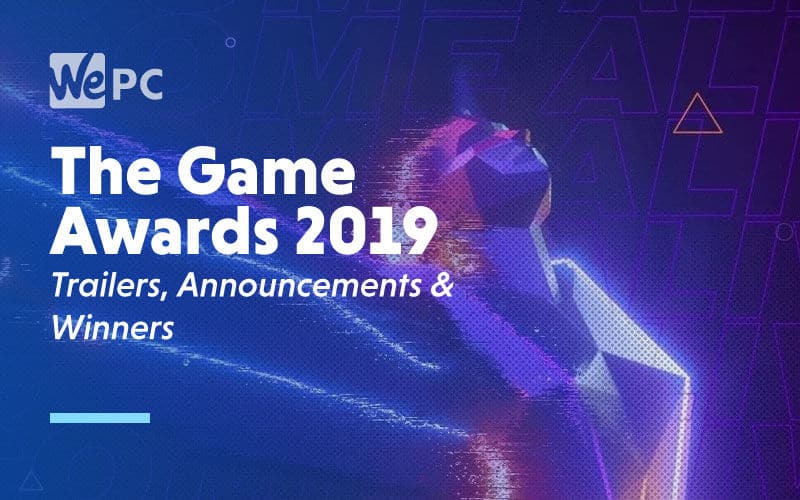 Every year, gaming fans across the globe eagerly await the Game Awards. Filled with exclusive announcements and game trailers, it's the biggest night of the year for gaming enthusiasts. This year we were treated to a surprise Xbox reveal, the first PS5 game to be announced, and some juicy new game trailers to dig our teeth into. So, let's dive in and take a look at the biggest announcements from the Game Awards 2019.
Xbox Series X
The biggest reveal of the night came from Microsoft who treated us with a first look at their next-gen console. Previously only referred to as "Project Scarlett" we know have both a name and a design to look at. The design itself looks more like a desktop PC than a game console and the name sounds a little too familiar for some of us.
But, we do know that the nex Xbox Series X console is going to pack a serious punch when it comes to computing power, and the glimpses of games that we saw at The Game Awards have got us excited for the holiday 2020 release date all over again.
Speaking of next-gen consoles, we also got a look at the first game officially announced for the Playstation 5 – Godfall. While we still don't know a huge amount of info on the game, we know that it's a third-person "looter slasher" that will support solo, duo, and three-player co-op. We didn't get to see any actual gameplay, but we did get a first glimpse at the game engine Sony will be using.
With a release date, once again, of "Holiday 2020" we suspect this will be one of the PS5 launch games when the console finally drops. With no reveal from Sony at The Game Awards, it could be that they are holding out until CES 2020 to reveal more about their upcoming rival console.
Ghost Of Tsushima Trailer
After teasing it during their State of Play earlier this week, we finally got to see a full-length trailer for Ghost of Tsushima on the PS4. A mixture of gameplay footage and cinematic sequences, it was just as beautiful and bloody as we had hoped.
We also found out a release window for the game of Summer 2020 – so it will be arriving a good while before the next-gen console will.
Final Fantasy VII Remake New Trailer
The days running up to the release of the Final Fantasy VII Remake seem to be going really slow for me, but these regular new trailers are helping to keep me going until March 3rd, 2020. The Game Awards trailer gave us a closer look at our hero, Cloud Strife, in his remastered form. Showcasing the edge-lord tendencies we all know and love, we got to see some great character moments, as well as another look at the new combat system.
Just a few months left, guys. We can do this.
Gears Tactics Trailer And Release Date
We also got a look at another upcoming game in the form of Gears Tactics. While it may be straying from the usual Gears format, it looks to us like it's still staying fairly true to form. With a turn-based tactical combat system, it looks to be an interesting addition to the Gears franchise.
The game will release on April 28th, 2019 on PC.
Humankind Gameplay Trailer
Upcoming strategy game Humankind granted us with a look at their gameplay at this year's Game Awards, too. Clearly taking inspiration from Civilization, this game looks set to be a great new release for fans of the genre. This time, though, you don't play a famous leader from history, you get to make your own.
I've already poured hours into Civilization games according to my Steam account, and now that this game has added character creation – I feel bad for my social life when it releases sometime next year.
League of Legends Story Trailers
The Game Awards 2019 also gave us a look at the first creations to come out of Riot Forge – the publisher created for LoL-based games from other developers. These new releases come in the form of Ruined King and CONV/RGENCE. Both games will be singleplayer but set in the world of League of Legends.
In Ruined King, you play as a LoL hero exploring the city of Bilgewater and the Shadow Isles, and in CONV/RGENCE, you play as Ekko who has created a device that can manipulate time and all the consequences that go with that.
Magic: Legends MMO
News of a Magic: The Gathering MMO has been floating around for a while now. But, at the Game Awards, we were gifted a title; Magic: Legends. We also got a peek at what to expect with a stunning cinematic trailer. While it gives very little away in terms of gameplay, it provided us with a glimpse. Hopefully, we'll get more information soon.
Dungeons And Dragons: Dark Alliance
As a regular D&D player myself (I'm a Fallen Aasimar Tempest Cleric (9) and Fighter (1) for those in the know), hearing there was a trailer for a D&D video game had me all excited. Then it turned out to be…this. It's like someone strapped GoPro cameras to the character's heads while they ran into battle, and it's just plain weird. Hopefully, this is just some strange marketing concept and not a true reflection of the game.
For now, at least, I'm happy sticking with my pencil and dice.
Game Awards Winners 2019
Of course, the Game Awards isn't just about trailers and announcements, there are awards to give out too! Here's who won what at last night's event.
Esports Team: G2 Esports (League of Legends)
Esports Players: Kyle "Bugha" Giersdorf (Sentinels, Fortnite)
Esports Host: Eefje "Sjokz" Depoortere
Esports Game of the Year: League of Legends (Riot Games)
Esports Event: League of Legends World Championship 2019
Esports Coach: Danny "Zonic" Sorensen
Content Creator of the Year: Michael "Shroud" Grzesiek
Fresh Indie Game: Disco Elysium (Za/um)
Multiplayer Game: Apex Legends (Respawn/Electronic Arts)
Sports/Racing Game: Crash Team Racing Nitro-Fueled (Beenox/Activision)
Strategy Game: Fire Emblem: Three Houses (Intelligent Systems/Koei Tecmo/Nintendo)
Family Game: Luigi's Mansion 3 (Next Level Games/Nintendo)
Fighting Game: Super Smash Bros. Ultimate (Sora/Bandai Namco/Nintendo)
RPG: Disco Elysium (Za/um)
Action-Adventure Game: Sekiro: Shadows Die Twice (From Software/Activision)
Action Game: Devil May Cry 5 (Capcom)
VR/AR Game: Beat Saber (Beat Games)
Community Support: Destiny 2 (Bungie)
Mobile Game: Call of Duty Mobile (Timi Studios/Activision)
Independent Game: Disco Elysium (Za/um)
Ongoing Game: Fortnite (Epic Games)
Games for Impact: Gris (Nomada Studio/Devolver Digital)
Performance: Mads Mikkelsen as Cliff (Death Stranding – Kojima Productions/SIE)
Audio Design: Call of Duty: Modern Warfare (Infinity Ward/Activision)
Score and Music: Death Stranding (Kojima Productions/SIE)
Art Direction: Control (Remedy/505 Games)
Narrative: Disco Elysium (Za/um)
Game Direction: Death Stranding (Kojima Productions/SIE)
Game of the Year: Sekiro: Shadows Die Twice (From Software/Activision)
Final Word
So, there you have it. Our wrap-up of the Game Awards 2019. From winners to trailers – it was one heck of a year. And, we can't wait to do it all again in 2020. Of course, there's a bunch of events before then including CES 2020 which kicks off in January. The WePC team will be there, bringing the latest announcements and reveals as they happen, so make sure you're ready!
---